In between April to November 2021, India saw total passenger vehicle sales of 18,29,693 units, and unsurprisingly, UVs were the predominant body style sold in our market. Accounting for nearly 47 percent of total PV sales, UVs have sold a total of 8,70,894 units in between April-November. But what's really interesting to note is that the top 5 bestselling UVs accounted for 41 percent of total UV sales and nearly 20 percent of total passenger vehicles sales in India.
These top five UVs comprise two Hyundais, two Marutis and one Kia – the Hyundai Creta, Maruti Ertiga, Maruti Vitara Brezza, Kia Seltos and Hyundai Venue. The Creta is the top-selling UV but club the two-model Maruti sales count – 1,46,875 units – and it's Maruti which is ruling the segment, ahead by 2,477 units (Hyundai: 1,44,398 units). What's creditable here is that Maruti Suzuki does not have a diesel model and is also the sole CNG player in this pack of five.
Top 5 UVs comprised nearly 20 percent of all PV sales in between April-November
Hyundai Creta leads the charts, Ertiga and Vitara Brezza close behind
Maruti and Hyundai are top players in UV segment with 40 percent market share
Let's take a closer look at these five market movers and shakers.
Hyundai Creta: 80,476 units
Hyundai's Creta, the longstanding UV market leader, continues to top the rankings and along with the Maruti Ertiga has been a regular in each of the first eight months of the year. Its best monthly performance came in July (13,000 units).
Its April-November 2021 tally of 80,476 units is an 11.63 percent year-on-year growth (April-November 2020: 72,091), split between 40,647 petrol and 39,829 diesel variants. Delving for more details reveals that, in sync with the consumer shift to petrol, the Creta diesel sales are dropping – they are down 6.65 percent over the previous year's 42,669 units. Meanwhile, petrol power amply shows through in the increase of 38 percent over the previous year's petrol Creta sales of 29,422 units.
Nonetheless, the Creta's importance can be seen in its contribution of 49.66 percent to Hyundai's total UV sales of 1,62,031 units in April-November 2021, which in itself are up 35.45 percent year-on-year (April-November 2020: 119,619).
Maruti Ertiga – 73,926 units
Just 6,550 units behind the Creta is the Maruti Ertiga with 73,926 units, which constitutes solid year-on-year growth of 45 percent (April-November 2020: 50,752). The fuel-wise split is 41,482 petrol and 32,444 CNG variants, but clearly, Maruti is benefiting hugely from the surge in demand for the CNG variant, given the sky-high petrol and diesel prices.
At 73,926 units in the first eight months of FY2022, the Ertiga has contributed 40 percent to Maruti's total UV sales of 1,86,734 units, with sibling Brezza providing another 39 percent to the overall UV total. Like the Creta, the Ertiga has been a regular in the Top 5 chart for all eight months – in fact, its July 2021 tally of 13,434 units is the best for any UV in the fiscal year to date.
Therefore, it is not surprising that the Ertiga has recently driven past the 7,00,000-unit sales milestone.
Maruti Vitara Brezza – 72,949 units
Just 977 units behind its sibling Ertiga and 7,527 behind UV market leader Creta, the Vitara Brezza has maintained its growth trajectory. Admirably, in this lot, it is the only one with a single fuel option – petrol. With sales of 72,949 units, the Brezza has recorded a robust 49 percent year-on-year growth (April-November 2020: 48,902).
Like the Ertiga, the Brezza too has notched its personal milestone – 7,00,000 sales in less than seven years.
Now, Maruti Suzuki is getting ready to launch the MY2022 model. The new Vitara Brezza will be the first SUV from Maruti's new model offensive to be launched in India. The new SUV has been spied without camouflage. And in a move which could add more wind to the Brezza's sales is that Maruti Suzuki is considering bringing it into its CNG stable of models.
Kia Seltos – 65,444 units
At fourth place in the pecking order is the Kia Seltos, with 65,444 units in the first 8 months of FY2022, which marks 19.34 percent year-on-year growth over the previous year's sales of 54,834 units. The fuel-wise split for the Seltos' sales is 35,881 petrol (up 13 percent YoY: 31,686 units) and 29,563 diesel (up 27 percent YoY: 31,686 units). The fuel wise split is 55:45 in favour of petrol.
The Seltos, Kia's first product in India, has sold a total of 2,36,333 units since launch in August 2019 till end-November 2021.
Hyundai Venue – 63,922 units
Hyundai's Venue has sold a total of 63,922 units, which is a 36 percent increase over the year-ago sales of 46,934 units. The fuel-wise split is 47,664 petrol and 16,258 diesel, which makes for a 74:26 ratio overwhelmingly in favour of the petrol Venue.
Growth outlook for the UV segment
Maruti Suzuki and Hyundai Motor India, with UV market shares of 21.44 percent and 18.61 percent, respectively, together have a 40 percent share. Mahindra is third with 15 percent and Kia India with 13.66 percent. All four manufacturers, along with some other players, would have sold more in past eight months of FY2022 had it not been for the crippling impact of the semiconductor shortage on their production and resultant stocks with their dealers. They even lost out of potential high sales in the festive season in November when purchase of new vehicles is high on consumer agenda. Given that Maruti Suzuki has an estimated 2,50,000 bookings across its PV range, it wouldn't be wrong to hazard a guess that in normal times the company would have been ahead of Hyundai in the overall UV numbers.
What's more, with Maruti Suzuki readying to launch the facelifted versions of the Ertiga and the Brezza, expect these two models to be among the newsmakers on four wheels in the new year.
The SUV market, which has seen an inflow of new models like the Mahindra XUV700, MG Astor, Skoda Kushaq ad Volkswagen Taigun, will see some more additions in the early part of 2022.
With every carmaker worth its wheels wanting to ride the surging wave of SUV demand, this is one segment where the action can turn even more exciting.
What are your thought's on the top 5 best-selling UVs in India? Let us know in the comments below.
Also See:
Best year-end discounts on cars, SUVs this December
10 most fuel-efficient petrol cars in India
Maruti Suzuki Grand Vitara vs Hyundai Creta vs Kia Selto...
26922 Views|4 months ago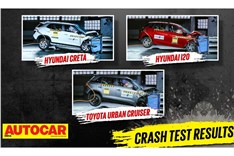 Hyundai Creta, i20 & Toyota Urban Cruiser Global NCAP cra...
10786 Views|11 months ago