UPDATE: Analysis: Has the Hyundai Creta finally met its match in the Kia Seltos?
At a time when passenger vehicle sales in India are slowing, the entry of two new brands – Kia Motors and MG Motor – promises to infuse life into the passenger vehicle market. Marking the entry of both carmakers are two five-seat SUVs – the Kia Seltos and MG Hector. On the face of it, both offer bold styling, cutting-edge technology and a promise of something fresh. They even have names you'll find in mythology, and it's clear they're both ready to go to war. Yes, the two SUVs belong to different sub-segments but there will be some price overlap, with each model having its own pull factors for the same buyer set. We've broken it down for you, highlighting how the exciting new SUVs compare on size, features, powertrains and more.
How do the Kia Seltos and MG Hector compare on size?
Seltos vs Hector: Dimensions
Seltos
Hector
Length
4315mm
4655mm
Width
1800mm
1835mm
Height
1620mm
1760mm
Wheelbase
2610mm
2750mm
Ground clearance
190mm
192mm
Boot capacity
433 litres
587 litres
Wheel size
17-inch
17-inch
The Kia Seltos is 4,315mm long. The length makes it marginally longer than the Creta – the current mid-size SUV sales champion – and is yet compact enough to be city-friendly. The Kia's 433-litre boot capacity is also fair-sized, as mid-sized SUVs go. However, buyers who like their SUVs big and imposing will find themselves drawn to the significantly larger MG Hector. At 4,655mm in length, the Hector is a substantial 340mm longer than the Kia. The MG is also 140mm taller and has a wheelbase that's longer by a full 140mm. Fact is, in size, the Hector is a closer match for larger SUVs like the Tata Harrier and Mahindra XUV500. The MG has the larger boot too, with a cavernous 587 litres of luggage space on offer. Ground clearance for both is nearly the same – 190mm for the Seltos, 192mm for the Hector.
Design is a subjective matter, but Autocar India staffers who've seen both SUVs in the metal, agree that the Seltos is the better balanced and more attractive SUV. The Kia's front end is a bit busy, but there's tasteful use of chrome and the bold styling will also likely be a hit. The Hector, on the other hand, has an attractive face, but it is narrow (only 35mm wider than the smaller Kia) for its length, and its sheer mass makes the 17-inch alloys look a tad too small. Some may also find the detailing a bit fussy and over-the-top.
What are their interiors like?
While we are yet to spend quality time in the Seltos' cabin, the initial impression was a very positive one. Perceived quality, in particular, is top class. The Kia's dash design is neat and the cabin, in general, is well thought out and user-friendly. Interior space is sufficient, with plenty of room for the rear seat passengers.
That said, as spacious as the Seltos is, it's not a match for the Hector on sheer cabin room. Thanks to its huge size, the Hector is not only roomier than the mid-sized SUVs it will compete with but also some SUVs from a class above, and this is the ace up the MG's sleeve. The MG even has a flat floor, so seating three abreast at the back is a breeze. What marks the interior down is that the quality of some materials is not quite up to the mark.
How do they compare on features and safety equipment?
Seltos vs Hector: Features
Seltos
Hector
Sunroof
Yes
Panoramic
Touchscreen infotainment display
10.25-inch
10.4-inch
Android Auto/Apple CarPlay
Yes/Yes
Yes/Yes
Connected tech
Yes
Yes
360-degree camera
Yes
Yes
Front & rear parking sensors
Yes
Yes
Cruise control
Yes
Yes
Tyre pressure monitoring system
Yes
Yes
Leather seats
Yes
Yes
Auto headlights
Yes
Yes
Auto wipers
Yes
Yes
Mood lighting
Yes
Yes
Head-up display
8.0-inch
No
Powered front seats
Driver only
Driver and co-passenger
Ventilated seats
Yes
No
Talking of the fully loaded versions of each, both SUVs have a lot of features. However, there are differences. For instance, while both SUVs feature sunroofs, the Hector's dual-pane panoramic sunroof is a few sizes larger, extending all the way to the back of the cabin.
It's a closer match in the all-important battle of the touchscreens. Top-spec Kia Seltos trims will get a landscape-oriented 10.25-inch touchscreen positioned atop the centre console. On the other hand, the MG Hector's 10.4-inch, portrait-oriented touchscreen occupies prime real estate on the dashboard. Interestingly, the MG's centre console is largely devoid of physical buttons as most functions are controlled at the touchscreen itself.
Both Kia and MG systems come bundled with Apple CarPlay and Android Auto, and both also boast connected car tech – MG calls its system iSmart, while Kia calls its system UVO Connect. Both essentially employ an e-SIM and let owners access a smartphone app to remotely start/stop the engine and climate control system, lock/unlock the vehicle, track it in real time and access key vehicle stats. MG has played up the voice assist feature of the Hector as one of its USPs, but even the Seltos has AI-based voice command, and we're yet to see how well it works and how many functions it can handle. The Hector's is said to control over 100 functions. Of interest to audiophiles will be the fact that the Hector comes with an 8-speaker audio system by Infinity, while the Seltos' 8-speaker audio system is from Bose.
Of the other things, both SUVs pack in a 360-degree surround view camera, front and rear parking sensors, leather seats, cruise control, a tyre pressure monitoring system, automatic headlights and wipers and mood lighting. The Seltos also brings ventilated seats and a segment-first 8.0-inch head-up display, both of which aren't available on the Hector. That said, in top-spec form, the Hector also gets powered driver's and co-driver's seats, something that'll likely be absent on the Seltos. All said and done, both SUVs are feature-packed, and stand toe-to-toe on this front.
As for safety, both the Seltos and the Hector are expected to get two airbags as standard, and six airbags on the top-spec models. ABS, ESP and traction control are available with both SUVs, but the Hector also packs in disc brakes for all four wheels as standard, while lower-spec versions of the Seltos will get drum brakes at the rear.
What about engine and gearbox options?
Seltos vs Hector: Petrol engines
Seltos
Hector
Type
4 cyls, naturally aspirated/4 cyls turbo-petrol
4 cyls turbo-petrol
Displacement
1.5-litre/1.4-litre
1.5-litre
Power
115hp/140hp
143hp
Torque
144Nm/242Nm
250Nm
Manual gearbox
6-speed
6-speed
Automatic gearbox
CVT/7-speed dual-clutch
6-speed dual-clutch
Mild-hybrid tech
No
Yes
The Kia Seltos offers a wide spread of engine-gearbox options. There are three engines – a 115hp 1.5-litre petrol, a 115hp 1.5-litre diesel and a 140hp 1.4-litre turbo-petrol. What's nice is that each engine can be had with a 6-speed manual gearbox, or with an automatic – a CVT for the 1.5 petrol, a 6-speed torque convertor for the diesel and a 7-speed dual-clutch transmission for the 1.4 turbo-petrol.
By comparison, MG offers fewer engine-gearbox options on the Hector. Yes, there is a 143hp 1.5-litre turbo-petrol (which can also be had in 48V mild-hybrid form) and an FCA-sourced 170hp 2.0-litre diesel, but gearbox options are limited. While a 6-speed manual is on offer for each version, only the standard 1.5 petrol can be had with the 6-speed dual-clutch automatic – the 48V mild-hybrid and diesel are manual-only. The absence of the coveted diesel-automatic combo could limit popularity in the MG.
Seltos vs Hector: Diesel engines
Seltos
Hector
Type
4 cyls, turbo-diesel
4 cyls, turbo-diesel
Displacement
1.5-litre
2.0-litre
Power
115hp
170hp
Torque
250Nm
350Nm
Manual gearbox
6-speed
6-speed
Automatic gearbox
6-speed torque convertor
No
Engine modes
Yes
No
Terrain modes
Yes
No
In terms of absolute power and torque, the MG has the edge. Then again, it is a larger and heavier SUV. What will be interesting to see is how the two SUVs compare in real-world performance. A point to note is that the Seltos' engines are all BS6-compliant at launch, while the Hector's are BS4-compliant at this time.
What about price and sales and service network?
Both Kia and MG are new to India, and have to make a statement with their first products; aggressive pricing is a given. The MG Hector's price ranges from Rs 12.18-16.88 lakh (introductory, ex-showroom, India), which places it in the heart of the midsize SUV market. The Kia Seltos that goes on sale on August 22 is expected to sport a price tag in the range of Rs 11-17 lakh. It must be noted here that the MG will be due for a price increase in the coming months, once its engines are upgraded to BS6 spec. The Seltos that will be launched in BS6 form should not see a dramatic price increment.
At launch, Kia will have 265 touchpoints across 160 Indian cities, whereas MG will start off with 120 touchpoints. Kia has announced its intention to expand to 300 touchpoints by 2020, and 350 touchpoints by 2021, while MG has said it will double the size of its network to 250 touchpoints by September 2019. Both carmakers are also looking to digitise the aftersales experience.
Should the Seltos and Hector achieve what their respective makers have set out for them, they could upset the established order in the Indian SUV market. If anything, the Indian SUV space is ripe for disruption.
Which SUV has impressed you more – the Kia Seltos or the MG Hector? Let us know in the comments.
Click here for more Kia Seltos images, videos, details and news
Click here for more MG Hector reviews, images, videos, details and news
MG Hector facelift video review
9887 Views|3 months ago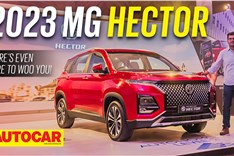 MG Hector facelift walkaound video
9633 Views|4 months ago