Armed with inverted forks and twin disc brakes, the new Roadster is putting Harley back into the game.
Traditionally, Harleys are really good-looking motorcycles that leave a lasting impression on you when you see them rolling down the street. And that signature rolling thunder exhaust note instantly reminds you of cruising down the wide-open American freeways. Now, unfortunately, we don't have too many of those freeways, like they do in the US. But Harley has been listening because, for 2017, it brings us the 1,200cc Roadster. It gets the same frame and engine as the rest of Harley's Sportster series, but its design and execution remind you of the brand's performance-oriented past. It also gets a few special parts that are not only a first for the bike maker, but also help make it a better motorcycle for India.
The powder room
The Roadster is the most sport-oriented version in the Sportster series since the discontinued XR1200. It is an alternative to the more conventional cruiser variants such as the Forty-Eight and the 1200 Custom. And while its looks do remind you of the Iron 883, closer inspection will tell you otherwise.
In keeping with the Sportster theme, the Roadster gets a shortened front fender and a chopped rear one. The 12.5-litre peanut tank sits atop a blacked-out engine keeping with Harley's Dark Custom theme. While the fuel capacity still isn't something to be marvelled at, it certainly is an improvement over the minuscule 7.9-litre one on the Forty-Eight with which it shares its headlight. It, however, does get a partially digital speedometer that has readings for speed, odometer, trip meters and a clock, with the tachometer being an analogue unit. The only issue here is that the digital readout becomes rather hard to read under direct sunlight. The Roadster sits on really good-looking split five-spoke cast wheels.
The Roadster's styling is classic and aggressive, and reminds you of Harley's performance-oriented past.
This new stepped single seat is reasonably comfortable and also adds to the classic and aggressive look of the Roadster. Its low-set handlebar resembles the Clubman handlebars and will have you leaning forward a bit. This position keeps things low and will help with quicker changes in direction. One small issue could be the position of the footpegs. While they are still a bit forward set in terms of seating geometry, they're definitely going to get in the way when you have to put your feet down.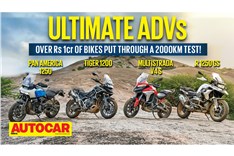 BMW vs Ducati vs Harley vs Triumph - 2000km ADV road trip...
6217 Views|8 months ago
Harley-Davidson Road Glide Special video review
6684 Views|1 year ago