Bangalore based startup Ather Energy recently showed us its upcoming S340 e-scooter. Here are 5 things you need to know about it:
It's powered by a 5kW Brushless DC motor
This translates into peak power of 6.8hp, and it delivers 14Nm of torque. While the power figure might not sound like much, the torque is class-leading. For the sake of perspective, even the Aprilia SR 150, the performance king of scooters in India, only manages 11.4Nm. Moreover, this being an electric motor, peak torque is available at all times (from 0rpm, that is), as compared to a combustion engine where it is only available at a certain point in the rev range. This means that despite featuring a relatively low top speed of 72kph, the S340 should get there quickly. Ather quotes a 0-40kph acceleration time of 5.1sec.
You've certainly come across the claim of 'you don't need a license to ride an electric scooter', but is this true? Well, according to the Motor Vehicles Act, for an electric two wheeler to be exempt from registration, its motor(s) must have a power output of 250W or less, and its top speed cannot exceed 25kph. This means that you will need to register your S340 to ride it on the road, and you'll require a licence as well.
60km range, for real
Ather claims a 60km range for the S340, courtesy a 2.2kWh Lithium-ion battery pack. This is the range we can expect not only on paper but also in the real world, thanks to the 'intelligent Battery Management System', claims Ather. Moreover, the battery pack has an ingress protection rating of IP67 (the same as the iPhone 8 and 8 Plus, for instance), which translates to total protection from dust ingress. It can also withstand immersion in water up to a depth of 1 metre. The battery pack is mounted underneath the floorboard, making for a low centre of gravity (the lowest of any scooter in India, by Ather's claims) which results in increased agility and overall handling over conventionally-powered scooters.
Convenience comes in the form of a fast charging system, allowing the battery pack to charge up to 80 per cent (or 50km of range) in one hour. Charging is facilitated via a regular 5-amp electrical socket, the same kind you use to charge your phone or laptop (not the 13-amp sockets used for heavy appliances like ACs and fridges, mind you). The battery back has a rated life of 50,000km, however, and will need replacement past this mark. Details on replacement costs are yet unknown.
Large, interactive touchscreen
The S340 features a 7-inch capacitive touchscreen which gets an IP65 rating. This means total protection from dust as well as protection from low-pressure water jets in any direction. This configuration will allow the screen to withstand rain, but not immersion, if flooding should occur. In addition to vehicle information such as trip-meters, range and speed, the screen will also be able to display maps for navigation.
It will get smarter over time
The screen on the scooter will link to an app on your mobile phone, allowing you to push navigation to the screen, view your riding patterns and request remote diagnostics. The firmware on the scooter can also receive over-the-air (OTA) updates, which means more features and functionality can be added over time. Another smart feature is the inclusion of a reverse mode, allowing you to easily get out of tricky parking spots. Adaptive LED lights are a nice touch as well.
It's a well-equipped scooter
Coming to the 'scooter' side of things, the S340 features decent equipment levels, being shod with alloy wheels, a telescopic fork and a monoshock. It also features disc brakes at both ends, a first for a scooter in India, along with a combined braking system (CBS). Ather claims a near-perfect 51:49 weight distribution (front to rear), and zero lateral offset, meaning that the weight is symmetrically distributed left to right.
Ather Bikes
Ather 450S
₹ 1.54 - 1.69 lakh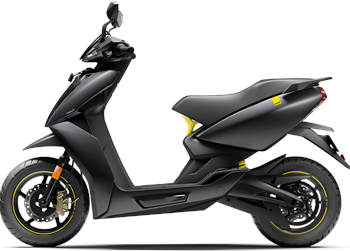 Ather 450X
₹ 1.63 - 1.64 lakh