The first six months of 2022 saw Ducati record an increase in revenue and operating profits, despite the ongoing supply constraints. Revenue for the Italian manufacturer was up by 5.4 percent, to 542 million Euros (Rs 4,410 crore), while the operating profit rose by 14.8 percent to 68 million Euros (Rs 553 crore).
Multistrada V4, Monster and Scrambler are bestsellers

Ducati sells most in Italy, India sales numbers unavailable

Bookings increase over last year despite supply constraints
And this is despite selling fewer motorcycles than in the same timeframe last year. In the first half of 2022, Ducati sold 33,265 motorcycles, down 3.6 percent from the 34,515 units sold in the first six months of 2021.
The Multistrada V4 line-up was the bestseller for the Bologna-based manufacturer, with 6,139 units sold, followed by the recently-updated Monster with 4,776 units and the Scrambler 800 range with 3,999 units. The next-gen Ducati Scrambler is just around the corner and will be showcased at the EICMA trade show later this year.
Increase in dealerships and bookings
Ducati performed the best at its home turf in Italy, with 6,028 motorcycles sold. Following Italy's sales numbers were North America, Germany and France with 5,239, 3,745 and 2,647 units sold, respectively. China recorded positive sales growth of 12 percent, with 2,411 units delivered. However, we're yet to get our hands on Ducati's sales figures in India for the same time period. Ducati currently has 797 dealerships spread across 90 countries, 21 of which have been opened in the first six months of this year.
Claudio Domenicali, CEO, Ducati said, "despite strong demand from enthusiasts, as evidenced by the order portfolio which at the end of the first half is up 86 percent over the same period of 2021, the strong discontinuity in the world of logistics and supply remains. However, we managed to obtain satisfactory results considering the context in which we are operating, especially in terms of revenue, which is the best ever recorded in the first six months of the year."
Which Ducati model would you choose if you were in the market for one? Let us know in the comments section below.
Ducati Streetfighter V2 video review
5840 Views|8 months ago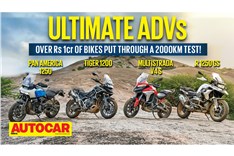 BMW vs Ducati vs Harley vs Triumph - 2000km ADV road trip...
7196 Views|11 months ago