Following pictures of the next-gen Swift being leaked online, a heavily disguised test mule of the hatchback has been spied on international roads.
Suzuki's next-gen Swift sports a design that has evolved from the current car's. A big step forward in terms of some details, the design is still recognisable as that of a Swift due to fact that it carries forward most of the DNA. This is clearly visible in the photos that have been leaked online. While the look of the cockpit-like cabin has been carried over and the headlights look similar to the current Swift's, there are plenty of new bits like the all-new grille, the wide open chin and the floating roof.
The most notable change is seen on the grille which is now uniquely sparse and devoid of detailing, giving it an identity of its own. Other bits that stand out include the floating roof, the hidden rear door (with the handle tucked away from view) and the very prominent wheel arches. Clearly a Swift from the rear in both feel and form, the black splitter and push-through exhaust pipes make it look interesting.
The car's stance is reminiscent of the current Swift's. But the new roofline slopes down in a more pronounced manner, the big wheel arches give it a strong presence and the big alloys give it a planted look.
The next-gen Swift will be based on the new, lighter and structurally rigid platform that made its debut in the Baleno. The car is likely to come with a 1.0-litre turbo-petrol Boosterjet engine along with the standard naturally aspirated K-series of petrol engines. It is also expected to carry forward the 1.3-litre Multijet diesel engine, with Maruti's 1.5-litre diesel to be added to the line-up later on. A global unveil of the new Swift can be expected later this year, with an India launch likely sometime next year.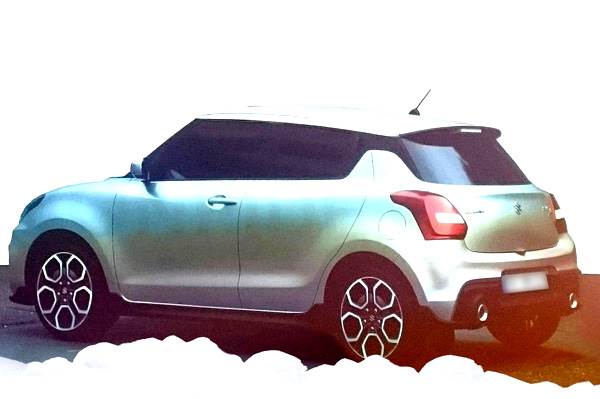 A high-performance Swift Sport model is also expected to be under development with the car slated to make its international debut by late 2017. The Sport is likely to use an upgraded version of the 140hp 1.4-litre turbocharged petrol engine currently seen in the Vitara for international markets.