After a tough 2019, carmakers are looking to bounce back strongly, and the road to recovery begins at Auto Expo 2020. While a number of major two- and four-wheeler manufacturers have chosen to skip this edition, a couple of big names make their Expo comeback, with two carmakers also set to debut. A few days ahead of the show, we bring you a sneak preview of what you can expect to see at the India Expo Mart in Greater Noida from February 7-12, 2020.
Great Wall Motor
HALL 1
A prominent carmaker that will make its India debut at Auto Expo 2020 is Great Wall Motor. Based in Baoding Hebel, 150km south of Beijing, China's Great Wall Motor is set to make its first showcase on Indian soil a big one. Having scouted our market for a few years now, Great Wall recently announced that it will take over General Motors' plant in Talegaon, near Pune, for its India operations. This is set to help expedite its India plans, and Great Wall is expected to put its successful SUV brand Haval front and centre at the Expo. According to sources, the carmaker's stand will display three Haval SUVs – the H4, H6 and H9. A teaser of a large SUV, called the Haval Concept H, was revealed just recently.
Haval H4
Set for a 2021 market launch in India, the H4 is larger than the Hyundai Creta, and has a side profile reminiscent of the Jeep Compass. Powering it is a 170hp, 1.5-litre turbo-petrol mated to a dual-clutch automatic transmission. There's a smaller 1.3-litre petrol unit as well, and Great Wall could also look at adding a Fiat-sourced diesel for India.
Haval H6
The larger H6 – also Haval's highest-selling model – is based on the same platform as the H4; but it's notably longer and has a larger wheelbase, too. Just like the MG Hector, the H6, too, is loaded to the gills. Engine options will likely include a 2.0-litre petrol and diesel.
Haval H9
Rounding-off the SUV line-up will be the largest SUV from Haval – the 4.8m-long H9. A body-on-frame SUV weighing 2.2 tonnes, the H9 comes with plenty of hardcore off-road kit and is a natural rival to the Ford Endeavour and Toyota Fortuner.
ORA R1
What will also be on display at Great Wall Motor's Expo stand will be the ORA R1 electric car. Part of Great Wall's 'ORA' EV sub-brand (which stands for Open, Reliable and Alternative), the R1 is based on the company's ME pure-electric platform. It follows the Honda e's neo-retro city car template, and gets a 33kWh lithium-ion battery pack and a 33kW electric motor. Range on a full charge is pegged at over 300km (NEDC cycle). What will be a major draw for the R1 is its affordability – in China, prices for the R1 start as low as CNY 59,800 (Rs 6.15 lakh).
Hyundai
HALL 3
Preparing to make a splash at Auto Expo 2020 is Hyundai. The Korean carmaker has lined up a key new model, plus a couple of updates, and two exciting hatchbacks for its stand. Of course, the most important unveil from Hyundai will be the second-gen Hyundai Creta, which will debut at the Expo on February 6. It be unveiled by Hyundai brand ambassador and Bollywood superstar Shah Rukh Khan.
2020 Creta
However, the carmaker will not announce prices for the new Creta at the show. What will be shown on February 6 is only the exterior design of the new Creta. The interior and other details are set to be revealed closer to its market launch, which we can also confirm is slated for mid-March 2020.
Based on the second-gen ix25 revealed in China last year, the next-gen Hyundai Creta is expected to get India-specific design changes. In terms of powertrains, the all-new Creta will borrow its engine and gearbox options from the hugely popular Kia Seltos and could also have the Seltos GT Line's 1.4-litre turbo-petrol on offer.
Tucson Facelift
But before the Creta is showcased, Hyundai will launch the Tucson facelift on the first day of the Expo. Along with styling updates outside and in – which bring the SUV in line with Hyundai's latest design language – the updated Tucson will also get BS6-compliant 2.0-litre petrol and diesel engines with the existing 6-speed manual and automatic gearbox options set to be carried over. Expect prices to range from Rs 20-30 lakh (ex-showroom).
Verna Facelift
What will also be on display at the Hyundai stand will be the Verna facelift, which will get revised styling, an updated infotainment and also come with BS6-compliant 1.5-litre petrol and diesel engine options. Hyundai will also line up two exciting hatchbacks – the first of which will be a sportier, 100hp version of the Grand i10 Nios. Under the hood of this more powerful Nios will be the Venue's 1.0-litre, three-cylinder turbo-petrol engine, running at a lower, 100hp state of tune. A 5-speed manual gearbox will be available, and the interior will be all black, too. Rounding things off nicely at Hyundai's Auto Expo stand will be the striking 275hp i30 N, possibly in fastback form, that will make its India debut.
i30 Fastback N
Also see:

Maruti Suzuki
HALL 9
Maruti Suzuki's showstopper at Auto Expo 2020 will be an exciting new concept – the Futuro-e SUV-coupé. While the sketch doesn't give much away, it gives us a fair idea of what the silhouette of the Maruti Futuro-e will be like. It is billed a design study, but it previews a future Hyundai Creta / Kia Seltos rival from Maruti. While the Futuro-e will get a coupé-like sloping roofline, it will still have the SUV appeal with a high bonnet and a bold, wide face. The concept will usher in a new design language for the brand.
Futuro-e SUV-coupé
The company is likely to ready a petrol engine for the production-spec model – which will also be designed to accommodate an electric powertrain. Maruti Suzuki could look at bringing back its 1.5-litre diesel with the production version of the Futuro-e, as most midsize SUVs will continue to offer the option of a diesel engine, even in the BS6 era.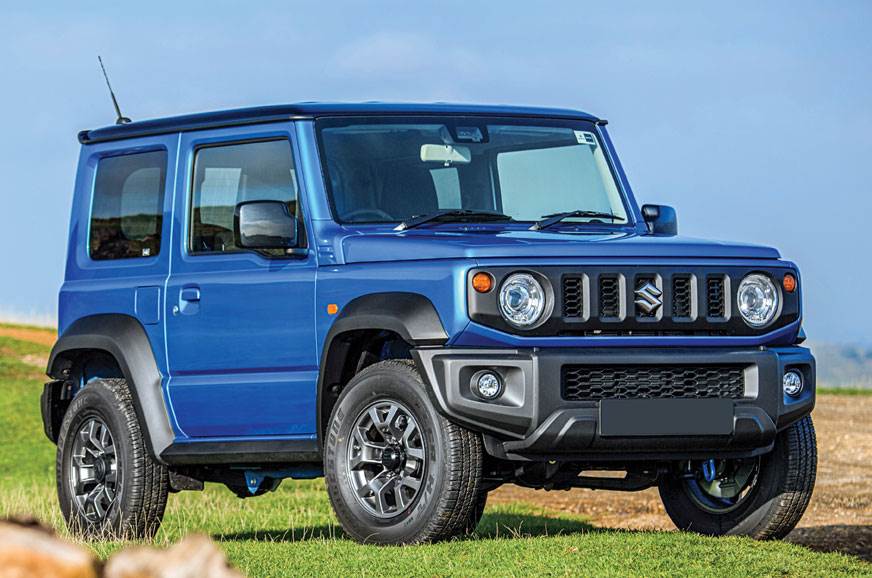 Jimny
Along with the Futuro-e, Maruti Suzuki will also showcase the eagerly-awaited new Jimny at Auto Expo 2020. It currently only exists in three-door form, and is powered by a 1.5-litre K15B petrol engine. While there is no confirmation still on whether the plucky little off-roader will go on sale in our market, enthusiasts in India will certainly be kicked about seeing it in the flesh for the first time.
Ignis Facelift
What Maruti Suzuki will also showcase at the Expo for the first time will be the much-awaited Vitara Brezza facelift. With the update, the Brezza will swap its 1.3-litre diesel engine for a BS6-compliant, 1.5-litre petrol engine. Additionally, Maruti Suzuki is also expected to bring the Ignis facelift and the petrol version of the S-cross to the 2020 Auto Expo.
Mercedes-Benz
HALL 15
Mercedes-Benz will be the only luxury carmaker at this year's Expo, and leading the charge for the German carmaker will be the A-class Limousine. Mercedes has clarified that it did confirm there would be a new-generation of its entry-level sedan coming this year, but that happens to be the new A-class sedan, and not the CLA. The reason for this decision is a pragmatic one – in the luxury car segment (which still is largely chauffeur-driven) a roomy back seat is a necessity, and that's something the first-gen CLA – with its sharply raked roofline – did not have. And while the second-gen CLA is larger than its predecessor, headroom at the back is still tight – a problem that can be solved by the more spacious A-class sedan.
A-class Limousine
Another interesting titbit is the name – in India, it will be known as the Mercedes-Benz A-class Limousine. The use of the word 'Limousine' is meant to create a clear distinction in the minds of buyers, as the Indian audience tends to relate the A-class name with the hatchback.
GLA
Giving the A-class Limousine company at the Mercedes-Benz stand will be the all-new GLA. Now in its second generation, the GLA looks beefier; it's more SUV-like in its appearance, and is significantly taller than its predecessor. The second-gen GLA and the A-class sedan are both based on the next-gen MFA platform, and will also share a number of parts when they arrive here as CKD units – from petrol and diesel engines, to interior elements such as the steering and the MBUX infotainment system. This will help ensure prices aren't prohibitively high, as economies of scale will come into play.
AMG GT 4-door Coupe
Another important car at the Mercedes stand will be the AMG GT 4-Door Coupe. Not only will the rapid four-door make its India debut, but will also be launched in its most powerful 63 S guise, which packs a 4.0-litre, twin-turbo V8 petrol engine that sends a colossal 639hp to all four wheels.
Additionally, Mercedes-Benz will also showcase the all-electric EQC SUV (which will be launched
in India in April 2020) and the AMG A 35 sedan, among others.
Kia
HALL 7
Just like it did in 2018, Kia will have another expansive display at Auto Expo 2020. Headlining the show for Kia this time will be the Carnival MPV, its second model for our market, which will be launched on the first day of the show.
Carnival
But the Carnival is not the only model Kia has lined up for 2020 – the Korean carmaker will also launch its compact SUV in India in the second half of 2020. The compact SUV is likely to be launched (codename: QYI) closer to August 2020. In the build-up to the Expo, Kia revealed the first official sketches of the compact SUV, which make it clear that its design and styling will be completely different from the Hyundai Venue's.
QYI Compact SUV
Details on the Kia QYI compact SUV are scarce at this point, but what we do know is that it will share its underpinnings with its cousin, the Venue. Engine and gearbox options for the Kia QYI are expected to mirror those of the Venue, so there will be petrol and diesel options to choose from, along with the option of a manual and a dual-clutch automatic gearbox. When it is launched later in 2020, expect prices to be in the range of Rs 7–11.5 lakh. Kia will also have a selection of models from its international line-up, including the Soul EV, at its stand.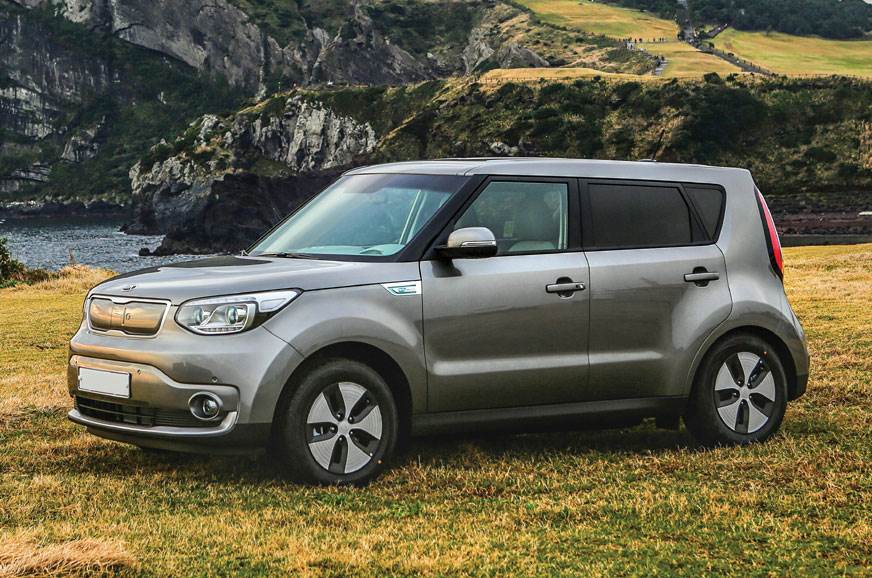 Soul EV
Haima Automobile
HALL 12
Along with Great Wall Motors, another Chinese carmaker will make its India debut at the show – FAW Haima Automobile. Founded in 1988, Haima Automobile is based out of Haikou city in China.
Haima is in the process of conducting in-depth surveys of the Indian market. At this time, the brand is in discussions with central and state governments, as well as OEM component suppliers to scope out its India strategy. What's interesting is that it has teamed up with Bird Group for its India operations. Up until a few years ago, most Haima models were based on ageing Mazda platforms, but the automaker is now developing its own range of SUVs, MPVs and EVs.
Haima 8S
One of the models expected at the Haima stand is the 8S midsize SUV, which (in terms of dimensions) slots-in between the Kia Seltos and MG Hector. Powered by a 1.6-litre T-GDI engine, making 193hp and 293Nm of torque and mated to a 6-speed auto gearbox, its claimed 0-100kph time is under 8sec.
MG Motor
HALL 5
Participating in the Expo for the first time, MG Motor is focusing on making a statement with its product display at this year's event. The company has announced that it will showcase a total of 14 models, and among the biggest of them will be the MG Maxus D90 SUV. Scheduled to launch in India by Diwali 2020, the D90 is MG's full-size, three-row SUV that'll rival the Ford Endeavour, Toyota Fortuner and Mahindra Alturas G4. A 2.0-litre turbo-petrol engine is available on the China-spec model, but MG's parent company SAIC is working on a new 2.0-litre, twin-turbo diesel engine that will produce 218hp and 480Nm of peak torque – a unit that'll be better suited to the muscular D90. Prices for the entry-level variant of the MG flagship SUV are expected to be between Rs 27-35 lakh.
Maxus D90
The standard ZS SUV will be another model of note. Just launched in India in its all-electric form, the standard ZS will be shown at the Expo with a 1.0-litre, turbo-petrol engine that develops 111hp. Also making its debut at the show will be MG's new midsize sedan (based on the Baojun RC-6) for India, along with the E200 electric vehicle.
The E200 is small in size, but has a range of 210km on a full charge (NEDC cycle), a top speed of 100kph and a truly low starting price of RMB 49,800 (Rs 5.12 lakh) after subsidy in China. What will also be on display is MG's Vision-i MPV, which is similar to the Roewe Vision-i concept that debuted at the 2019 Shanghai motor show. The Vision-i is designed to be a future-ready, internet-enabled EV that also has autonomous driving capabilities.
E200
SKODA
HALL 15
Returning to the Expo for the first time since 2014, Skoda is determined to capture maximum attention with its product line-up; and quite a line-up it is. Starting things off will be a concept that previews its much-awaited midsize SUV – the Vision IN.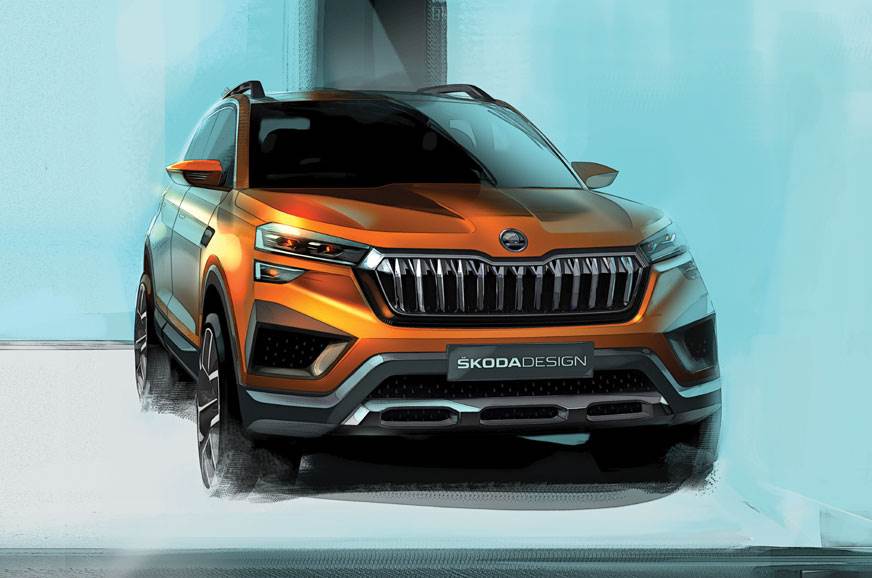 Vision IN Concept
First exterior sketches provide a glimpse of the Skoda Vision IN's face – it echoes the design of the Kamiq sold abroad, but has a bolder, more upright nose, with the trademark chrome-embellished Skoda grille flanked by split projector headlights, and the angular bumper featuring large air intakes and a three-slot skid plate. Also visible is the plastic cladding all around, prominent roof railsand large alloy wheels befitting a concept. At the back, too,the Skoda Vision IN has a lot in common with the Kamiq in terms of design; like its crystal-like LED tail-lights, but with an additional light strip that spans the car's width, as well as athree-slot skid plate.
Skoda had previously revealed that the Vision IN SUV concept measures 4.26m in length – roughly the same length as the current-gen Hyundai Creta. It will be the first model based on the India-specific MQB A0 IN platform. What we can also tell you is the production-spec Vision IN will have a 2,651mm-long wheelbase, and plenty of space for rear-seat passengers.
Engine options will likely include a 1.0-litre, three-cylinder turbo-petrol and 1.5-litre, four-cylinder turbo-petrol engine. There will be no diesel option on offer, but a CNG variant could be on the cards.
The production-spec Skoda Vision IN SUV's India launch will take place sometime between April-June 2021. By the time it arrives, the Vision IN will go up against the next-gen Hyundai Creta, the Kia Seltos, MG Hector, the new Mahindra XUV500 and Maruti Suzuki's upcoming midsize SUV.
Skoda Octavia RS 245
For the enthusiasts, Skoda will have the Octavia RS at its Expo stand. The carmaker is bringing back the current-gen, Euro-spec Octavia RS, which sits lower and has lesser ground clearance. It features a more powerful version of the 2.0-litre TSI turbo-petrol engine, which puts out 245hp and 370Nm of torque (15hp and 20Nm more than before). Paired with a 7-speed DSG, this engine gives the Octavia RS a quicker 0-100kph time of 6.6sec (previous car did it in 6.8sec), while the top speed remains the same at 250kph. Only 200 units of the RS will be brought to India, and prices are expected to be around Rs 36 lakh.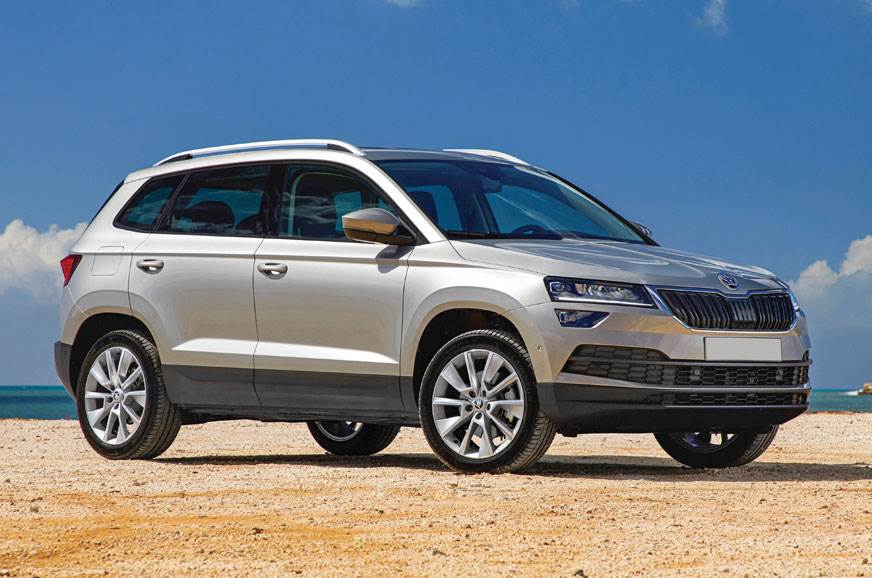 Skoda Karoq
Another important model at the Skoda stand will be the Karoq. Set to come to India in CBU form, the Karoq is expected to get a single 150hp, 1.5-litre turbo-petrol engine option coupled with either a 6-speed manual or a 7-speed dual-clutch automatic gearbox. In our market, the Karoq will go up against the Jeep Compass and the Hyundai Tucson facelift when it is launched sometime in April 2020.
Skoda Superb facelift
Other models of note at the Skoda showcase will be the Superb facelift (to be launched in May 2020), the petrol-engined Kodiaq, and the updated, BS6-compliant Rapid, which is set to get a 1.0-litre TSI engine.
Volkswagen
HALL 15
Just like Skoda, Volkswagen, too, is returning to the Expo after having skipped the 2018 edition. After a quiet few years, the German carmaker is also looking to make waves with its upcoming models, and will have an SUV-heavy line-up at Auto Expo 2020. But even among those, the most important showcase for VW at the Expo has to be that of its midsize SUV. Known as the 'A0', the SUV – which will be closer to production than its concept tag suggests – will preview Volkswagen's rival to the Hyundai Creta and Kia Seltos.
A0 Concept
In terms of design, the A0 will have plenty in common with the T-Cross sold internationally, but it will sit on a modified-for-India (and more affordable) MQB platform, named MQB A0 IN. A sister model to the Skoda Vision IN, the A0 is expected to have 205mm of ground clearance and a 2,651mm-long wheelbase, a substantial 90-100mm longer than the Euro-spec T-Cross. As a result, it will have a more spacious cabin. On the outside, the A0 will also receive styling more in line with Indian tastes, and the only engine on offer is likely to be a 1.5-litre TSI engine. There will be no diesel engine on offer, but Volkswagen may introduce a CNG version sometime down the road. The production-spec A0 SUV is likely to be launched in India in the second half of 2021.
T-Roc
Another SUV many people will be looking forward to seeing is the Volkswagen T-Roc. Based on the same platform as the Golf hatchback, the T-Roc is a small, sporty SUV that sits below the Tiguan in VW's international line-up. For India, the T-Roc is expected to get increased ground clearance, and is likely to feature a 150hp, 1.5-litre petrol engine mated to a 7-speed dual-clutch automatic gearbox. Prices are expected to be close to the Rs 23 lakh mark (ex-showroom) when it is launched in the coming months.
Tiguan Allspace
The third SUV that Volkswagen will display at the Expo is the Tiguan Allspace, which is basically a longer and larger version of the Tiguan SUV on sale in India. In terms of design and styling, it is clearly a Tiguan, but is a considerable 215mm longer than the standard car, with its 110mm longer wheelbase. As a result, the Tiguan Allspace has room to accommodate a third row of seats, which can also be put away to generate an additional 115 litres of boot space. Expect the Allspace to be priced at a premium over the standard Tiguan when it is launched later this year.
I.D. Crozz Concept
Rounding off the list of unveils for Volkswagen at the Expo will be the I.D. Crozz electric SUV concept, the production version of which Volkswagen intends to launch in India by 2021. It employs an 83kWh lithium-ion battery, which powers a 102hp/140Nm electric motor at the front and a 204hp/310Nm electric motor at the rear, resulting in a combined output of 306hp and 450Nm of torque. VW says the I.D. Crozz has a range of over 500km with a top speed limited to 180kph.
Renault
HALL 10
With its Auto Expo 2020 line-up, Renault wants to project itself as a future-ready carmaker; one that's at the forefront of the electric car market and leading development of future technologies. To that effect, the carmaker will have four electric vehicles, which includes a fully autonomous concept car.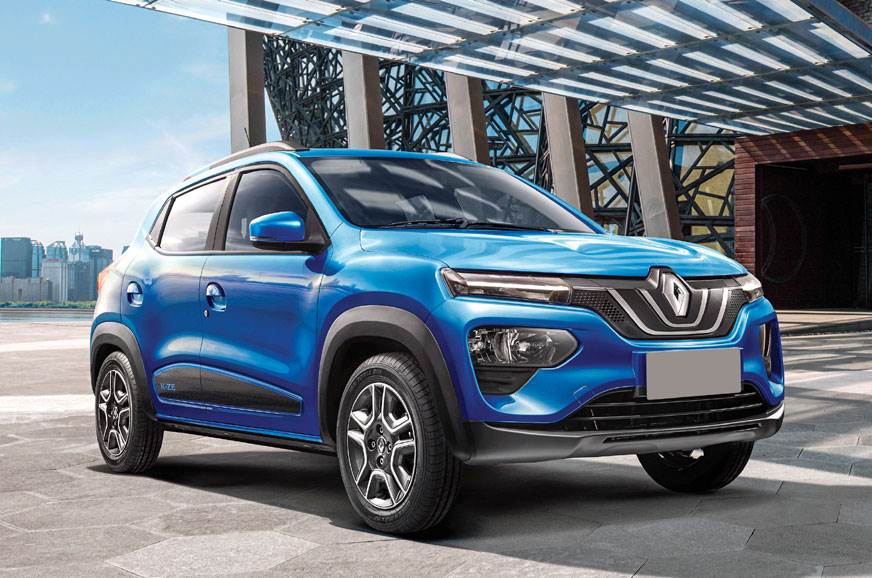 Kwid Electric
The most important of the three production-spec EVs has to be the all-electric version of the Kwid. Known as the City K-ZE in China, the Kwid electric employs a 26.8kWh lithium-ion battery pack and an electric motor with a peak output of 45hp and 125Nm of torque. At full charge, the all-electric Kwid has a range of 271km (NEDC cycle). Renault plans to assemble the car in India and launch it here in the time to come.
Zoe
The second EV on display will be the Zoe. Likely to be partly assembled in India, the Zoe gets a 52kWh battery and a 109hp electric motor. As for its range, Renault quotes a figure of close to 400km on a full charge (NEDC cycle). Expect prices for the Zoe to be in the Rs 14-16 lakh range (ex-showroom).
Twizy
Also set to be showcased this time around is the funky Twizy. It weighs just 474kg, and has an electric motor that produces up to 17hp and 57Nm of torque. On a full charge, Renault claims the Twizy will do close to 100km.
Symbioz Concept
Keeping the production EVs company at the Renault stand will be the Symbioz concept, which is not just all-electric but also has Level 4 autonomous driving capabilities.
Tata Motors
HALL 14
Having garnered all the attention at the 2018 edition, Tata Motors is looking to replicate that once again this year. To that effect, the Indian carmaker will have a total of 12 passenger vehicles on display, including some global unveils. One of those will be the world debut of the production-spec H2X micro-SUV. The showroom version of the H2X concept – codenamed Hornbill – will slot in below the Nexon compact SUV. In terms of size, the Hornbill will roughly be the same length as the Maruti Suzuki Swift and nearly as tall as the Maruti Suzuki Vitara Brezza. The second model to be built on Tata's new ALFA platform, the Hornbill will have no diesel engine option and will get a 1.2-litre, naturally aspirated petrol engine only.
H2X (Hornbill Micro-SUV)
Another SUV set to debut at the Expo is Tata's new flagship SUV – the 7-seat Gravitas. It's based on the same Land Rover D8-derived Omega platform as the Harrier, but the Gravitas is 63mm longer and 80mm taller. In addition to a third row of seats, it will also get the BS6-compliant, 2.0-litre Kryotec diesel engine producing around 170hp and 350Nm of torque. Transmission options for the Gravitas will include a 6-speed manual and a Hyundai-sourced 6-speed torque-converter automatic gearbox.
Gravitas
What Tata is also likely to showcase at the Expo is the BS6-compliant Harrier with an automatic gearbox and a panoramic sunroof, as well as a brand-new sedan previewing a rival to the Honda City.
Mahindra
HALL 10
At the 2020 Expo, Mahindra will have a total of 18 vehicles on display, including SUVs, MPVs, commercial and electric vehicles. Part of the showcase will be a 'futuristic concept EV' named the Funster (with an electric motor for each of its four wheels), and three production-ready EVs.
eKUV100
Those three production EVs are likely to be the eKUV100, XUV300 EV and the Aspire-based electric sedan. The eKUV100 is expected to get a 40kW (54.4hp) electric motor. The battery will likely be a 15.9kWh unit, which can be juiced up in 5hr 45min with a regular AC charger, or in 55min with a DC fast-charger. At an aggressive price tag of under Rs 9 lakh, the eKUV100 will essentially become the most affordable mainstream EV in India. The all-electric XUV300, meanwhile, is expected to be powered by a 130hp electric motor that will draw juice from a 40kWh battery pack. It will likely have a range of 300km and come with DC fast-charging capabilities. It will go on to rival the recently introduced Tata Nexon EV.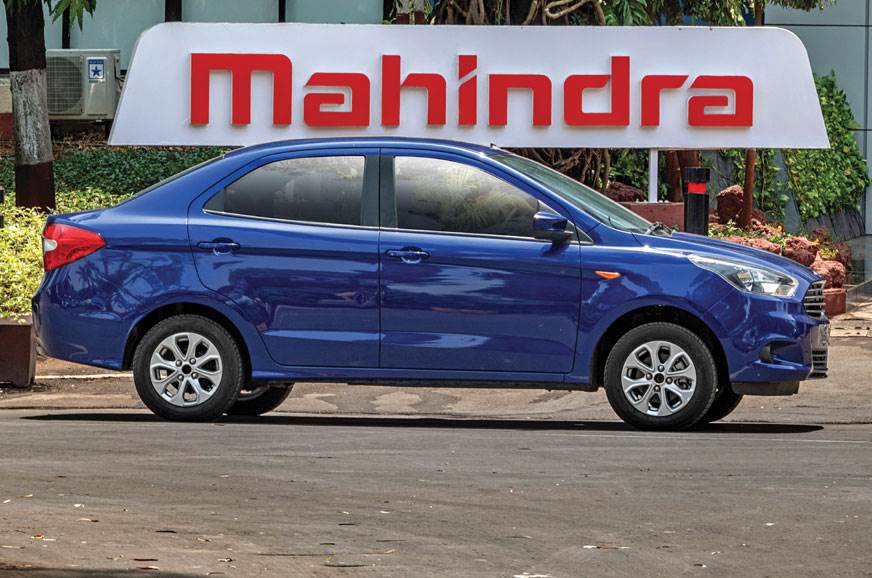 Aspire-based Electric sedan
The Aspire-based electric sedan is expected to get a 60kW (81.5hp) motor, a 25kWh battery pack, a range of close to 200km, a top speed of 110kph and a price tag of under Rs 15 lakh.