A few days ago, Mercedes-Benz confirmed it would bring new-generation models of the GLA SUV and the CLA four-door coupe to India in 2020. Now, with Mercedes-Benz India having discontinued the first-gen CLA, we can confirm the second-gen CLA will not be coming to our market. Instead, its place in the line-up will be taken by the Mercedes-Benz A-class sedan.
Mercedes has clarified that it did confirm there would be a new-generation of its entry-level sedan coming this year, but that happens to be the new A-class sedan, and not the CLA. The reason for this decision is a pragmatic one – in the luxury car segment (which still is largely chauffeur-driven) a roomy back seat is a necessity, and that's something the first-gen CLA – with its sharply raked roofline – did not have. And while the second-gen CLA is larger than its predecessor, headroom at the back is still tight – a problem that can be solved by the more spacious A-class sedan.
In terms of design, the CLA is clearly more aggressive and as close to a four-door coupe as it can be. However, bearing in mind the similarities between the A-class sedan and the CLA, Mercedes-Benz has decided to launch the more practical A-class sedan instead of bringing in the second-gen CLA.
Another interesting titbit is the name – in India, it will be known as the Mercedes-Benz A-class Limousine. The use of the word 'Limousine' is meant to create a clear distinction in the minds of buyers, as the Indian audience tends to relate the A-class name with the hatchback.
The second-gen GLA and the A-class sedan are all based on the next-gen MFA platform and will also share a number of parts when they arrive here as CKD units – from petrol and diesel engines to interior elements such as the steering and the MBUX infotainment system. This will help ensure prices aren't prohibitively high, as economies of scale will come into play. Expect Mercedes A-class Limousine prices to be in the Rs 32-40 lakh region.
Besides these, other launches from Mercedes-Benz in the pipeline for 2020 include the next-gen GLE on January 28, the all-electric EQC in April, the new GLE Coupe, all-new GLS and the AMG GT 4-Door Coupe, which will be launched at Auto Expo 2020.
Do you think it's a good decision to replace the CLA with the Mercedes-Benz A-class Limousine in India? Let us know in the comments.
Also see:
2019 Mercedes-Benz A-Class sedan image gallery
2020 Mercedes-Benz AMG A35 sedan India image gallery
5960 Views|3 years ago
2019 Mercedes-Benz A-Class sedan image gallery
19312 Views|4 years ago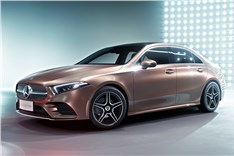 2018 Mercedes-Benz A-class sedan image gallery
12141 Views|4 years ago