October was a month of festivities and the passenger vehicle (PV) segment saw sales light up by notching 14.19 percent year on year (YoY) to 3,10,294 units. This number can also be attributed to manufacturers pumping up the volumes at their dealers across the country, in anticipation of sales and pent-up demand coming to fruition. Nonetheless, the cumulative April-October 2020 depict the troubled state of the PV industry – 1,190,260 units, which is 25.84 percent down YoY.
Maruti Swift bestselling car in October 2020, with sales of over 25,500 units
Hyundai Creta records best sales numbers this fiscal
Maruti Alto drops down to fourth place behind the Wagon R
While passenger cars clocked 182,692 units for 9.68 percent YoY growth, the real push came from utility vehicles which, with 113,990 units, notched robust 20.45 percent YoY growth. The van segment too lent a helping hand with 13,612 units (29.245 percent). Let's look at the Top 10 PVs of October 2020 in some detail.
1. Maruti Swift: 24,589 units
The Maruti Swift continues to wow consumers month on month, and in October it clocked nearly 25,000 units, ahead of three other hatchback siblings. In a bid to rev up sales, on October 19, the company launched the Swift Limited Edition. Priced from Rs 5.44 lakh, it is essentially an accessories package that adds several cosmetic changes outside and inside the cabin. This pack is available across all four variants of the Swift – LXi, VXi, ZXi and ZXi+.
In the April-October 2020 period, the now petrol-only Swift garnered sales of 76,884 units, as compared to 1,06,601 units (including 18,165 diesel Swifts) in the year-ago period. However, it cannot be an apple-to-apple comparison due to the COVID-19-induced loss of sales, as well as Maruti dropping out of the diesel car market.
2. Maruti Baleno: 21,971 units
This premium hatchback had a good outing last month with 21,971 units, which takes its April-October 2020 tally to 69,608 units. The Baleno is Maruti Suzuki's largest hatchback retailed from Maruti's premium Nexa outlets. What draws buyers to the smartly turned-out Baleno is the practical cabin, which offers more space than many pricier sedans. The boot is generously-sized, too.
The Baleno's standard 83hp, 1.2-litre petrol engine is peppy, refined and efficient, and the 5-speed manual gearbox is also nice to use. City dwellers will find a good combination of efficiency and convenience in the CVT auto variant. The 90hp Baleno Smart Hybrid is significantly pricier than the standard petrol version but promises enhanced performance and economy.
3. Maruti Wagon R: 18,703 units
Maruti Suzuki's tall boy is faring rather well in the market and, at 18,703 units (comprising 6,766 CNG variants and 11,937 petrol variants), this popular hatchback is third in the Top 10 list. The Maruti Wagon R has built a formidable reputation for itself as a sensible, spacious, efficient and reasonably priced city hatchback. The third-gen Wagon R takes the story forward.
Engine options include a 1.0-litre, three-cylinder petrol unit and a more powerful 1.2-litre four-cylinder petrol. Both engines can be had with manual and AMT auto gearboxes. The Wagon R 1.0 is also available with a factory-fitted CNG kit.
Compared to year-ago sales of 20,712 units, the April-October 2020 figures reveal sales of 22,933 units. It's the same story for other Maruti CNG models which is welcome news for the carmaker, who has targeted selling a million more CNG cars in a shorter span of time than the first CNG-powered million took.
4. Maruti Alto: 17,850 units
Sustained demand for this entry-level hatchback, which is among the most affordable cars in India, means that the Maruti Alto is a regular in the Top 10 chart. The little car offers Maruti's peace-of-mind ownership experience for relatively little money.
In October, it sold a total of 17,850 units – 731 CNG and 17,119 petrol variants. The April-October 2020 stats are 72,951 units, comprising 2,820 CNG and 70,131 petrol Altos.
5. Maruti Dzire: 17,675 units
Now in its third generation, the Maruti Suzuki Dzire is easily the most popular compact sedan in India. A spacious and well-equipped cabin, as well as a well-proportioned design, in addition to the peace of mind of buying a Maruti sure seem to have worked in the car's favour. The Dzire is a petrol-only model and can be had with either a manual transmission or an AMT auto.
The PV market leader a year ago is now down to the fifth position as demand shifts to smaller cars, and also due to Maruti Suzuki dropping out of the diesel race. The diesel-engined Dzire was always a popular choice in the market.
In October, the Dzire saw despatches of 17,675 units – 793 CNG and 16,882 petrol – taking its April-October 2020 total to 62,387, comprising 3,633 CNG and 58,754 petrol variants.
6. Hyundai Creta: 14,023 units
The new Hyundai Creta, launched on March 16 this year, is maintaining its pedal-on-the-metal position in the Top 5 stakes. In October 2020, it clocked sale of 14,023 units, comprising 7,614 diesel and 6,409 petrol variants. This is its best monthly performance this fiscal; total Creta sales in the April-October are 60,074 units, comprising 35,326 diesel and 24,748 petrol variants. This constitutes a 59:41 percent split in favour of diesel, indicative that the Korean carmaker's strategy to remain bullish on diesel is paying off. Of Hyundai's total UV sales of 98,261 units, the Creta accounts for 61 percent.
The Creta is available with a choice of three engine options – a 1.5-litre petrol, a 1.5-litre diesel or a 1.4-litre turbo-petrol. Clearly, the new BS6-compliant diesel motor has outpaced the other two, when it comes to market pull.
On October 9, Hyundai Motor India announced that the new Creta has received over 1.15 lakh bookings. According to the company, the Creta is also the most researched model on its end-to-end car buying platform 'Click to Buy'; the BlueLink enabled variants are also seeing a strong response, with over 25,000 customers opting for connected SUVs.
The new Creta, which competes with the Kia Seltos, MG Hector, Renault Duster and Nissan Kicks, is very much on the upswing. The Creta, along with the Venue, has helped drive Hyundai's UV market share to 21.75 percent, just below Maruti Suzuki India which has 22.73 percent.
7. Hyundai Grand i10: 14,003 units
The second Hyundai car in this list, the Grand i10, marks a smart resurgence in demand with 14,003 units, comprising 1,061 CNG, 221 diesel and 12,721 petrol variants. The April-October 2020 tally is 47,257 units – 3,194 CNG, 783 diesel and 43,280 petrol.
8. Maruti Eeco: 13,009 units
The utilitarian Maruti Suzuki Eeco is among the most affordable ways to transport five or more people and their luggage. It is basic transportation and it should only be seen as such. The Eeco is available in petrol and CNG versions and can be had in 5- and 7-seat configurations. 2019's update has added mandatory safety essentials such as a driver airbag and ABS.
October 2020's sales were a total of 13,009 units split into 2,490 CNG and 10,819 petrol variants. In the fiscal year till now, a total of 47,565 Eecos have seen ownership, comprising 8,183 CNG and 39,382 petrol variants.
9. Maruti Vitara Brezza: 12,087 units
The Maruti Vitara Brezza, which is now available only in petrol, clocked despatches of 12,087 units, its highest monthly tally this fiscal. This takes its April-October 2020 total to 41,064 units.
The Vitara Brezza shares its 105hp and 138Nm, 1.5-litre K15B petrol engine with other Marutis like the Ciaz, Ertiga and XL6. A 5-speed manual gearbox is standard, while a 4-speed torque converter automatic is available as an option. Interestingly, Suzuki's SHVS Smart Hybrid tech is reserved only for automatic versions of the compact SUV. ARAI fuel-efficiency figures rate variants with the 5-speed manual at 17.03kpl while the automatic, with the mild-hybrid tech, has an ARAI-rated 18.76kpl.
The Brezza is retailed through the company's Arena network, which has around 2,600 outlets spread across 1,900 cities. The massive footprint, combined with the automaker's brand image, is expected to continue being a significant force behind the Brezza's sales. Maruti's digital drive is also giving the Brezza new reach – the company recently announced that its online initiatives have helped sell over 2,00,000 cars since April 2019.
10. Kia Sonet: 11,721 units
Kia Motors India looks to be on a home run. Barely 14 months into its Indian innings and the company has already crossed the 1.5 lakh-unit sales milestone. And its first compact SUV – the Sonet – should be giving it more sales speed in the months to come.
The Kia Sonet was officially launched on September 18 at an introductory price of Rs 6.71 lakh (ex-showroom, India). The crossover comes in six trim levels, spread across Tech Line and GT Line variants, and while the diesel trims are priced between Rs 8.05-11.99 lakh (ex-showroom), the turbo-petrol ranges from Rs 9.49-10.49 lakh.
For the past two months, the Sonet has bettered sales of its sibling, the Seltos. In September, the Sonet sold 9,266 units to the Seltos' 9,079 units, and in October, the Sonet clocked all of 11,721, compared to the Seltos' 8,900 units.
The new Kia Sonet, which has over 50,000 bookings in the bag, goes up against the Maruti Vitara Brezza, Hyundai Venue, Ford EcoSport, Mahindra XUV300 and the Toyota Urban Cruiser. The latest competition will come from the Nissan Magnite which will launch on December 2.
Of the total 20,987 Sonets sold in two months, 11,330 units have been petrol-powered and the remaining 9,657 diesel, making for a 54:46 percent fuel-wise split in favour of petrol, similar to that of sibling Seltos.
Growth outlook
Whether the green shoots of recovery are real will only be seen in November and the months that follow. The general state of the economy continues to be somewhat grim and consumers are not ready to empty their wallets yet on their vehicle of choice and preferring to employ a wait-and-watch strategy. December typically sees a marginal dip in sales as buyers prefer to buy a model in the new year. What should keep the PV segment's numbers up and about is the sustained demand for SUVs, which are currently notching 20 percent YoY growth.
Also see:
Maruti Suzuki sales boosted by digital platforms
Passenger vehicle retail sales rise 27.6 percent in October 2020
1,50,000th Tata Nexon rolls off the production line
New car, SUV sales surge due to heavy festive demand
Two-wheeler sales rise to record highs in the month of October
Tata Altroz CNG video review
37306 Views|6 months ago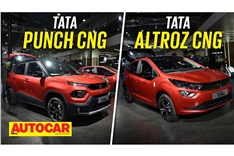 Auto Expo 2023: Tata Punch, Altroz iCNG walkaround video
11455 Views|10 months ago
Auto Expo 2023: Tata Altroz Racer walkaround video
5450 Views|10 months ago