The upcoming Frankfurt motor show is just around the corner. With more than 25 major reveals already confirmed, and more to be announced in the coming days, let us take a peek at what to expect at this year's event.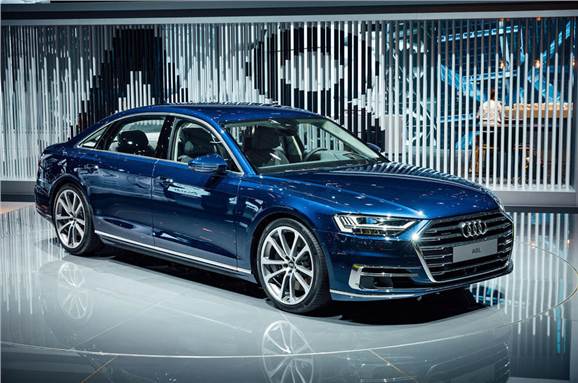 The Audi A8 which was revealed at the Audi Summit in early July will make an appearance at Frankfurt.
Also read:
New 2017 Audi A8 first look video
Audi A7
The A7, the smaller, coupé sibling of the A8, is expected to make its debut at the Frankfurt motor show and inherit much of the A8's cutting-edge autonomous tech and a sharp new look to boot.
The long-awaited Bentley Continental GT, the British brand's most advanced car yet, has already been officially revealed, but will be publically showcased at this year's Frankfurt motor show. It will have a W12 motor, a twin-turbo, V8 mill and even a 450hp hybrid in the range. Unlike its SUV sibling, the Bentayga, the Continental GT is not expected with a diesel engine.
Also read: All-new Bentley Continental GT revealed
Images of the BMW 6-series GT have already been revealed. Considered the successor to the 5- series Gran Turismo, the new car is more conventionally styled than the model it replaces. The 6-series GT will make its way to India as well.
Also read:
Scoop! New BMW 6-series GT to be launched at Auto Expo 2018
6 things you should know about the BMW 6-series GT
BMW will officially be the first mainstream manufacturer to produce an entry for the next big performance segment – the hot electric hatch. Renault may have pipped it to the concept with the Zoe e-sport, but the i3S has reached production first. The company will also reveal recently unveiled facelifted i3 range.
Also read: BMW i3 facelift unveiled with a top-spec 184hp i3s
The M5 is another hot one from BMW, but is totally different from the i3S. Though the new four-wheel-drive super-sedan from BMW was partially revealed in a videogame publicity shot and then officially revealed with 600hp and AWD, it will make its public debut at the upcoming event for the first time.
BMW X7 concept
BMW's answer to the Mercedes-Benz GLS, which has been spotted testing a number of times, will arrive at Frankfurt in concept form. It has been spotted testing numerous times. With the X2 set to emulate its concept-like looks for production, BMW's SUV flagship is likely to follow suit.
Also read: BMW X7 Concept to be revealed in September
Reviving the 8-series nameplate for its flagship sedan, BMW will introduce the car at Frankfurt, with an international launch expected next year. Expect the sedan to be equipped with Mercedes-Benz S-class-rivalling tech and luxury.
Also read: BMW 8-series concept revealed
Borgward concept sportscar
The German-based, but Chinese-owned, Borgward has been teasing its concept sportscar for a while now. The concept is expected to preview a future halo model when it reaches production.
Chery SUV concept
One of China's largest manufacturers, Chery, will bring a large SUV to Frankfurt in pre-production form. The for-Europe concept SUV will be unveiled with a hybrid or electric powertrain.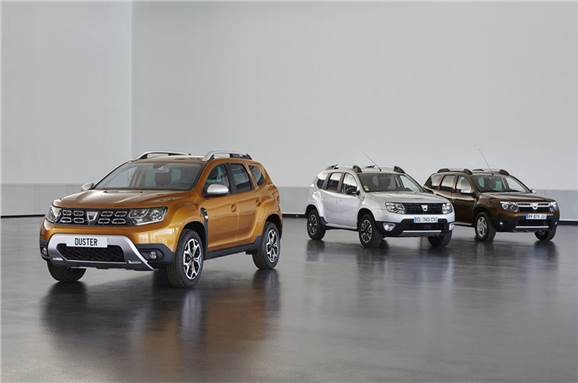 The new Dacia Duster will make its public debut in Frankfurt and sits on the other end of the SUV segment. The SUV, sold as the Renault Duster in India, has been digitally unveiled, though only the exterior has been revealed. It is based on the same M0 platform and is dimensionally identical to the last-gen model.
Also read: All-new Renault (Dacia) Duster SUV revealed
While the California T's replacement has already been revealed, the convertible Ferrari will make its public debut at the motor show. It sports a 600hp/760Nm version of the award-winning 3.9-litre, twin-turbo, V8 motor.
Also read: New 600hp Ferrari Portofino convertible revealed
It's time for the Jazz's mid-life refresh, so Honda's expected to be taking one to Frankfurt. The hatchback was revealed officially before its public debut and will be offered in Europe with a new 130hp, 1.5-litre petrol engine along with the existing 102hp, 1.3-litre motor.
Also read:
2018 Honda Jazz facelift revealed
Honda Jazz facelift revealed before Frankfurt debut
Honda CR-V hybrid
Honda's first hybrid in its electrification onslaught will likely be a CR-V, before other models follow suit.
Also read:
India-bound 2018 Honda CR-V gets 5-star ASEAN NCAP rating
New 2018 Honda CR-V: 5 things to know
SCOOP! All-new Honda CR-V diesel India launch next year
Honda Urban EV concept
Along with the CR-V hybrid, Honda will reveal its Urban EV concept at the 2017 Frankfurt motor show. The concept is meant to showcase the manufacturer's next steps in its plan for electrification of its European car range.

Hyundai's first hot hatch will make an appearance at Frankfurt, following its debut in Germany earlier this summer. The car is expected to deliver a maximum output of 275hp and sport pumped up looks.
The Nissan Juke rival from Hyundai, the Kona, is poised to keep up the carmaker's relentless momentum in the SUV segment.
Also read:
SCOOP! Hyundai evaluating electric Kona for India
We will get another look at the recently revealed Jaguar E-Pace, the British brand's second SUV, at Frankfurt this September.
Also read: 2018 Jaguar E-Pace officially revealed
The first electric vehicle from Jaguar, the I-Pace, will be revealed at the event in production form. The SUV had been revealed in concept form earlier. Jaguar is expected to launch the i-Pace internationally next year.
Partially revealed recently, Kia's shooting brake concept will be fully unveiled at Frankfurt. The concept showcases the Korean manufacturer's intention to move into more premium segments. The shooting brake concept is likely to replace the slower-selling Pro'Ceed three-door in the Ceed range in international markets, although Kia is mum on the specifics.
Another Nissan Juke rival on its way to Frankfurt is the Kia Stonic. Kia's small SUV was revealed recently, and we'll see it for the first time in the flesh at Frankfurt.
Facelifted Lexus NX
The European-spec Lexus NX, in facelifted form, will appear at Frankfurt, after the Asian-spec car was revealed at the Shanghai motor show earlier this year.
Lexus CT facelift
Lexus is also expected to bring its facelifted CT hatchback to the motor show. It's likely to be the last refresh the model receives, as Lexus plans to replace it with a small SUV, the UX.
Mercedes-AMG Project One hypercar

Perhaps the showstopper of the Frankfurt event will be the Mercedes-AMG's hypercar, codenamed 'Project One'. It's set to rival the Aston Martin Valkyrie and usher in a new generation of hypercars upon its launch next year.
Also read: Mercedes-AMG reveals Project One powertrain details
Mercedes-Benz EQ hatchback
In the footsteps of Volkswagen's assault on the EV segment, Mercedes will introduce its EQ hatchback to rival the Volkswagen ID hatchback concept. Expect a similar approach to its previous EQ SUV concept.
Also read: Frankfurt debut for Mercedes electric hatchback
Mercedes-Benz GLC F-Cell EQ Power
Mercedes will display its hydrogen-fuel-cell-powered SUV concept at Frankfurt. The SUV is a hydrogen-powered hybrid with another electric engine providing additional power. Mercedes claims a range of 500km.
The X-class may have just been revealed, but it will be wheeled out again at Frankfurt for its motor show debut, as part of a large Mercedes-Benz stand.
Also read: Mercedes X-class pickup unveiled
Next-gen Mercedes-Benz G-class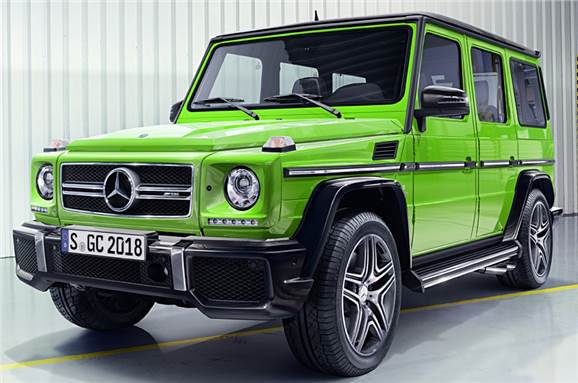 The next-gen G-class will be designed with the original's aesthetics in mind. The same V12 motor will be available in the range-topping model, though the 4.0-litre twin-turbo V8 will probably replace the 5.5-litre V8 on the current G-class. The new S-class' 3.0-litre, six-cylinder diesel may also replace the current G 350d's engine.
Also read: New Mercedes-Benz G-class slated for Frankfurt 2017 debut
The new S-class sedan debuted at the Shanghai motor show just past and the German manufacturer is expected to display the flagship sedan's coupe and cabriolet siblings at Frankfurt.
Also read:
2017 Mercedes-Benz S-class facelift review, test drive
All-electric Mini Cooper concept
The all-electric Mini Cooper concept is expected at the Frankfurt motor show to celebrate the 20th anniversary of BMW's Mini. The electric hatchback has been digitally unveiled recently and will offer a glimpse of the design and its technical specifications before production begins in 2019.
New Porsche Cayenne
Porsche's first SUV, the Cayenne, is about to enter its third generation and will be at the Porsche stall at Frankfurt. The car has been spotted testing over the past 18 months and was recently revealed with a lighter and more contemporary platform, an aluminium body structure, a 48V electrical system and a redesigned interior with added connectivity options. More powerful engines are also on offer.
Also read:
New 2018 Porsche Cayenne revealed
Next-gen Porsche Cayenne leaked
Renault Mégane Renault Sport
The Mégane Renault Sport has already been seen with leaked and barely disguised shots, so at this stage, it has been all but officially unveiled. The carmaker will showcase the car at Frankfurt.
Smart Case concept
The Case concept, short for 'Connected', 'Autonomous', 'Shared' and 'Electric' will preview Smart's future models. As the name implies, autonomous and connected technologies that are expected in the manufacturer's range will be previewed on the concept.
Seat Arona
The Seat Arona was revealed a while ago and it will be showcased once again at the Frankfurt Motor Show. With a few other SUVs also set to be previewed, we will find out how it stacks up against competitors.
Subaru Impreza
The next Subaru Impreza will break cover at Frankfurt, as the firm refreshes its line-up with new architecture, first seen on the new XV.
To be seen for the first time in its production form, the Swift Sport will be powered by a 140hp, 1.4-litre turbocharged motor rather than the traditional 138hp, 1.6-litre, naturally aspirated petrol unit.
Also read:
New Suzuki Swift Sport teaser video confirms details
Vauxhall Grandland X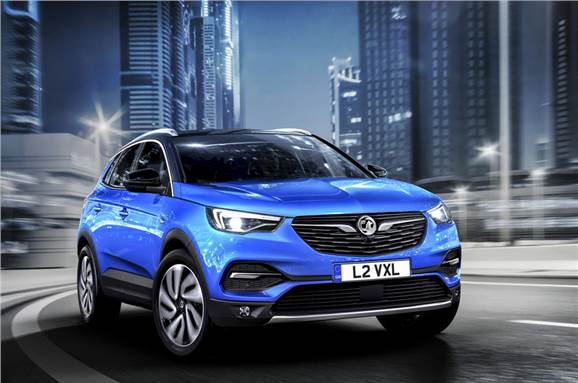 The Grandland X will make its debut at the Frankfurt show as a rival to the Seat Ateca and Nissan Qashqai.
Vauxhall Insignia Country Tourer
It's been a while since the Country Tourer was revealed, but Vauxhall's estate-cum-off-roader will officially make its debut at Frankfurt.
The sixth-generation Volkswagen Polo was first revealed in Berlin. We will get another look at the new supermini, as well as its hot-hatch iteration, the Polo GTI.
Also read:
New 2018 Volkswagen Polo revealed
2018 Volkswagen Polo: 5 things to know
Volkswagen ID sedan concept
Joining VW's range of new electric-powered concepts such as the ID Crozz SUV, ID Buzz MPV and ID hatchback, the ID sedan concept will make its debut at Frankfurt. It'll be styled in the same way as its EV siblings and be powered by the same electric motors.
Also read: New sedan to join VW's electric ID line-up
While the T-Roc debuted in concept form at the 2014 Geneva motor show, it has been teased recently and will make an appearance at Frankfurt. VW's smallest SUV is based on the new modular MQB platform that underpins the Golf and some of the smaller Audis.
Also read:
2017 Volkswagen T-Roc SUV unveiled
300hp Volkswagen T-Roc R under consideration
Volkswagen T-Cross SUV to be revealed in 2018
Event information
Dates: Trade: 14-15 September 2017; Public: 16-24 September 2017
Location: Trade Fair Grounds, Ludwig-Erhard-Anlage 1, D-60327 Frankfurt/Main, Germany
Opening times: 9am-7pm, daily
For ticket information, visit the official website.