Alliance partners Renault and Nissan are all set to announce their next phase of investment in India in the coming weeks. Our sister publication Autocar Professional has learned that an investment of close to US $500 million (Rs 4,000 crore) is in the final stages of approval, and the bulk of this money will go towards bringing a new platform – the CMF-B – into India. This will lead to a slew of new models from both brands, including the return of the much-loved Renault Duster SUV in an all-new guise.
All new Renault Duster to be launched in 2024-25
CMF-B platform to be heavily localised in India
CBU import models to be launched in the interim
Renault Duster to return to India
The CMF-B platform will form the base for various new Renault and Nissan models in India, including the next-generation Duster, as we had earlier reported. The platform will be localised to a high degree and will also spawn a larger Renault SUV derived from the Bigster concept, which will likely have seven seats. There will also be an EV eventually spawned off this architecture, given that the CMF-B also has an electric derivative called the CMF-B EV.
Nissan will also have its own corresponding versions of these vehicles much like the Kiger-Magnite duo, so expect fresh competition for not just the likes of midsize SUVs like the Creta, Seltos, Taigun, Kushaq and Astor, but also three-row SUVs like the Alcazar, Safari, Hector Plus and XUV700. The new Duster and its Nissan counterpart will put up a better fight this time, too, as unlike their aged predecessor, they're armed with far more modern underpinnings.

Renault-Nissan India: CBU launches in the meantime
However, bringing in the CMF-B platform and localising it will take time, and the aforementioned products are set to hit Indian roads only in 2024-25. Until then, both brands will rely on CBU imported models to keep things interesting. According to sources, the Arkana – a coupe crossover derivative of the Captur, is a key option for a 2023 launch, and it has, in fact, been spied testing in India earlier this year.
The second option is the Renault Megane e-tech – an electric version of the brand's popular European large hatchback, our review of which you can read here. However, it may face a hurdle in the form of the new battery norms soon to be introduced in India. Nissan Motor India, meanwhile, has already announced that it is studying the likes of the X-trail, Qashqai and Juke SUVs as CBU imports for the Indian market.
Renault Nissan India: platform ticket
Renault and Nissan's Indian operations currently revolve around two platforms– the CMF-A and the M0. The compact low-cost CMF-A architecture currently underpins the Kiger, Kwid and Triber for Renault, while Nissan has the Magnite.
The M0 platform, which has its India origins way back in the Renault Logan and Duster, is still used by the Nissan Kicks. However, with the Kicks as good as gone, and the M0 platform now quite long in the tooth, the alliance needs an additional platform to produce larger vehicles in the higher segments, which is where the CMF-B comes in.
The good part is the CMF-B has already been tried and tested in Europe, underpinning the likes of the Captur crossover in those markets. However, it will be cleverly retooled for India and other low-cost markets, removing non-essential components, while still keeping things future proof.
This means it will conform to existing and upcoming safety norms, and will support electrification, including hybrid and EV powertrains, something the outgoing M0 platform cannot. This is virtually the same as what Skoda-Volkswagen India has successfully done with its MQB-A0-IN platform, which underpins the Kushaq, Taigun, Slavia and Virtus.
Resurgence for Renault-Nissan in India
India has always been important for Renault. In fact, the Indian market climbed up the ranks and broke into the top five markets for the French brand in 2021. Profitability, however, was under severe pressure, and the loss-making operation and an investment freeze from the company's headquarters led to the axing of the Duster.
However, as we had reported in the August 2022 issue of Autocar India magazine, Renault exited Russia after the invasion of Ukraine and India is set to reap the benefits of that, with any previously planned investment there now being redistributed. Furthermore, Renault also exited China a few years ago, which meant that India, as a consequence, became an even higher priority.

Financially, both Renault and Nissan are also better off than before. Whilst Nissan's financials are not known, Renault managed to break into a profit with steady sales of its CMF-A trio and proved a vital point – that it's possible to make money in India. With the Indian market also bouncing back handsomely after COVID-19, it gave confidence to the Alliance brands' global management to go ahead with this new phase of investment in India.
Like its existing models, the Renault-Nissan Alliance is expected to use India as an export hub for the new CMF-B models, which will have the requisite economies of scale and will be sold in other developing markets.
Renault-Nissan India: Alliance affairs
India is among the very few markets where Renault and Nissan have an alliance with equity partnership. The Renault Nissan Technology Business Centre India has equal equity participation from Renault and Nissan and with a majority stake of 70 percent being held by Nissan Motor for the Oragadam factory in Chennai. There is also a strong backing from Ashwani Gupta, the global COO of Nissan Motor, for this next phase of investment.
There have been several visits by Nissan Motor's regional board of the AMEIO region to the Chennai factory, and there have been some high-profile visits from the Renault side too. In the past, Gupta had also stated that Nissan may even explore a gigafactory in India to serve the global market needs for electrification – hinting at how the Japanese carmaker sees India as a critical base for exports in the future.
Renault-Nissan India: powertrain puzzle
There is still a challenge in the short term, though. While the Franco-Japanese Alliance is readying the next phase of investment, its current range could be limited by a lack of engine variety. Currently, the entire model range (apart from the near-defunct Kicks) is powered by a single engine – the 1.0, three-cylinder unit in naturally aspirated (BR10) and turbocharged (HR10) guises.
There's no diesel or a localised EV or hybrid on the cards, not in the near future at least. There is a plan to launch the Triber CNG next year, but with CNG prices shooting up, the relevance of the gas-powered variant has been thrown in doubt.
So, much like the Volkswagen Group, Renault-Nissan's limited powertrain portfolio makes it vulnerable. Market leader Maruti Suzuki and partner Toyota, on the other hand, offer CNG, hybrids and petrol engines in the Rs 10 lakh-25 lakh range, while Hyundai and Kia have held on to diesel for their SUVs, the former also offering CNG in its compact cars. Meanwhile, Tata Motors and Mahindra & Mahindra will have petrol, diesel and affordable EVs in their portfolios.
This big investment is indeed a shot in the arm for both Renault and Nissan to help expand their model range to claw back lost ground.
Also See:
Honda won't produce diesel engines in India from February 2023
SCOOP! Toyota Innova Hycross to deliver 20-23kpl
Renault Cars
Renault Kiger
₹ 6.06 - 10.80 lakh
Renault Kwid
₹ 3.34 - 7.20 lakh
Renault Triber
₹ 5.71 - 8.87 lakh
New Renault Duster image gallery
39142 Views|10 days ago
Renault Kiger, Kwid, Triber Urban Night edition image gal...
8681 Views|3 months ago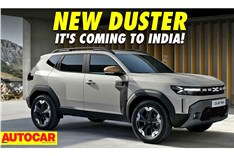 New Renault Duster first look video
11013 Views|10 days ago
Quick News Video, October 29, 2023
2288 Views|1 month ago
Renault Urban Night Editions walkaround video
4669 Views|2 months ago