All Seltos variants gets added features

Version count trimmed from 18 to 16

Updated Seltos still misses out on a panoramic sunroof and paddleshifters
Kia Motors India has announced prices and the features list for the updated Seltos that will be available in showrooms in the coming days. The refreshed Seltos gets a minor variant rejig, along with addition of multiple new features across the range, as we had reported just last week. Prices for the 2020 Kia Seltos start at the same Rs 9.89 lakh for the base HTE 1.5 petrol variant, and go up to the same Rs 17.34 lakh for the top-spec GTX+ diesel-automatic trim. The company has discontinued two variants from the Seltos GT Line range – the GTK and GTX DCT – due to low demand.
What's new on the outside of the refreshed Kia Seltos?
The updated Seltos looks more or less the same as the one that had launched back in August 2019. However, Seltos HTK+/HTX/HTX+/GTX/GTX+ variants now get a slightly altered rear bumper with cometic tweaks that make it look like they get dual-exhaust pipes. What's more, the HTX+ and GTX+ variants now get dual-tone exterior paint shades, including a new orange-white scheme.
What interior and feature upgrades does the 2020 Seltos get?
Kia Motors India has tweaked the features list of its popular SUV, and has included some more creature comforts to almost every variant. Even the interior design has been tweaked.
While the Seltos GTX and the GTX+ variants get all-black interiors, Kia has added a silver finish on the temperature control panel on the HTX, HTX+, TX and GTX+ variants. The Seltos HTX and HTX+ now get metal scuff plates on all four doors; the Seltos HTK+ variant now comes with faux leather finish on the gear knob and a printed dashboard garnish as standard.
Coming to the features list, all Seltos automatic versions now come with a remote engine start feature as standard. Additionally, an emergency stop signal feature and front and rear USB charging points have been included in every single Seltos variant. The HTX and GTX variants now get a sunroof as well.
An important bit to note here is that even after the addition of the above mentioned upgrades, the Seltos still misses out some of the more sought after goodies like paddleshifters and a panoramic sunroof; both of these are available on higher variants of the Seltos' direct rival, the second-gen Hyundai Creta.
Does the Seltos' UVO Connect system get any updates?
Yes it does. Kia's connected car tech, known as UVO Connect, has also been updated with more features. The system can now be accessed by the voice command, "Hello Kia". The system now features smartwatch app connectivity, is able to control the in-car air purifier settings, give audio details about Indian holidays, and share live cricket scores. These features are available with the Seltos HTX, HTX+, GTX and GTX+ variants.
There are no mechanical changes to the Seltos with this update.
Does updated Seltos get a price hike?
These updates have come with a marginal price hike. However, the overall price range of the Seltos has not increased. Here's a look at the complete price list of the updated Kia Seltos and how it compares to the previous model:
2020 Kia Seltos prices (ex-showroom, India)
Variant
Updated Seltos
2020 Seltos
Difference
1.5P HTE
Rs 9.89 lakh
Rs 9.89 lakh
-
1.5P HTK
Rs 10.49 lakh
Rs 10.29 lakh
Rs 20,000
1.5P HTK+
Rs 11.59 lakh
Rs 11.49 lakh
Rs 10,000
1.5P HTX
Rs 13.34 lakh
Rs 13.09 lakh
Rs 30,000
1.5P HTX CVT
Rs 14.34 lakh
Rs 14.09 lakh
Rs 30,000
1.4T-GDI GTK
-
Rs 13.79 lakh
-
1.4T-GDI GTX
Rs 15.54 lakh
Rs 15.29 lakh
Rs 25,000
1.4T-GDI GTX DCT
-
Rs 16.29 lakh
-
1.4T-GDI GTX+
Rs 16.39 lakh
Rs 16.29 lakh
Rs 10,000
1.4T-GDI GTX+ DCT
Rs 17.29 lakh
Rs 17.29 lakh
-
1.5D HTE
Rs 10.34 lakh
Rs 10.34 lakh
-
1.5D HTK
Rs 11.69 lakh
Rs 11.54 lakh
Rs 15,000
1.5D HTK+
Rs 12.69 lakh
Rs 12.54 lakh
Rs 15,000
1.5D HTK+ AT
Rs 13.69 lakh
Rs 13.54 lakh
Rs 15,000
1.5D HTX
Rs 14.44 lakh
Rs 14.14 lakh
Rs 30,000
1.5D HTX+
Rs 15.49 lakh
Rs 15.34 lakh
Rs 15,000
1.5D HTK+ AT
Rs 16.49 lakh
Rs 16.34 lakh
Rs 15,000
1.5D GTX+ AT
Rs 17.34 lakh
Rs 17.34 lakh
-
What does the refreshed Seltos have to beat?
Since its launch, the Seltos has been a blockbuster product for Kia in the Indian market. However, 2020 has seen the launch of the all-new Creta, which is equally competitive, along with other updated rivals like the recently launched (and more powerful) 156hp Nissan Kicks, the MG Hector and the Tata Harrier.
Also see:
Kia to invest Rs 400 crore to expand India operations
Kia Motors India introduces 'Kia Care' initiative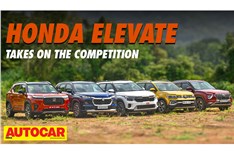 Elevate vs Seltos vs Creta vs Grand Vitara vs Taigun: Mid...
17943 Views|1 month ago
Kia Seltos facelift video review
33953 Views|4 months ago
Kia Seltos facelift walkaround video
12329 Views|5 months ago