MG began its India innings with the commencement of manufacturing operations at its Halol, Gujarat plant in April 2019. In less than two years of starting mass production, the company is already gearing up for further growth, especially in preparation of its next model – a Creta fighter, codenamed Model K – that is slated to arrive later this year. "We've already invested Rs 3,000 crore in the last two and a half years, and we are going to invest another Rs 1,500 crore this year," said Rajeev Chaba, President and Managing Director, MG Motor India, in an interview with Autocar India. He added, "The additional Rs 1,500 crore will be invested in expansion and localisation."
MG to add more shifts to expand capacity at its Halol plant
Localised content in Hector to increase by 10 percent this year
Creta rivalling MG Model K to debut by Q3 2021
Halol plant to produce 1,00,000 cars annually by 2022
MG took over the Halol facility from General Motors which was exiting the Indian market in 2017. The plant is currently capable of churning out 80,000 units annually, and handles the production of the Hector family (including the 6- and 7-seat Hector Plus), the ZS EV and the Gloster. "Right now, we can manage around 4,000-4,500 cars a month. The paint shop is a constraint, so we have two shifts operating there. In other lines, we have a single shift operation," commented Chaba.
Rajeev Chaba, President and MD, MG Motor India: We've invested Rs 3,000 crore in the last two and a half years, and we are going to invest another Rs 1,500 crore this year for expansion and localisation.
"Before we introduce our fourth car (Model K) in the third quarter of this year, we need to increase capacity to 7,000-8,000 units a month, and that's what we are focusing on right now. This means, we can go up to 80,000-90,000 cars a year," he said.
However, in a further push, the company plans to max out the facility moving forward. "We are working on further expanding the capacity to probably 1,00,000-plus units in this plant itself," said the MG India head. He hopes to achieve the target "by next year", utilising all of the plant's assets around the clock. "By having two complete shifts for the rest of the line, and three shifts for the paint shop, we can go up to 1,00,000 units," he added. "But after that, we need to think about phase two, which is another plant."
Common assembly line to aid flexibility
Chaba elaborated that while the full-size Gloster is put together at a dedicated assembly line, rest of MG's products can be manufactured on a common facility. "The ZS EV, the Hector and the upcoming fourth product are all on the same line. Elsewhere in India, at least to my knowledge, EV and mainstream cars are not produced on the same line, and have different, dedicated lines," he said. Such a setup is expected to help dial in a degree of flexibility into the production operations.
"So this gives us absolute flexibility in terms of handling the market demand and also the manpower. So, from a cost perspective, it's very efficient for us," he commented.
MG to bolster localisation levels
In addition to capacity expansion, localisation is another area that the company is looking to increasingly focus on.
The Hector, for instance, debuted in 2019 with about 70 percent of its components sourced locally, and the automaker is now working to further increase the content from Indian suppliers. "If you consider the diesel Hector, then 84 percent of it is localised, and in petrol form, there is more than 55-60 percent localisation," said Chaba.
Providing further insight, he mentioned that while some of the SUV's electronics and modules are imported from China, a lot of the semiconductors are sourced from Europe. However, all of the steel components are either made in-house or procured locally. The MG boss also revealed that the company plans on improving localisation levels by another 10 percent. "Even some electronics and modules, which we are importing right now, can be localised. So we are going to spend more than Rs 200 crore to help (Indian) vendors. We are spending a lot of energy on additional localisation of the Hector this year."
The difference in localised content of the diesel and petrol Hectors stems from the fact that while MG procures the 170hp, 2.0-litre diesel mill from FCA in Pune, the 143hp, 1.5-litre turbo-petrol powertrain is imported. This could, however, change in the long run. "With the 8-10 percent more localisation that we are aiming for this year, most of the stuff is going to be localised, except the powertrain. For powertrain to get localised, you need some volume. Luckily, the way the cost economics work in India, I think that with even up to 50,000 units, you can do localisation. As we go forward, it is on the cards, though, we are not doing it right now," said Chaba.
Moreover, in the mid-size SUV category that it plans to enter later this year, MG is expected to see stiff competition from existing contenders, like Hyundai and Kia, and new players, like VW and Skoda that are coming in with over 90 percent localised content. As such, the company is also aiming for high localisation levels of its upcoming Model K SUV, right from the outset. Its latest move, then, will be imperative for ensuring a competitive positioning in a segment that seems to have caught the fancy of almost every automaker in India.
Also see:
MG ZS EV with 500km range to be introduced by 2022
2021 MG ZS EV launched at Rs 20.99 lakh
MG Hector petrol CVT launched at Rs 16.52 lakh
MG Hector facelift video review
10180 Views|3 months ago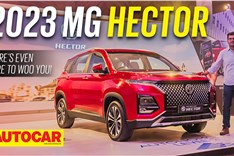 MG Hector facelift walkaound video
9694 Views|4 months ago