With the launch of the Virtus sedan, Volkswagen Group's India 2.0 project stands complete. Besides unifying its Indian operations under Skoda's management, the project, launched about four years ago, was to also localise and introduce the newer modular MQB platform to India and build four vehicles – a midsize SUV and a midsize sedan each for Skoda and Volkswagen.
The four cars would help the company fill a line-up riddled with huge gaps. Between the two companies, their mass-segment portfolio consisted of just one hatchback and two sedans, all built on the outdated PQ25 platform, and notably not a single mass-segment SUV.
With the Skoda Kushaq and Slavia and the VW Taigun and Virtus, both brands now have a healthier mass-market line-up, but there's still a lot to be done.
Compact SUV? (India 2.5)
Skoda is working towards what it tentatively calls the India 2.5 project, under which it plans a sub-4m SUV. Interestingly, however, brand VW is yet to confirm its participation in that programme.
At the launch of the Virtus, Martina Biene, head of product line G1 (small and compact vehicles) at Volkswagen AG, spoke to Autocar India about the brand's plans to take part in the India 2.5 programme. "We're trying to get our head around what's the next step for us for India? Do we want to expand on that platform (MQB-A0-IN) or is it a step into electric vehicles?" said Biene.
That, essentially, is the crux of the matter – invest further into the mass segment or pour money into electrification? And it's a conundrum facing nearly every other automaker in India, including EV market leader Tata Motors, which had to raise outside funding to pursue both ICE and EV platforms.
What makes the decision more perplexing for Volkswagen is that after having burned a lot of funds in India, it will now have to pick wisely, as both an expansion of the MQB platform as well as an electric platform are technically – if not financially – viable paths.
The modular MQB-A0-IN platform can easily underpin additional body styles, and with localisation well above the 90 percent mark, the proposition to invest in additional models on the MQB will certainly be tempting. However, VW knows it will now be a late mover into most of these segments and will have to go up against many established rivals.
Or EVs? (India 3.0)
That's where the electric move comes into play. While Volkswagen is yet to confirm its participation in the India 2.5 programme, the brand will be going ahead with its India 3.0 plan. The latter is all about electric mobility, which will cover both CBUs as well as locally built EVs. Last year, the company showcased its ID. Life concept car built using the firm's new modular electric platform – MEB. The German automaker says it can accommodate small cars and small vans too, and that it would launch the small MEB-based electric hatch in Europe by 2025 at a cost of around €20,000 (Rs 16.5 lakh).
"It's certainly a potential candidate for India and Brazil too," says Biene, but VW India's EV journey would not begin with the small electric car. "We would enter the Indian market not with a small one but something larger and imported, and when we go for an electric vehicle that is locally produced, I think small is an option." Indeed, the brand is well underway with its plans of introducing the ID.4 as a CBU and local testing is all set to begin this year.
With electrification seemingly gathering consumer interest in India at a fast pace, it's likely that VW will go down the electric path rather than trying to play catch up in the mass ICE space. Till then, the brand is also exploring bringing in a limited number of CBU models.
The CBU play
To recall, Volkswagen has been quite active with CBU imports and has not shied away from bringing in smaller models like the Polo GTI, which it launched in 2016 in limited numbers. "While we debate on another step into combustion or when do we move into electric, we would also like to up the portfolio with one or other imports in some smaller numbers to please the fans," said Biene.
As we had reported earlier, heading this list will be the return of the Polo GTI. Thus, as things stand, while the Virtus marks the end of the India 2.0 project, it also signals the start of VW's new journey in India, a difficult path but one with seemingly many interesting options.
Would you like to see more MQB-A0-IN platform-based models from Volkswagen, or do you feel electric should be its way ahead? Let us know in the comments below.
Also See:
Volkswagen ID Aero concept previews future electric sedan
Volkswagen Virtus vs rivals: specifications comparison
Volkswagen Cars
Volkswagen Taigun
₹ 13.57 - 22.16 lakh
Volkswagen Tiguan
₹ 40.22 lakh
Volkswagen Virtus
₹ 13.41 - 21.60 lakh
Volkswagen Virtus GT 11,000km long term video report
3854 Views|17 days ago
Quick News Video, November 5, 2023
2117 Views|29 days ago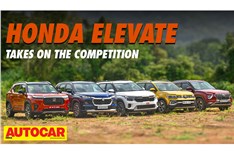 Elevate vs Seltos vs Creta vs Grand Vitara vs Taigun: Mid...
17592 Views|1 month ago