The Kia Sonet has made quite an impression in the densely populated compact SUV segment in India. It's been a strong seller for the brand due to its sophisticated, well-appointed packaging, and for the same reason, it is our Compact SUV of the Year. We now put all but the entry-level 1.2-litre naturally aspirated petrol engine to test and take a closer look at its real-world fuel efficiency.
1.5-litre diesel engine with MT is most efficient
Turbo-petrol DCT is more efficient than iMT
Sonet's weight ranges from 1,134-1,225kg
What is the real-world fuel efficiency of Kia Sonet?
The Sonet's 1.5-litre diesel engine is an extremely easy sipper, with an efficiency of 15.4kpl and 20.8kpl in the manual, and 13.8kpl and 18.8kpl in the automatic, in city and highway conditions, respectively. The 1.0-litre turbo-petrol engine returns 11.2kpl and 15.8kpl in the 6-speed iMT, and 11.6kpl and 16.5kpl in the 7-speed automatic, in the city and on the highway, respectively.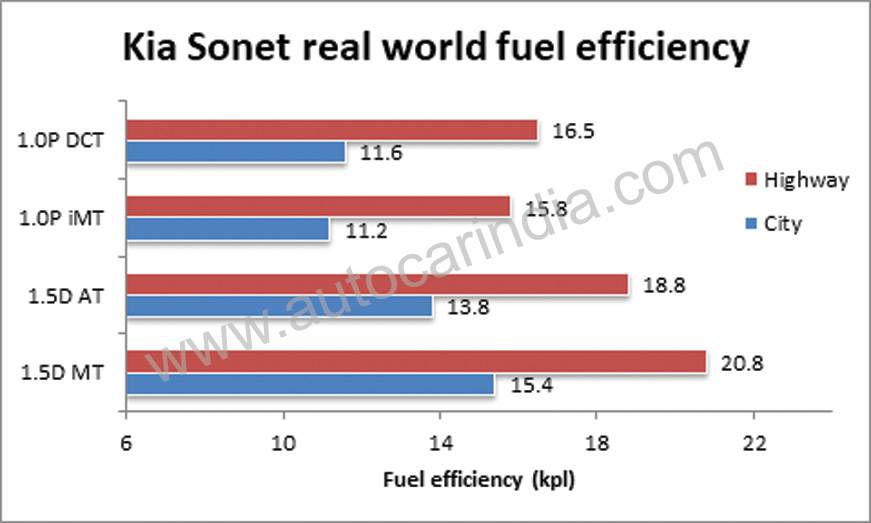 Analysis of Kia Sonet's fuel efficiency
The Sonet shares its diesel engine with the larger Seltos, however, in the manual guise, it uses a wastegate turbocharger, so its power and torque are lower than the automatic version, which gets a variable geometry turbocharger like the Seltos. The manual version is tuned towards the lower and mid-range, which makes it feel responsive, and due to its taller gearing it is extremely efficient. To put its tall gearing into perspective, it cruises at 100kph at merely 1,800 revs in the sixth gear (200 revs lower than the auto). The automatic feels even better to drive, owing to its higher output coupled with clever gearing; what's more is that it weighs just 33kg more, is extremely convenient to drive, and it still returns excellent fuel economy. Having an Eco mode in the auto certainly helps its case, which alters the engine's performance to an extent while driving with a light foot.
The iMT or intelligent manual transmission paired to the turbo-petrol engine has taller gear ratios to aid efficiency. In this configuration, the Sonet offers respectable performance, however, the turbo lag below 2,000rpm warrants heavier throttle inputs or frequent gearshifts to make quick progress, which takes a toll on fuel efficiency. The dual-clutch (DCT) automatic does a better job of masking the turbo lag; it gets an Eco driving mode, as well as an extra gear ratio, which aids efficiency out on the open road. As a result, the DCT is a bit more efficient than the iMT. For reference, the DCT cruises at 100kph in seventh gear at 2,300rpm, 100revs lesser than the iMT in sixth gear.
Autocar India's fuel efficiency testing
Before our real-world fuel efficiency test, we fill the tanks of our test cars till the brim and maintain tyre pressures based on the manufacturer's recommendation. These cars are driven in fixed city and highway loops and we maintain certain average speeds. To keep a check on any untoward variation, we always have a reference car driving along, one that we've already tested in the past; periodic driver swaps further neutralise variations in driver patterns. At the end of each cycle, we calculate efficiency by tanking them up till the brim. Throughout our test, there is only one person in each car, running the air-con and other electrical like the audio system, indicators and wipers when required, just like how a regular user would. We take pride in our testing data, which isn't merely consistent, but also gives users an accurate indication of what they can expect in the real world.
Also read:
Nissan Magnite real world fuel economy tested, explained