The Nissan Magnite's disruptive pricing strategy has certainly helped the company gain traction, in terms of sales. It isn't its pricing alone, but a combination of its snazzy styling and clever packaging with new-age equipment that has resulted in over 50,000 bookings within months of its launch. Now, we address the aspect that most Magnite buyers would be curious to know more about – the turbo-petrol's real-world fuel efficiency.
Magnite turbo-petrol MT's and AT's ARAI figures are 20kpl and 17.7kpl

Turbo version weighs between 1,014kg and 1,039kg

MT is the most efficient turbo-petrol in its segment
What is the real-world fuel efficiency of Nissan Magnite?
We put the 1.0-litre turbo-petrol manual and CVT automatic to test. In our real-world tests, the petrol-manual proved to be the most frugal, with a city and highway efficiency of 12.8kpl and 16.1kpl, respectively, averaging 14.45kpl – impressive, but far from its claimed figure. The CVT automatic is a bit thirstier in comparison, with a fuel efficiency of 10kpl and 13.3kpl in our city and highway cycle, respectively.
Analysis of Nissan Magnite mileage
The Nissan Magnite is the only turbo-petrol compact SUV (beside its own cousin, the Renault Kiger) to use a 5-speed manual transmission, whereas the competition uses a 6-speed manual. Despite that, the Nissan Magnite MT is the most fuel efficient of the bunch, owing to its lightweight construction and tall gearing. For reference, while cruising at speeds of 100kph in fifth gear, the engine is spinning at 2,500rpm, which is only 100rpm higher than what the Kia Sonet's engine would be spinning at in sixth gear.
The CVT automatic has been tuned for drivability rather than fuel efficiency, so it keeps the engine spinning optimally and feels very responsive (even more than the manual); as a result, it isn't quite as frugal in the process. Still, for this CVT's sheer convenience and smoothness, its real-world fuel efficiency doesn't come across as a huge compromise.
Autocar India's fuel efficiency testing
Before starting our real-world fuel efficiency test, we fill the tanks of our test cars till the brim and maintain tyre pressures based on the manufacturer's recommendation. These cars are driven in fixed city and highway loops and we maintain certain average speeds. To keep a check on any untoward variation, we always have a reference car driving along, one that we've already tested in the past; periodic driver swaps further neutralise variations in driver patterns. At the end of each cycle, we calculate efficiency by tanking them up till the brim. Throughout our test, there is only one person in each car, running the air con and other electricals, like the audio system, indicators and wipers when required, just like how a regular user would. We take pride in our testing data, which isn't merely consistent, but also gives users an accurate indication of what they can expect in the real world.
Also read:
Nissan Magnite vs Maruti Vitara Brezza comparison
Nissan Magnite, Renault Kiger, Honda City & Jazz Global N...
9568 Views|9 months ago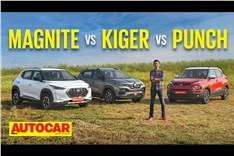 Tata Punch vs Nissan Magnite vs Renault Kiger comparison ...
27373 Views|10 months ago
Nissan Magnite vs Maruti Suzuki Vitara Brezza comparison ...
44642 Views|1 year ago