Can Nissan's new Magnite really swipe the value-for-money crown from the biggest name in the business? We bring along a Maruti Brezza to find out.
Compact SUVs are, by their very definition, amazing value for money. Which other type of car will give you the practicality, ground clearance and handsome looks of a 4x4, with the compact convenience of a hatchback and, thanks to sub-four-metre tax sops, a price that's not too far off from a 'small car' either. It's a winning combination! But even within this tightly governed price segment, there are some that stand above the others for the value they deliver.
Now, say 'value' and the first name that will likely pop to mind is, of course, Maruti Suzuki. India's largest carmaker has been synonymous with reliability, low running costs and, yes, VFM, since the Maruti 800 of 1983. The Vitara Brezza, launched in 2016, was brought into this world with these values intact. Its 1.3 diesel engine delivered low running costs, it was relatively inexpensive to maintain, it had all the equipment you could ask for and it came with a knockout price. No surprise, then, that it was the bestselling SUV in India for a very long time.
Recently, however, things have changed. The 2020 facelift dropped the frugal diesel for a 1.5 petrol, and with that went those juicy 'small-car' tax breaks, since the petrol engine's displacement crossed 1,200cc. As a result, the price jumped by as much as Rs 80,000 overnight, and with almost no additional equipment at a time when new rivals were introducing features from luxury cars, the value proposition did take a hit. Moreover, Maruti added its SHVS mild-hybrid system with engine stop/start to help offset the fuel-efficiency deficit moving to petrol, but that would have only added to the cost.
So, the Brezza of today doesn't quite feel like the value champ it once was, and to rub salt into that wound, a new challenger has come along that has really shaken things up in the segment. The Nissan Magnite got everyone's attention with its sharp looks, seriously impressive equipment list and a price that would put some premium hatchbacks to shame. And when we drove it, we found it had the substance to back up the spec sheet. But could it really be good enough to beat one of the best in the game at its own game?
LITTLE BOXES
A boxy look for SUVs has always found preference here in India, and that's even truer in this segment where enough visual differentiation is needed to set them apart from hatchbacks of an otherwise similar size. The Brezza embraces that formula wholeheartedly, with a design that's as square as they come. The facelift has brought some much-needed maturity to the look, with distinctive LED front and rear lighting signatures, tidier fog lamp housings, a neater, four-slat chrome grille, and more upmarket looking 16-inch alloy wheels. This new gunmetal grey and orange dual-tone paint combination is particularly fetching too. The proportions are good, the lines are clean and you won't find any aggressive cuts or creases in the bodywork. It's a simple design, but that's what gives it a broader appeal.
On length, width and wheelbase, the Nissan Magnite is almost the same size as the Brezza, but its curvier shape and a roof that's a fair bit lower make it seem smaller at first glance. It makes up for this, however, with some very bold details, not least of which is its huge, chrome-framed grille. This is neatly offset by blade-like vertical LED running lamps, chrome accents in the fog lamp housing and incredibly slim LED headlamps; it all looks very aggressive. The bulging wheel arches work well, as does the kink in the window line at the rear, although the large, thickly clad wheel arches and tall ground clearance (205mm to the Brezza's 198) do serve to highlight the slightly weedier 195-section tyres. The rear is attractive, too, with a sculpted tailgate, sloping windscreen and split roof spoiler.
Specifications
Nissan Magnite XV Premium(O) Tech CVT
Maruti Brezza ZXi+ Dual Tone AT
Length
3994mm
3995mm
Width
1758mm
1790mm
Height
1572mm
1640mm
Wheelbase
2500mm
2500mm
Engine
3 cyls, 999cc, turbo-petrol
4 cyls, 1462cc, petrol
Power
100hp at 5000rpm
105hp at 6000rpm
Torque
152Nm at 2200-4400rpm
138Nm at 4400rpm
Gearbox
CVT
4-speed automatic
Kerb weight
1039kg
1140kg
Boot volume
336 litres
328 litres
Tyre size
195/60 R16
215/60 R16
Ground clearance
205mm
198mm
INSIDE JOB
So, with its lower roof and raked-back glass area, you might think the Magnite has taken a hit on interior space, but you'd be wrong. Okay, it's not quite as much as you'll find in the tall and roomy Brezza, but you'd never call it lacking, and it's still better than others in the segment. In the rear seat, leg, head and shoulder room are all more than adequate; it's just that the Brezza has more in every direction. What the Brezza doesn't have, however, is a rear AC vent, which Nissan has been sure to put in the Magnite. Both cars' seats have slightly firm cushioning, upright backrests and could've done with a few centimetres more in thigh support, but these are not deal-breaking factors for either. Interestingly, it's the Magnite with the larger boot, albeit only just, at 336 litres to the Brezza's 328.
Magnite's interior features a contemporary design with interesting shapes and layers; lots of storage space on offer too.
It's at the front of the cabin that you'll find a huge contrast. The Magnite's dash design immediately looks contemporary and interesting, what with its Lamborghini-like hexagonal AC vents, asymmetric centre console, AC knobs with LCD readouts inside them and colourful screens; yes, plural. Yes, like the Brezza, it uses an all-black colour scheme, which is a bit dull, but it's livened up with silver accents and a premium-feeling denim-like fabric on the door pads and central armrest. What's also interesting is they've managed to set the Magnite's dash quite far forward from the front seats, which helps with the sense of space, but they've still managed to incorporate a huge glove box. The Brezza has a far smaller one, but then it does have a second box on top that can hold a few small items. Cabin quality, though not in the league of the Korean compact SUVs, is still quite good, with hard-wearing plastics and tight-fitting panels, but then the Magnite is not too far behind, with only a few low-quality bits (like the flimsy rear-view mirror) marking it down.
The Brezza's cabin edges ahead slightly on quality, but its design is a bit too ordinary and it's starting to feel dated.
The Maruti's cabin is functional, but a bit ordinary, and it's starting to feel dated in places. This is perhaps because a lot of the controls and switchgear, including the steering wheel, is the same as in most of the older-generation Maruti cars. You can select from a bunch of colours to back-light the analogue instrument cluster, which is a cool touch, but we wish they'd have incorporated the colour MID screen from the likes of the Ciaz and Baleno, especially now with the new mild-hybrid tech. By contrast, the Magnite's 7.0-inch full-colour instrument screen, a seriously impressive inclusion in this segment, feels miles ahead, with three different displays that show speed, revs and fuel computer data in a big, bright and colourful look that's easy to read on the move.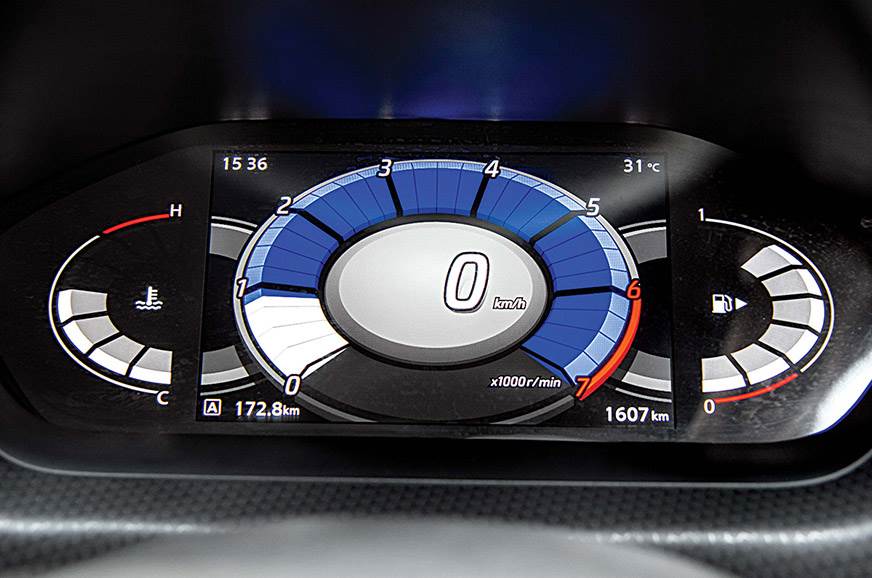 Magnite's clean, configurable, full-colour instruments screen works well.
And that is just one of the many exciting features you'll find in the Nissan. Fully loaded with the optional Tech Pack, you'll get wireless phone charging, ambient lighting, a JBL sound system, tyre-pressure monitoring and, impressively for this segment, a 360-degree camera array and wireless Apple Carplay and Android Auto. The Brezza does have a few winning items – auto headlamps and wipers and an electrochromic rear-view mirror, but other than those, its equipment list is only average. One thing buyers of either car will miss is a sunroof.
Wireless Android Auto/Apple CarPlay among many segment firsts in Magnite.
What you get for your money
Nissan Magnite XV Premium(O) Tech CVT
Maruti Vitara Brezza ZXI+ Dual Tone AT
Price (ex-showroom, Delhi)
Rs 10.18 lakh
Rs 11.20 lakh
Equipment Checklist
Instrument Cluster
Digital
Analogue
Touchscreen
8.0-inch
7.0-inch
Apple CarPlay/Android Auto
Yes (wireless)
Yes
Connected Car Tech
Yes
No
Auto-dimming rear view mirror
No
Yes
Projector headlamps
LED
LED
Auto headlamps/wipers
No
Yes
Keyless entry and go
Yes
Yes
360 degree camera
Yes
No
Sunroof
No
No
Ambient lighting
Yes
No
Wireless phone charger
Yes
No
Auto climate control
Yes
Yes
Rear AC vents
Yes
No
ISOFIX child seat mounts
Yes
Yes
Airbags
2
2
DRIVE MODE
For two petrol powertrains that make roughly the same horsepower, these two couldn't be less alike. The Nissan uses a 1.0-litre, three-cylinder turbo-petrol, while the Maruti a 1.5-litre, four-cylinder naturally aspirated petrol aided by an electric motor that provides a mild boost to acceleration at times. The Nissan's torque output is, expectedly, a little higher, and while the Magnite has a CVT, the Brezza uses a 4-speed torque-converter auto.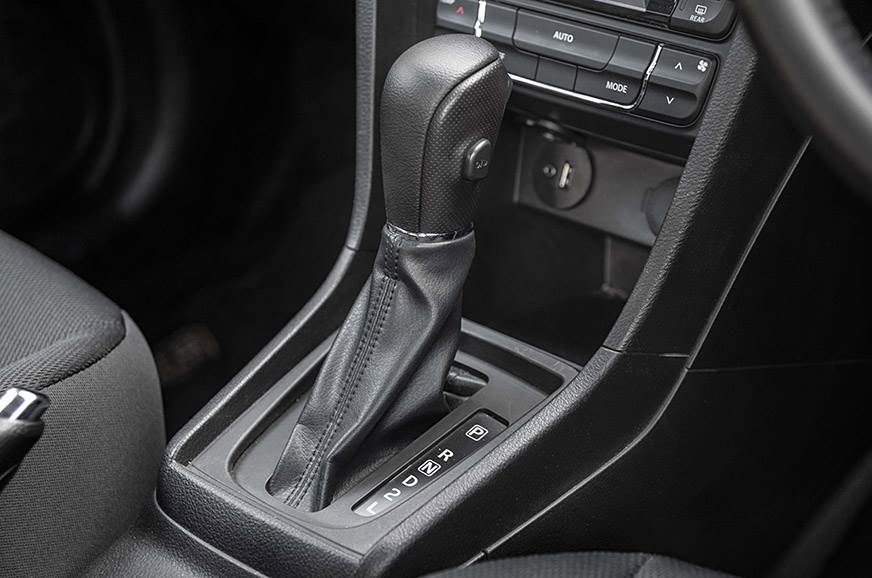 Maruti's old-school 4-speed torque-converter auto can be slow to respond.
You do get a few three-cylinder-typical vibes at idle in the Magnite, but it smoothens out admirably the moment you get moving. More apparent on the move, in fact, is road noise, especially on coarse surfaces, and, overall, the Brezza feels more refined at all speeds.
There are times when the Maruti gets noisy but that has more to do with its gearbox. The old-school 4-speed unit, while smooth and effective at low speeds, does feel a bit slow to respond when you try to get a move on. It needs a firm kick to initiate a downshift, there's a pause before shifting, and the shift itself can be quite firm. It can also hold on to gears too long, even if you don't mean to, which causes the engine to rev out and make a racket. And while the engine stop/start feature is a welcome fuel-saving tool, in combination with the abrupt auto 'box, it takes a little getting used to before you can set off smoothly.
The Magnite's CVT is miles smoother, and at times feels more like a torque-converter than the Brezza's gearbox. It's responsive, but not frantically so off the line, and it eases you through the turbocharged powerband in a progressive manner. And even if you want to drive aggressively, there's almost none of that CVT-typical rubberband effect here. Though neither car gets a manual mode, the Magnite's CVT has a sport mode, which livens up responses really well if you're in a hurry. A good auto 'box should allow you to make the most of the engine's performance in a variety of situations, and though the Brezza's works well at low speeds, the Nissan's powertrain does a much better job overall.
Performance
Nissan Magnite XV Premium (O) Tech CVT
Maruti Brezza ZXi+ Dual Tone AT
Acceleration (from rest)
0-20kph
1.40s
1.31s
0-40kph
3.20s
3.35s
0-60kph
5.34s
5.69s
0-80kph
8.23s
9.23s
0-100kph
12.28s
13.31s
0-120kph
18.60s
20.72s
0-140kph
27.60s
29.81s
Acceleration (In gear)
20-80kph (in kickdown)
6.86s
7.87s
40-100kph (in kickdown)
9.34s
9.90s
The Magnite has that nice strong mid-range you want from your turbocharged engine and it does well to reinforce the whole SUV character. The Brezza's naturally aspirated engine has a surprisingly meaty torque band right from low down, and doesn't rely as heavily on high revs like say a Honda i-VTEC engine, which again, is good for an SUV. In our performance tests, the Nissan was about 1sec quicker to 100kph, at 12.28sec, than the Maruti, with a similar gap in timings from 20-80kph in kickdown acceleration. But then the Maruti is also a full 100kg heavier.
On its grippier, wider tyres, the Brezza does inspire a bit more confidence around corners, and also at higher speeds, thanks to a more solid-feeling suspension setup. That said, the Magnite isn't all that far behind in these regards, and it's only well past 100kph that you'll perhaps want to ease off a bit. The steering helps, however, as it weighs up nicely as speeds build, but it has to be said, this isn't the quickest steering around and will require a few more twirls to execute a U-turn. The Brezza's steering doesn't weigh up enough as you go faster, and you'll want to keep a firm grip on it out on the highway.
Mild-hybrid system with engine stop/start helps save fuel in the Vitara Brezza.
Ride comfort is a close call too, but the Brezza just about edges it. It feels like the more robust suspension when you're tackling really serious bumps, and at lower speeds it's got the softer edge too. The Magnite's setup does have an underlying firmness, but it's not to the point of discomfort. Moreover, as you pick up the pace, it tackles poor surfaces better and is a closer match for the Maruti.
BANG FOR YOUR BUCK
The Brezza may have moved up from the budget end of the compact SUV segment, but it's grown as a car in the process. It's now comfier, more refined and is enhanced with clever mild-hybrid tech. Its strong fundamentals haven't changed either, and with the backing of brand Maruti, it's always going to have its set of loyalists. The thing is, this only makes the Magnite's achievement even bigger – a new entrant to a hugely competitive segment that can not only hold its own against the Brezza, but beat it in some key areas, like on the equipment list. And that it does this at a price that is Rs 1.02 lakh lower than the Suzuki is something truly commendable. How have they done it? Well, you do see some signs – refinement, toughness of build and interior finish – which though still not bad in isolation, do point to the Magnite being built to a price. But what a price it is! That it's the better value compact SUV is without question, but that it is also such an impressive product is why it wins this test.
Verdict
Nissan Magnite XV Premium (O) Tech CVT
Maruti Brezza ZXi+ Dual Tone AT
Price (ex-showroom, Delhi)
Rs 10.18 lakh
Rs 11.20 lakh
Rating
9/10
7/10
Verdict
Capable and packed with tech, it redefines VFM in this segment.
Has the fundamentals right but no longer the value pick here.
Also see:
Maruti Suzuki Vitara Brezza sales cross 6 lakh units
Nissan Magnite prices hiked by Rs 30,000
Hyundai and Maruti battle to be India's No. 1 car exporter in FY2021
Nissan Kicks Turbo CVT video review
Nissan Magnite AMT video review
9364 Views|1 month ago
Nissan Magnite, Renault Kiger, Honda City & Jazz Global N...
15347 Views|1 year ago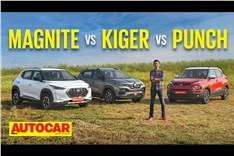 Tata Punch vs Nissan Magnite vs Renault Kiger comparison ...
35697 Views|1 year ago