Just like it was for the rest of the planet, 2020 was a year of extremes for the automotive business, too. We witnessed things previously unimaginable – carmakers having to shut down production and instead make personal protective equipment and ventilators; passenger vehicle sales enduring a horrific fall and rising once again (with several four-wheeler manufacturers registering their best-ever numbers); the launch of India's most affordable SUV in the form of the Nissan Magnite, and the country's most expensive SUV in the form of the Rolls-Royce Cullinan Black Badge.
Despite the pause enforced by the COVID-19 pandemic, this was still an action-packed year for the auto industry. Here's a look at the highlights.
Auto Expo – No lull before the storm
Skoda's pavilion at the 2020 Auto Expo.
While news of the COVID-19 outbreak spreading to other countries had already made headlines by then, the 2020 Auto Expo went ahead as planned. Maruti Suzuki, Hyundai, Tata Motors, Mahindra, Kia, Renault and Mercedes-Benz were out in full force as usual, and Volkswagen and Skoda made their return to the biennial motor show. That said, notable names such as Honda, Toyota, BMW, Audi and Fiat Chrysler Automobiles chose to give the 2020 edition a skip. However, this year's show also featured MG and Great Wall Motor, both of which had sprawling stalls featuring a plethora of models.
COVID-19 – A dead end averted
Not long after the 2020 Auto Expo ended, it became clear the COVID-19 outbreak had snowballed into a pandemic, and global lockdowns were the only way to contain the spread of the virus. India went into full lockdown towards the end of March, and that meant production facilities that were previously running round the clock ground to a complete halt. If low sales in the month of March were a punch to the solar plexus, what followed in April was an uppercut from hell. For the first time ever, manufacturers reported 0 sales across the board as the country stayed indoors.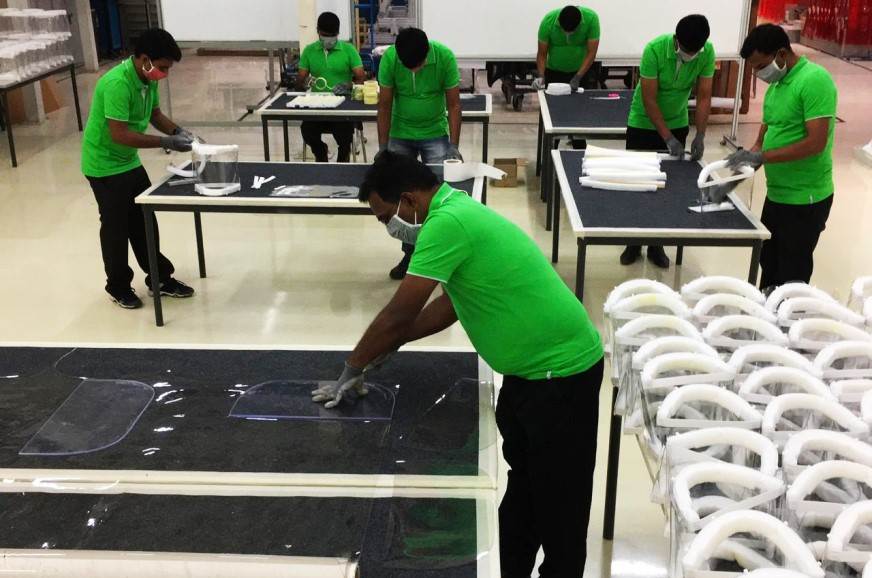 Face shields being manufactured at Skoda Auto Volkswagen's plant.
But as it always does, the automotive industry found a way out; a path to help avert this dead end. Not only did manufacturers donate generously in the fight against the pandemic, but also took steps to help out with the production of much-needed personal protective equipment and ventilators. As the country slowly emerged from the lockdown, production lines were buzzing with activity once again, and slowly but steadily, sales recovered in the second half of the year, in a fashion more impressive than most expected.
BS6 emission norms – Breathe easy
After a four-year-long sprint, carmakers were able to make the transition to BS6-compliant vehicles by the April 1 deadline. In such a short timeframe, manufacturers upgraded a number of their engines to meet the more stringent norms, which bring a significant reduction in tailpipe emissions (especially for diesel cars) but also drove vehicle prices higher, as upgrading a diesel engine to meet the new norms is a complex and expensive process.
As a direct consequence of the BS6 norms coming into effect, a number of diesel engines made an exit, most notable of which was the end of the road for Fiat's 1.3-litre MultiJet diesel, often referred to as the 'national' diesel engine. Big names such as Maruti Suzuki, Volkswagen and Renault quit the diesel segment altogether, while Tata Motors, Hyundai, Kia and Mahindra chose to stay put and strengthened their diesel portfolio.
BS6 norms also resulted in the proliferation of the small turbo-petrol engine. Hyundai, Kia, Mahindra, Tata, Volkswagen, Skoda and Nissan already have small-capacity turbo-petrol engines on offer with their models, and Renault and MG will soon join them with their upcoming turbo-petrol SUVs.
Lexus and Mercedes-AMG – Luxury, made in India
After years of speculation, Toyota's luxury vehicle arm Lexus announced early in 2020 that it was starting local assembly of its models at Toyota's Bidadi plant. The company launched its first locally assembled product – the ES 300h – on January 31. Earlier available in a single variant priced at Rs 59.95 lakh, the CKD operation meant prices of the ES were lowered significantly, ranging from Rs 51.90 – 56.95 lakh, undercutting its established rivals.
The first locally assembled AMG, the GLC 43 Coupe.
Closer to the end of the year, Mercedes-Benz India announced its decision to begin local assembly of some of its high-performance AMG models at its facility in Chakan, near Pune. The first 'made-in-India' AMG was the facelifted GLC 43 Coupe, which was launched at Rs 76.70 lakh, roughly Rs 2 lakh pricier than the pre-facelift model – which was a full import – launched in 2017.
Running into a Great Wall
The start of 2020 was bright for China's Great Wall Motor. On January 17, Great Wall announced its decision to take over General Motors' Talegaon plant, where it would set up operations and begin manufacturing vehicles for the Indian market. At the 2020 Auto Expo, Great Wall revealed its plans to launch its first model in 2021, and even signed a Memorandum of Understanding (MoU) with the Maharashtra government, promising to invest over Rs 7,600 crore in the country in a phased manner.
Great Wall Motor's Haval brand of SUVs at Auto Expo 2020.
However, border skirmishes involving China and India's armed forces threw a spanner in the works. All investment from Chinese companies – including Great Wall Motor – was put on hold, and at this time, it's unclear if Great Wall will be able to commence operations next year as originally planned. The anti-China sentiments prevailing in the country have also compelled other Chinese carmakers aspiring to set up shop in India – such as Chery Automobile and Changan Auto – to adopt a wait-and-watch strategy.
No show, no go
With large public gatherings now a virtual no-no because of COVID-19, the future of motor shows appears bleaker than ever. Participating in motor shows has become increasingly unfeasible for several manufacturers, and the pandemic resulted in the plug being pulled on most major auto shows this year, including Geneva, Detroit and Paris. It is already known there will be no Geneva motor show in 2021 either, and Lamborghini declared in mid-2020 it would no longer be a part of any motor shows going forward. Most carmakers have now gotten a hang of digital world premieres, and until the virus is eradicated in totality, physical motor shows will likely remain an unattractive proposition for most.
Motor shows like the one in Geneva (pictured) will be on hold in the near future.
What we lost in 2020
This year also necessitated a fair few goodbyes. After six successful editions, Cartier announced it was pulling the plug on the Cartier Concours d'Elegance – the show that put India on the international stage for vintage and classic concours – due to budget constraints and a change in market priorities.
The 2019 edition of the Cartier Concours d'Elegance.
The implementation of the BS6 emission norms meant the Toyota Corolla, Etios range, Honda BR-V and Renault Captur were all discontinued, and in what came as a jolt to enthusiasts, Tata Motors decided to down the shutters on its performance-oriented JTP division, phasing out the entertaining Tiago and Tigor JTP.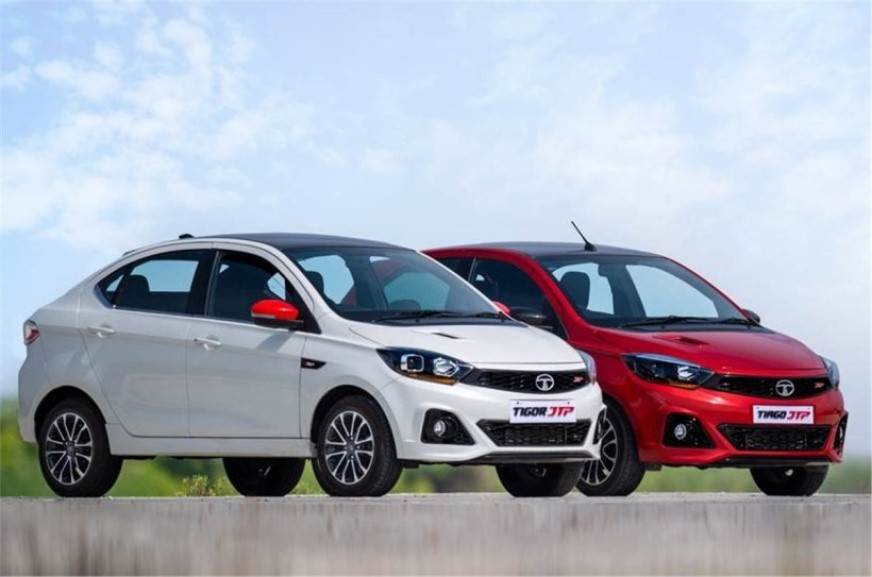 Both JTPs came powered by a 114hp, 1.2-litre turbo-petrol engine.
This year, the automotive world also lost some key personalities. Racing legend Sir Stirling Moss passed away early in 2020, and the Indian auto industry received a shock with the untimely demise of BMW India head Rudratej Singh. Hans Mezger – renowned Porsche engineer and the creator of the 911's signature flat-six boxer engine – also passed away.
The highs of 2020
While it's fair to say 2020 was a deflating year in many ways, it also brought some highs worth remembering. Market recovery was aided by several big-ticket launches, including the second-gen Hyundai Creta, Kia Sonet, fifth-gen Honda City, new Hyundai i20 and the second-gen Mahindra Thar, the first unit of which was auctioned for an astronomical Rs 1.11 crore for a good cause. This year also witnessed the launch of three all-electric vehicles – the Tata Nexon EV, MG ZS EV and the Mercedes-Benz EQC – and many more are to follow in 2021.
The second-gen Creta arrived early in 2020.
Another highlight in the year was the opening of the 9.02km-long Atal tunnel – the world's longest tunnel above 10,000ft – in Himachal Pradesh. Towards the end of 2020, Virgin Hyperloop took a big step forward in its bid to make high-speed public transport a reality, successfully conducting first Hyperloop runs with human passengers in the test pod.
The Atal Tunnel is named for former PM Atal Bihari Vajpayee.
2020 was also an important year for us at Autocar India. Early in the year, we set the record for the longest distance covered in an electric vehicle on a single charge in the MG ZS EV; published our 250th issue and also celebrated our 21st anniversary with an action-packed issue. 2020 also witnessed the arrival of Autocar India's sister brand What Car? India, which provides credible automotive information in Hindi on digital platforms.
We went 563km on a single charge, setting a new record.
2021: A year of resurgence?
It would only be wishful thinking to hope simply turning the calendar over will make all problems that cropped up in 2020 vanish overnight. The pandemic is still far from under control, and despite encouraging progress being made with vaccines around the globe, the effects of the pandemic will, in all likelihood, continue to linger for years to come, potentially altering certain aspects of the automotive landscape forever. That said, carmakers are aiming to flood the market with new offerings in the coming year, and there are over 75 new vehicles slated for launch in 2021, all of which we've compiled in our December 2020 issue. And while there are no guarantees, we hope 2021 turns out to be a far more memorable year than this one.
Key launches of 2020
January 15 – Audi Q8
January 21 - Hyundai Aura
January 22 – Tata Altroz
January 23 – MG ZS EV
January 28 – Tata Nexon EV
January 29 – New Mercedes-Benz GLE
January 30 – New Range Rover Evoque
February 3 – New Audi A8 L
February 5 – Kia Carnival
February 26 – Toyota Vellfire
March 6 – Volkswagen TiguanAllspace
March 17 – New Hyundai Creta
March 18 – Volkswagen T-Roc
May 8 – BMW 8 Series Gran Coupe, M8 Coupe
May 26 – Skoda Karoq
June 11 – New BMW X6
June 17 – New Mercedes-Benz GLS
July 15 – New Honda City
July 16 – Audi RS7 Sportback
August 27 – Audi RS Q8
September 18 – Kia Sonet
September 23 – Toyota Urban Cruiser, new Mercedes-AMG GLE 53 Coupe
October 2 – New Mahindra Thar
October 8 – MG Gloster, Mercedes-Benz EQC
October 15 – BMW 2 Series Gran Coupe, Land Rover Defender
October 16 – Audi Q2
November 3 – BMW X3 M
November 5 – New Hyundai i20
December 2 – Nissan Magnite
Also see:
Most affordable 7 seat cars, SUVs in India
Best of 2020: Most viewed bike and scooter review videos