The Kia Seltos and Hyundai Creta are similar in size, similar in price and similar in personality. Reason enough to bring them together to pick the better SUV.
If there's one SUV the Kia Seltos has to beat, it's the Hyundai Creta. You see, the Seltos is built to the very same formula that's made the Creta such a blockbuster hit in India. Like the Creta, the Seltos is a decidedly urban SUV and ease-of-use - rather than rugged appeal - is a common thread on both. In their hardware, though, there's actually less in common than you'd imagine. As you may know, Kia and Hyundai come under the broad umbrella of the Hyundai Motor Company, and the Seltos and Creta have a familial link too. However, the Seltos is actually a generation newer than the Creta we know. The Kia is built on a new platform and debuts a new range of engines too.
On the face of it, the Seltos has the head start. But is it the better of the two SUVs?
What are they like on the outside?
There's not much between the Seltos and Creta in size. The Seltos is marginally longer but it's the Creta that's a wee bit taller. The two are similar in silhouette too, with an upright shape Indian buyers like. Still, you won't need more than a glance to tell which one is the newer SUV.
The Seltos is well turned out and what makes it really attractive is the level of detailing on the outside. There's a bejeweled look to its LED headlights and adding a dose of bling to the front is the unique LED strip that lines the top of the grille. Look closely and you'll even see a very premium knurled finish on the grille's chrome surround.
The Creta is down on flash value but it's still a neat looking SUV. Last year's facelift brought with it a larger grille that links it to the latest Hyundais, and the new bumpers have worked-out well too. LED headlights would have added much to the look but then again, the next-gen Creta isn't all that far away.
Dimensions
Kia Seltos 1.5D HTX+
Hyundai Creta 1.6D SX(O) Executive
Length
4315mm
4270mm
Width
1800mm
1780mm
Height
1620mm
1665mm
Wheelbase
2610mm
2590mm
Ground Clearance
190mm
190mm
Boot Capacity
433 litres
405 litres
What are they like on the inside?
Much like its exterior, the Seltos' interior is sophisticated and brimming with rich details. The neat dashboard positions the infotainment screen at a comfortable height and, in general, all the controls and buttons are in easy reach. But what elevates the Seltos cabin is the pervasive sense of quality. Right from the knurled buttons on the steering to the padded panel on the dash, everything adds up to give occupants the impression of being in an expensive car. Fit and finish is up there with far pricier cars.
Kia Seltos interior
The Hyundai Creta might lack the Seltos cabin's richness, but it's still a very welcoming place to be in. The dashboard is thoughtfully laid-out, the larger materials on the dash have a nice texture to them and you won't find any ill-fitting panels in the cabin either.
Hyundai Creta interior
Front seat comfort is good on both SUVs but there are some differences when talking of the rear seat experience. Neither SUV is as roomy as an MG Hector or a Tata Harrier but you really can't complain about the space on offer. Among the two contenders in question, it's the Seltos that feels a bit more spacious, even if rear legroom is just about more than what you get on the Creta. The Seltos' larger windows help the cabin feel airier and what's also nice is that Kia has included retractable sunblinds at the back. An adjustable backrest (reclinable by 6 degrees) is also unique to the Seltos. Where the Seltos rear seat loses points is in the inadequate thigh support on offer. In comparison, the Creta's rear seat feels more supportive, but what takes away from the experience at the back is that you are sat low and don't get a typical SUV-like view of the world outside.
Kia Seltos rear seat
How do they compare on features?
We've considered the top-spec diesel variants of the two SUVs and both models get quite a few goodies. Powered driver's seats, ventilated front seats, leatherette upholstery, sunroof, keyless go and auto climate control are features available on both. However, the Seltos packs in even more with LED headlamps, auto headlights, rear seat backrest recline, rear sunblinds, an onboard air purifier, a tyre pressure monitor and front parking sensors too. The Seltos has the larger (10.25-inch vs the Creta's 7.0-inch unit) and slicker touchscreen too, and it's also the only one to get eSIM-based connected tech.
The Creta SX(O) Executive does have more safety kit than the Seltos in HTX+ spec, however. The Hyundai boasts 6 airbags to the Seltos' 2 and the Hyundai is also the only one with ESC and hill start assist. Only the Seltos gets rear disc brakes.
Do note, Kia will launch the Seltos diesel in GTX+ trim soon. So if you want a Seltos with more safety and convenience features, it's worth your while to wait for the new top-spec variant.
Equipment
Kia Seltos 1.5D HTX+
Hyundai Creta 1.6D SX(O) Executive
Headlamp
LED
Halogen
Sunroof
Available
Available
Keyless entry and go
Available
Available
Touchscreen
10.25-inch
7.0-inch
Android Auto/Apple CarPlay
Available
Available
Connected tech
Available
NA
Wireless phone charger
Available
Available
Cruise Control
Available
Available
Automatic headlamps
Available
NA
Automatic wipers
NA
NA
Leatherette seats
Available
Available
Powered driver's seat
Available
Available
Ventilated front seats
Available
Available
Rear seat recline
Available
NA
Rear window sun shades
Available
NA
Auto climate control
Available
Available
Rear AC vents
Available
Available
Air purifier
Available
NA
Powered tailgate
NA
NA
Safety Features
Airbags
2
6
Parking Sensors
Front/rear
Rear
Tyre pressure monitoring system
Available
NA
Parking camera
Rear
Rear
Hill-start assist
NA
Available
Hill-descent assist
NA
NA
ESC
NA
Available
Rear disc brakes
Available
NA
What are they like to drive?
As mentioned, the Seltos is powered by the latest-gen 1.5-litre diesel engine from the Hyundai-Kia combine. This engine will not only find use in the next-gen Creta but will also go on to power other Hyundai models like the Venue and Verna in the future. A talking point on this engine is that it's BS6 emission norms-compliant from launch.
Clean and green as it may be, the 1.5-litre unit isn't particularly powerful, at least on paper. Its 115hp power and 250Nm torque figures are down on the Creta 1.6 diesel's 128hp and 260Nm. Still, you'll like the Seltos engine for the performance on offer. The build of power is linear and very friendly and the engine's low speed responsive reflects in the numbers. It's significantly quicker than the Creta from 20-40kph in third and 40-60kph in fourth, and the Seltos' early lead also manifests into better 20-80kph in third and 40-100kph in fourth timings. You can feel a step-up in power on the Kia around 2,000rpm, and the engine will also breach 5,000rpm without feeling out of depth. Of course, you can't talk of this engine without talking of refinement. The Seltos' engine is remarkably quiet at idle and feels smooth at all revs. The slick six-speed gearbox and well-weighted clutch round off the experience.
After a go in the Seltos, the Creta doesn't feel quite as special as it once did. You hear more of the Creta's 1.6 engine, for one. What's also different is the power delivery. The Creta takes time to get into its stride which explains why it's actually slower through gears three and four. However, once in the wide powerband, the 128hp engine becomes free-revving and feels enthusiastic. Bragging rights come in the form of a best-in-class 0-100kph time of 10.81 seconds. The smooth-shifting 6-speed gearbox also makes it easy to execute quick shifts.
In town, the Kia Seltos and Hyundai Creta feel easy to drive. Their relatively small dimensions make them easy to place, their steerings don't need much effort to twirl and low-speed ride comfort is good too, with the Creta feeling the more pliant one of the two. It's when you up the pace that the Kia distinguishes itself with a better feel at the steering and superior body control. There's fair weight at the steering, the suspension does its bit to flatten the lumps and bumps and in the corners too, it feels like a well set-up SUV. Overall, the Seltos' high-speed ride and handling manners are more mature than the Creta's whose steering doesn't feel consistently weighted and suspension feels overly soft and soggy.
Engine and Performance
Kia Seltos 1.5D HTX+
Hyundai Creta 1.6D SX(O) Executive
Engine
4 cyl,1493cc, turbo-diesel
4 cyl,1582cc, turbo-diesel
Power
115hp at 4000rpm
128hp at 4000rpm
Torque
250Nm at 1500-2750rpm
260Nm at 1500-3000rpm
Power to weight
87.45hp per tonne
94.81hp per tonne
Torque to weight
190.11Nm per tonne
192.59Nm per tonne
Gearbox
6-speed manual
6-speed manual
Fuel economy (kpl)
21
19.67
Performance
Acceleration (from rest)
Acceleration (from rest)
20kph
1.26s
1.14s
40kph
2.86s
2.50s
60kph
4.83s
4.40s
80kph
7.94s
7.24s
100kph
11.67s
10.81s
120kph
16.92s
15.33
140kph
24.20
22.88s
Acceleration in gear
20-80kph (in 3rd gear)
9.84s
11.52s
40-100kph (in 4th gear)
10.85s
12.42s
Which one should you buy?
The reasons to buy the Hyundai Creta stay the same. It's an easy-to-drive and user-friendly SUV that's instantly likeable. Comfort is good too and it's got its share of convenience features as well. That said, at Rs 15.67 lakh (ex-showroom, Delhi), the Creta 1.6 diesel in SX(O) Executive trim is pricier than it ought to be. What makes the Hyundai feel pricier still is that the newer Seltos (in diesel HTX+ form) is actually the one with the lower price tag of Rs 14.99 lakh.
The Kia is also the better all-rounder. It's just as convenient to live with as the Creta but the Seltos is quieter, quicker where it matters and generally offers a more sophisticated driving experience. The Kia also gets a whole lot more comfort and convenience features and what seals the deal is its superior cabin quality. Add everything up and it's the Kia that takes your money a whole lot further, easily making it our pick of the two SUVs.
Price and Verdict
Kia Seltos 1.5D HTX+
Hyundai Creta 1.6D SX(O) Executive
Price (ex-showroom, Delhi)
Rs 14.99 lakh
Rs 15.67 lakh
Rating
9/10
8/10
Verdict
Superbly rounded Kia Seltos sets the new segment benchmark.
Sales Champ suddenly feels last-gen with Seltos' arrival
Also see:
Click here for Kia Seltos, prices, reviews, images, videos and more
Click here for Hyundai Creta, prices, reviews, images, videos and more
2023 Kia Seltos facelift image gallery
18481 Views|5 months ago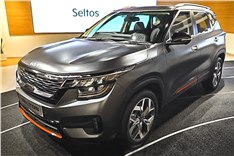 2021 Kia Seltos X-Line image gallery
16236 Views|1 year ago
Maruti Suzuki Grand Vitara vs Hyundai Creta vs Kia Selto...
16019 Views|1 month ago
Volkswagen Taigun vs Kia Seltos drag race video
23165 Views|9 months ago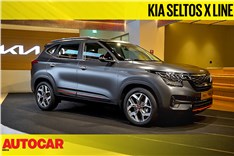 2021 Kia Seltos X-Line first look video
29172 Views|1 year ago