5. Maruti Suzuki Vitara Brezza 7/10
A jack of all trades, the Maruti Suzuki Vitara Brezza gets the basics right. It has the SUV-typical silhouette, its interior is practical and its diesel engine is very efficient – it's got a segment-best ARAI rating of 24.3kpl. However, its 90hp, 1.3-litre diesel motor (which makes 200Nm of torque) trails the other engines in the class on refinement, and low-speed lag is also something that you have to make your peace with. The Brezza's ride also feels a bit choppy by class standards.
Maruti Suzuki Vitara Brezza prices
Variants
Price (ex-showroom, Delhi)
Vitara Brezza LDi
Rs 7.68 lakh
Vitara Brezza VDi
Rs 8.20 lakh
Vitara Brezza ZDi
Rs 8.97 lakh
Vitara Brezza ZDi+
Rs 9.92 lakh
Vitara Brezza ZDi+ Dual Tone
Rs 10.08 lakh
4. Tata Nexon 8/10
Even two years on, the Tata Nexon's concept car-like design draws eyeballs on the road. What's more, the cabin is properly roomy too. Producing 110hp and 260Nm of torque, with a 21.5kpl fuel-efficiency rating, Tata's 1.5-litre diesel engine makes the Nexon pleasant to drive and is actually the engine of choice for this compact SUV. A robust suspension and surefooted high-speed manners also make the Nexon a good long-distance machine.
Tata Nexon prices
Variants
Price (ex-showroom, Delhi)
Nexon XE
Rs 7.59 lakh
Nexon XM
Rs 8.34 lakh
Nexon XT
Rs 8.91 lakh
Nexon XT+
Rs 8.97 lakh
Nexon XZ
Rs 9.50 lakh
Nexon XZ+
Rs 10.19 lakh
Nexon XZ+ Dual Tone
Rs 10.40 lakh
3. Ford EcoSport 8/10
There's no doubt that the Ford EcoSport is the drivers' choice in its segment. It handles well and the 1.5-litre diesel motor – tuned to develop 100hp and 205Nm of peak torque – is quite nice too, even if a bit on the noisy side. Ford has been adding and deleting features across the board but the top-spec S versions of the EcoSport get all the goodies you'd want. What marks the Ford down is cabin space, which is down on class-best standards.
Ford EcoSport prices
Variants
Price (ex-showroom, Delhi)
1.5l Ambiente
Rs 8.31 lakh
1.5l Trend
Rs 9.11 lakh
1.5l Titanium
Rs 9.90 lakh
1.5l Titanium+
Rs 10.80 lakh
1.5l Thunder
Rs 10.80 lakh
1.5l S
Rs 11.35 lakh
2. Mahindra XUV300 8/10
There's a lot to like about the Mahindra's latest compact SUV – and its appeal goes well beyond its squared-out stance and neat interiors. The Mahindra XUV300 comes with a strong 117hp/300Nm, 1.5-litre diesel engine and a hardy suspension makes it feel rugged too. Its claimed 20kpl mileage figure may be the least here but it isn't bad, by any stretch. Mahindra has loaded the XUV300 to the gills with some segment-first kit; but that also means top-spec versions are expensive, by class standards.
Mahindra XUV300 prices
Variants
Prices (ex-showroom, pan-India)
XUV300 W4
Rs 8.69 lakh
XUV300 W6
Rs 9.50 lakh
XUV300 W8
Rs 10.95 lakh
XUV300 W8 (O)
Rs 12.14 lakh
1. Hyundai Venue 8/10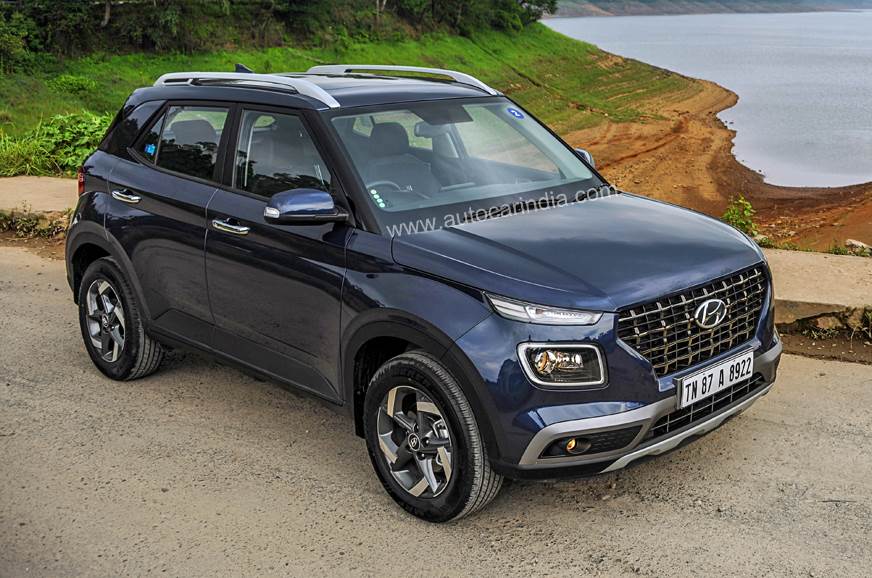 The Hyundai Venue is a great all-rounder. It's contemporary outside and in, and equipment levels are impressive too. What makes the diesel Venue more likeable still is that its 1.4-litre engine – which makes 90hp and 220Nm of torque; and comes mated to a 6-speed manual gearbox – is refined, peppy enough and is decently efficient too, delivering an ARAI-rated 23.7kpl. The chink in the Hyundai Venue's otherwise pristine armour is that rear-seat space is down on some of its rivals.
Hyundai Venue prices
Variants
Prices (ex-showroom, pan-India)
Venue 1.4 E
Rs 7.75 lakh
Venue 1.4 S
Rs 8.45 lakh
Venue 1.4 SX
Rs 9.78 lakh
Venue 1.4 SX Dual Tone
Rs 9.93 lakh
Venue 1.4 SX(O)
Rs 10.84 lakh
Also see:
Best coupes under Rs 1 crore in India
Best rugged 7-seat diesel-automatic SUVs under Rs 35 lakh
Best petrol-manual compact sedans
Most fun-to-drive small cars under Rs 10 lakh in India
Hyundai Venue N Line vs Mahindra XUV300 TurboSport drag race
358 Views|4 hours ago
2022 Hyundai Venue N Line video review
28527 Views|1 year ago
2022 Hyundai Venue facelift video review
28425 Views|1 year ago