Inspired by business jets, the Jet Edition SUVs are the latest to join the long line-up of Tata's special edition models. Available on the Nexon, Nexon EV, Harrier and Safari, the Jet Editions are the third special variants for Tata's line-up of SUVs after the Dark and Kaziranga Editions.
In fact, with this newest addition, the Safari is available in as many as five special versions (Jet, Dark, Kaziranga, Gold and Adventure Persona), while the others have at least three. Tata Motors is certainly being innovative with its special edition models, and it's working well for them too. Tata says these models contribute to nearly 15 percent of the respective model's overall sales.
We take a close look at the Tata Jet Editions of the Nexon, Nexon EV, Harrier and Safari and what the brand's strategy with these special versions of its SUVs.
Tata Jet Edition SUVs: exterior updates
Common to all four SUVs is the new 'Starlight' dual-tone exterior paint finish that gets you a bronze body with a contrasting silver roof and A-pillars. Additionally, the chrome grille and chrome headlamp surround on the Safari and Harrier are finished in black here. Meanwhile, the contrasting belt line on the Nexon and Nexon EV are also finished in black. Another common element across the four SUVs is a new gun-metal finish for their respective alloy wheels.
Daul-tone paint aside, the chrome elements on Harrier's and Safari's face have been blacked out.
Tata Jet Edition SUVs: interior and features
Just like the exterior, all four SUVs get new bronze-coloured trims on the dashboard and around the interior door handles, giving the cabin a dual-tone bronze and black look. Additionally, the seat upholstery on all four SUVs is finished in Oyster white with contrast bronze stitching, and there are new black leatherette inserts on the doors. All SUVs also get '#Jet' inscribed on the front head restraints in bronze.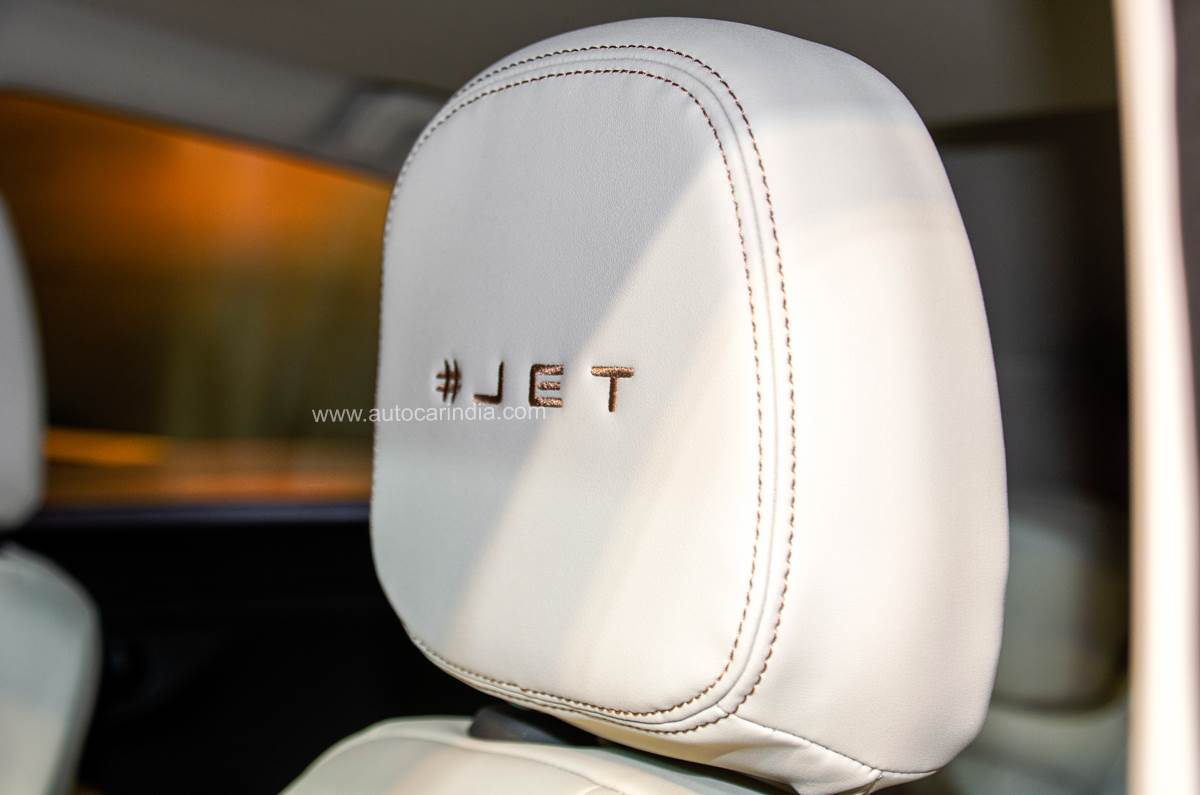 Common to all SUVs is '#Jet' inscribed on the front head restraints.
The Nexon Jet Edition is based on the top-spec XZ+(P) trim, while the Harrier and Safari Jet Editions are based on the respective XZ+ trims. Similarly, the Nexon EV Jet Edition is also based on its top-spec XZ+ Lux trim, and as such, equipment-wise, all SUVs are fully loaded.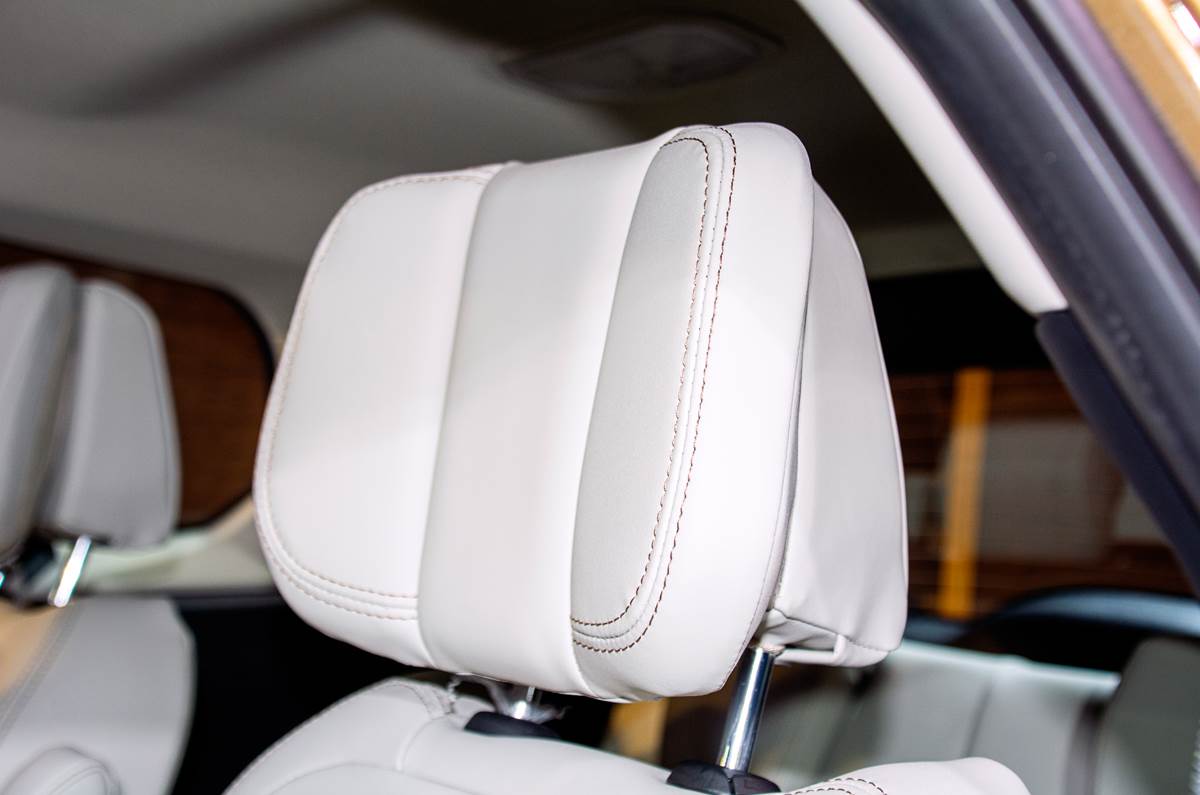 The Safari additionally gets cushier head restraints for second-row seats.
There are still some feature additions on select models. For instance, the Tata Nexon gains a wireless charger while the Harrier and the Safari have been updated with new safety features such as driver drowsiness alert, panic brake alert, and an after-impact braking. They also get Type-C USB ports for all the rows. Additionally, the Safari gets cushier head restraints for the second-row seats. There are, however, no feature updates on the Nexon EV.
Tata Jet Editions SUVs: mechanically identical, save for Harrier
Under the hood, all SUVs carry forward the same engine options as their respective standard models. The Nexon comes with a 120hp, 1.2-litre turbo-petrol engine and a 110hp, 1.5-diesel engine options. Meanwhile, the Harrier and the Safari continue with their 170hp, 2.0-litre diesel engine. All SUVs are offered with both manual and automatic gearbox options.
The Nexon EV also continues with its 129hp, 30.2kWh battery pack and 143hp, 40.5kWh battery pack in its Prime and Max guises respectively.
The electronic parking brake with Auto Hold is a major addition on the Harrier.
The Harrier, however, sees one major mechanical update – it gets disc brakes on all four wheels on the Jet Edition model. Additionally, the mechanical handbrake with an aircraft-style lever has been replaced with an electronic parking brake with Auto Hold function.
Tata special edition models to be limited to top-spec trims
As already mentioned, the Jet Edition models are based on the top-spec trim of each SUV, and Tata would like to keep it that way for all future special edition models as well.
"We want to keep these models at the upper end only because there is a premium we are charging for it and there are several feature additions as well," Rajan Amba, vice president of Sales, Marketing and Customer Care, tells Autocar India. "We feel that we are able to add more value as a full package at these [higher] trims. It's very easy to do it everywhere and then dilute the concept."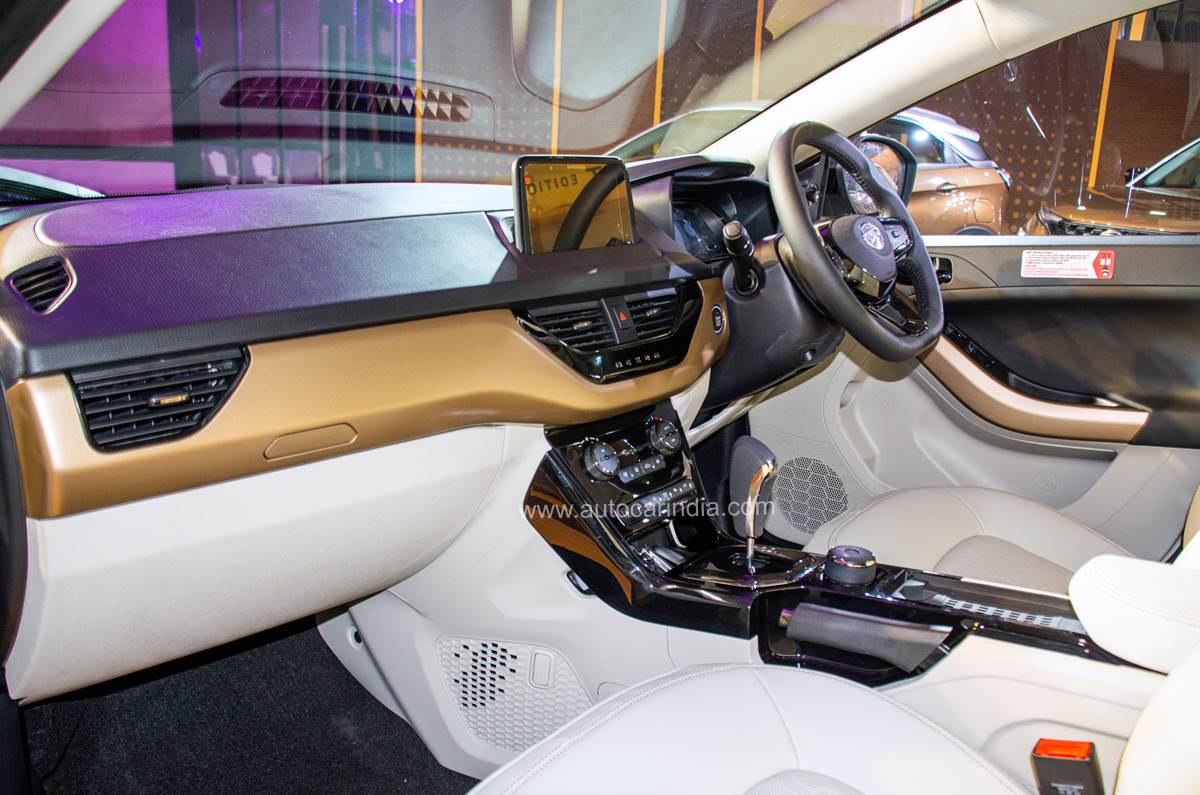 Feature packed variants are an important part of the special edition model's strategy.
Amba also spoke on why the special edition models are mostly limited to Tata SUVs and not hatchback or sedans. "Not all these design interventions lend themselves to every design; we find that these suit best to our SUV portfolio. The form factor and design just come across more strongly and more visibly in our bigger cars," he elaborates.
Special Editions contribute 15 percent and upwards of sales for each model
These special models certainly contribute a fair bit in keeping Tata's SUV refreshed and relevant with growing competition. Amba revealed that depending on the model, the special editions contribute around 15 percent and upwards of a model's total sales, which is quite a portion considering that these are based on the top-spec trims. The Dark Edition versions – also available on the Altroz hatchback – have particularly been quite popular, contributing up to 40-50 percent of total sales in case of the Harrier and the Safari.
Special Editions help Tata create unique design identities
While most carmakers opt for mid-life cosmetic and feature upgrades to keep their products relevant, special versions like these have been Tata's way of keep the buzz around the brand alive.
The Jet Edition is one of five design iterations available on the Safari.
Amba admits that it has also helped them in creating unique design identities for its customers. He says, "What we have realised with the success of the Dark Editions and others is that mid-life interventions are not the only way to keep your products updated. Customers are also looking for vehicles that match their personalities, and the Dark Edition models allow that attitude to be brought to life. Similarly, the Kaziranga edition was like an ode to the endangered one-horned Rhino. It is not just about pouring products out there. Its about creating design stories that connect with the customers."
For more details on pricing of the Jet Edition SUVs, click here.
Also See:
Tata Motors acquires Ford's Sanand plant for Rs 725 crore
Tata Jet Edition SUVs walkaround video