The gloves are off. Tata Motors is looking to raise its SUV market share in India and the vehicle to throw the punch is the new Tata Punch micro-SUV, which was officially revealed on Monday. Tata is set to launch the model on October 20 and you can now book one for Rs 21,000.
Punch to grow Tata UV market share from six to 10 percent
It has a gross localisation of about 90-92 percent
Will be aimed at a unique white space in the compact-SUV segment
The latest Tata in town gets SUV cues such as a butch design, 187mm unladen ground clearance and 16-inch alloy wheels – all in a rather compact footprint – with an idea to be positioned below the bigger, sub-four-metre Nexon. Powering the Punch will be an 86hp, 1.2-litre petrol engine and the micro-SUV will rival the Maruti Suzuki Ignis, Nissan Magnite and the Renault Kiger.
2021 Tata Punch: sales expectation
Having rolled out the new Punch, Tata has expanded its SUV portfolio to four models – which include the Nexon, Harrier and Safari. There's a lot riding on this micro-SUV and it has been tasked with punching above its weight. Tata Motors currently has a 6 percent UV (utility vehicle) market share (April-August 2021) – the Punch is expected to increase their presence in the SUV sector and strengthen the company's foothold in what is the fastest-growing passenger vehicle (PV) segment.
Speaking to our sister publication Autocar Professional, Anand Kulkarni, VP, Product Line Head, ALFA architecture and passenger EVs, Tata Motors, said: "The addressable market with the Punch is going to be the category of vehicles which are below four metres in length, including hatchbacks and other entry-level tall-boy cars. In numbers, the addressable market size is in excess of a million cars."
"The Punch should help us do better numbers overall – we aim to hit about 10 percent UV market share by the end of this fiscal," Kulkarni added. And there are strong tailwinds for Tata to take it there.
In September 2021, Tata Motors bucked the overall industry trend and registered a notable 21 percent year-on-year growth in sales by selling 25,730 units. This is despite being hammered down by the global semiconductor shortage, which is "a pressure cooker-like situation where everybody is constantly trying to secure production and things are very dynamic and evolving every couple of hours," according to Kulkarni.
2021 Tata Punch: pricing the Punch properly
Pricing vehicles in an ultra-competitive segment like SUVs is a black art – get it right and the model zooms to the top of the UV chart. But if you don't have your finger on the pulse of the value-conscious buyer, then poor sales are like a 'punch' in the solar plexus.
With the Tata Tiago starting at Rs 4.99 lakh, the Altroz hatchback at Rs 5.84 lakh and the game-changing Nexon crossover at Rs 7.28 lakh (all ex-showroom), Tata Motors has its task cut out to price the Punch aggressively – announcement of which will be on October 20.
"The Punch cannot be a niche product. It has to be a mass-adopted vehicle and help Tata Motors achieve volumes. There also has to be an optimal mix of profitability (built into the product) as well as volumes for every product," says Kulkarni.
"The ability to manage costs starts early in the development programme. It's all about making the right choices and not starting from scratch for every component," he adds, while also providing a clue as to how Tata optimises costs.
2021 Tata Punch: high on localisation
The Punch is based on Tata Motors' ALFA (Agile Light Flexible Advanced) platform, which also underpins the premium Altroz hatchback. Being the second product on this modular platform, "there automatically is a volume benefit to the Punch".
The micro-SUV bears a top-level (gross) localisation of about 90-92 percent – including the sheet metal with 40 percent high-tensile steel, underpinnings, suspension, AC and transmission components being locally sourced. What is still getting imported are the proximity sensors for the rear parking sensors and the scroll mechanism of the AC's compressor.
The Magneti-Marelli-sourced five-speed AMT is completely localised too and has been calibrated as per the driving characteristics of an SUV. Tata Motors has also brought in some innovations like an altitude map for better drivetrain response, as well as a 'TractionPro' mode to enable the crossover to clear slightly muddy situations with relative ease.
2021 Tata Punch: Punch-ing into a white space
With a compelling proposition in an SUV form factor, will the Punch eat into the sales of the Altroz? Kulkarni begs to differ. "Each of the cars has a unique spot and a very unique differentiated value to offer the customer. Moreover, there are very few options in the sub-compact SUV space in India and this white space was identified by Tata Motors, which could provide a smaller-format SUV to the customer," he added.
"This long-standing product vacuum that existed in the Indian market is what the Tata Punch tries to fill," Kulkarni signs off on a strongly optimistic note.
The Korean duo of Hyundai-Kia tops the chart in India when it comes to UV market share – pegged at 34 percent in April-August 2021, followed by Maruti Suzuki India at 22 percent and Mahindra & Mahindra at 14 percent. Will the Punch put the competition on the ropes? Watch this space.
Also See:
2021 Tata Punch micro SUV: 5 things to know
Hyundai Exter vs Tata Punch comparison video
30777 Views|1 month ago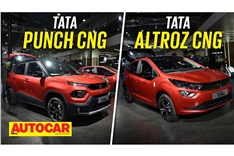 Auto Expo 2023: Tata Punch, Altroz iCNG walkaround video
10646 Views|8 months ago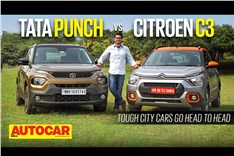 Citroen C3 vs Tata Punch video comparison
21691 Views|10 months ago