The Tata Punch, freshly launched at an introductory price of Rs 5.49 lakh (ex-showroom, Delhi), also made news not long ago for the crash test rating it achieved from Global NCAP. Not only did it secure a 5-star rating, but its score of 16.49 out of 17 for adult occupant protection is the highest amongst the cars tested by Global NCAP from the Indian market.
Tata Punch has a compact footprint of 3.8m (L) by 1.7m (W)
Shares ALFA platform with Altroz, which also scored 5 stars
Short overhangs and packaging affect crash structure
Tata Punch: ALFA architecture a strong base
Tata Motors has had a strong showing in Global NCAP's crash test results in recent years, and now holds six out of the top 10 positions, with three of them being 5-star-rated cars. It comes as no surprise, then, that the Punch was being groomed for a good result from its very inception. However, as Tata Motors' president and CTO Rajendra Petkar revealed at the Punch's launch, it wasn't a walk in the park.
"At Tata Motors, we have a legacy of building safe and durable cars," he said, "but developing a car to be rated 5 stars at Global NCAP has always been complex and challenging."
You see, though it shares its robust ALFA architecture, which is "robust, durable and designed to deliver a five-star performance," with the Tata Altroz premium hatchback, which of course also scored a full five stars, that alone was not enough to let it sail through the test.
Tata Punch: challenges and solutions
This is mainly because of the Punch's smaller size and taller, SUV-like shape, which required entirely different packaging and several recalculations. "Being a smaller footprint compared to the Altroz, we faced significant challenges," Petkar said. For one, the Punch's smaller overhangs mean less distance between the extremities of the car and the wheels, and even the driver's seating position is much closer to the steering wheel, which increases the risk of driver injury.
However, thanks to early-phase CAE (computer-aided engineering) simulations, the company was able to identify the issue and optimise the packaging for the ideal mix of safety and space. "Between the engine housing area and the cabin, lots of work had to be done to define the optimal crush length, and also the optimal use of high-strength steel (HSS) and hot-stamped parts," Petkar said. "And then in the development phase, we did crash tests and refined it even further."
Tata Punch: 5 stars for how long?
While this star rating and score will undoubtedly be a strong bragging chip for Tata Motors, particularly in this price segment, there is also the valid argument that the safest car is the one that doesn't crash in the first place. Road conditions, driver education and adherence to traffic laws have a long way to go in India, but the cars are already evolving.
Global NCAP itself plans to acknowledge this by evolving its tests from 2022 to account for active safety aids like ESC and seat-belt reminders, without which a car will no longer be able to score five stars. Does that mean the Punch and its ilk that don't feature ESC will be downgraded once the new norms come in? That remains to be seen, but it is a good incentive for carmakers to put a greater emphasis on safety in future models.
Also see:
Global NCAP test protocol to include ESC, active safety tech
Hyundai Exter vs Tata Punch comparison video
31867 Views|1 month ago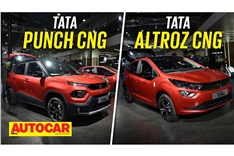 Auto Expo 2023: Tata Punch, Altroz iCNG walkaround video
10739 Views|8 months ago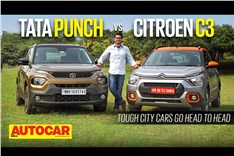 Citroen C3 vs Tata Punch video comparison
21800 Views|10 months ago