Kia's first offering in India, the Seltos, is a blockbuster success for the brand. Not only has it quickly established the newbie brand as a mainstream player, but its clever packaging and sensible pricing have consistently kept the cash registers ringing at Kia. The Seltos shares all its engines and some of its transmissions with the Hyundai Creta, and we put the manual and automatic versions of the 1.4-litre turbo-petrol and 1.5-litre diesel engine to the test to find out their real-world mileage.
1.5-litre diesel engine is very efficient
Turbo-petrol is sensitive to long idling periods
Weight ranges from 1,289-1,361kg
What is the real-world fuel efficiency of Kia Seltos?
As is the case with the smaller, 123-136kg lighter Sonet, the 1.5-litre diesel engine is extremely frugal in the larger and heavier Seltos as well; it managed 15.3kpl and 19.1kpl in the manual, and 12.9kpl and 17.8kpl in the automatic, in city and highway conditions, respectively. The 1.4-litre turbo-petrol engine, in comparison, is much thirstier, returning merely 9.4kpl and 14kpl in the 6-speed manual, and 8.5kpl and 14.1kpl in the 7-speed dual-clutch automatic, in the city and on the highway, respectively.
Analysis of Kia Seltos' fuel efficiency
The superbly tuned diesel engine is not only very drivable due to its responsiveness and negligible turbo lag, but its tall gearing also aids fuel efficiency. On the highway, especially, the manual and auto are spinning at 2,200rpm in sixth gear, at a steady 100kph.
The turbo-petrol is much sportier in comparison, with a strong yet linear power delivery. And just like typical turbo-petrol engines, this one is very sensitive to long idling times, as well as ambient temperatures, and you will notice the fuel needle drop quickly in dense traffic conditions. This Kia gets an Eco mode, but the engine performance or responsiveness in this mode aren't much different than in the default City setting. However, because it reduces the air con effectiveness, users will shy away from using this drive mode, especially during summers. Having an additional gear ratio helps the automatic's case to an extent, making it a bit more efficient on the highways; for reference, it keeps the engine spinning at 1,900rpm at 100kph, 300revs lower than the manual in top gear.
Autocar India's fuel efficiency testing
Before our real-world fuel efficiency test, we fill the tanks of our test cars till the brim and maintain tyre pressures based on the manufacturer's recommendation. These cars are driven in fixed city and highway loops and we maintain certain average speeds. To keep a check on any untoward variation, we always have a reference car driving along, one that we've already tested in the past; periodic driver swaps further neutralise variations in driver patterns. At the end of each cycle, we calculate efficiency by tanking them up till the brim. Throughout our test, there is only one person in each car, running the air con and other electricals, like the audio system, indicators and wipers, when required, just like how a regular user would. We take pride in our testing data, which isn't merely consistent, but also gives users an accurate indication of what they can expect in the real world.
Also read:
Kia Seltos, Sonet waiting periods sore
2023 Kia Seltos facelift image gallery
18612 Views|5 months ago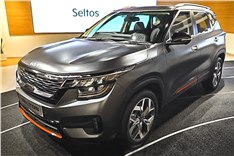 2021 Kia Seltos X-Line image gallery
16280 Views|1 year ago
Maruti Suzuki Grand Vitara vs Hyundai Creta vs Kia Selto...
16453 Views|1 month ago
Volkswagen Taigun vs Kia Seltos drag race video
23225 Views|10 months ago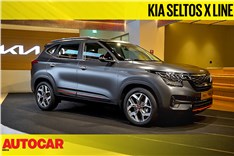 2021 Kia Seltos X-Line first look video
29194 Views|1 year ago