What is the new Hyundai i20?
The 2020 Hyundai i20 is radical, full of crisp, refreshing details and distinct from anything else in its class. Now in its third generation, fourth if you count the pioneering Getz, it is bigger on the outside, more spacious on the inside and, as ever, comes with a host of segment-first features. But while the 2020 i20 undoubtedly grabs your attention and comes loaded with kit, does it have the potential to take it to the top of its class? Are new i20 prices competitive? And which Hyundai i20 would be right for you? We answer these and other important questions answered in our deep dive.
This is the third-gen i20.
New Hyundai i20 design and dimensions
While the current i20's clean lines and Audi-like minimalism gave it plenty of longevity, this all-new third-generation i20 pushes the boundaries of design much further. Yes, the new car's proportions are traditional, but the tipped forward stance means the frameless grille (the focal point of the design) is placed down low, the chin is full of interesting cuts and creases, and the fenders and doors are heavily sculpted too. Also interesting is the manner in which the chrome highlight gets a sharp 'kick-up' at the 'C' pillar, and the black band that runs all the way around below the doors makes it look even sportier and even more low slung.
The new i20 has a low-slung sporty stance.
Still, it's at the rear where the design is the most interesting. The 'Z' shaped LED tail-lights form a unique signature, the piano black detailing works well in contrast, and there's even a faux splitter at the bottom. There'll be no mistaking this car from the rear.
There's no mistaking the 2020 i20 for any other car from the rear.
One of the reasons large hatchbacks are increasingly finding more customers, even in this age of SUVs, is because they are perfectly in tune with the urban environment. Superbly packaged and just the right size, they strike the right balance. This is likely to be true of the new Hyundai i20 as well, which, at 3,995mm, is just 10mm longer than the earlier second-gen car but is a substantial 41mm wider and built on a longer 2,580mm wheelbase, the longest in its class.
The frameless grille finished in back adds a touch of sportiness too.
Also important is that the new Hyundai i20 or the BC3, as it is called internally, is built using a very high percent of high-strength steel. Apart from the massive weight saving, which is sure to positively impact performance and fuel economy, the new car is also approximately 13 percent more rigid when it comes to torsional stiffness. While the tyres haven't been upsized, the 16-inch 'diamond-cut' alloys are attractive and the i20 has a clearance of 170mm.
New Hyundai i20 interiors and features
With its large 10.25-inch HD touchscreen, big digital instrument panel and features like wireless phone charging and seven-speaker and sub-woofer equipped Bose sound system, the term loaded takes on an all new meaning here.
The 10.25-inch infotainment screen is largest in class.
The new i20 in fact comes with so many segment firsts (and segment bests), it's better equipped than most sedans or compact SUVs at this price point. And Hyundai has even bunged in the BlueLink connectivity app, which allows you to start the air-conditioning from the comfort of your home, another segment first. Apart from many of these segment-first or segment-best features, the i20 also gets a large sunroof, ambient lighting, an air purifier, and a rear-view camera you can use during regular driving to supplement the mirrors.
The new i20 is the second premium hatchback with a sunroof.
With its abundance of horizontal slats and floating centre console, the i20 dash also stands out. The two large screens are placed much closer and, importantly, in relatively the same plane, making them easy to view. The centre console, with its pod-like cluster of buttons, is neatly executed and while the cabin is finished in predominantly black, to give it a sporty look, it also gets some nifty red highlights. There are, for example, anodised red flourishes on the vents, on the steering wheel, on the doors, on the seats and even on the very functional blower and temperature-control 'paddles'.
The unique dash design helps the i20's interiors stand out as well.
The bright and sharp 10.25-inch touchscreen is the same spec as that on the Creta, and here too it functions in a slick manner. The contrast is great, it is bright, and since the touch function is slick and you never have to hit a button twice, it makes for a great experience.
The cleverly done instrument panel isn't really a screen, as on i20s in other markets like Germany, where you can display just about anything. And reading the virtual 'dials' (similar to those on the Verna) isn't easy. Still, the digital readouts make it reasonably functional and the multi-info-display at the centre also blends into the design nicely.
Reading the virtual dials on the instrument cluster screen isn't always easy.
While quality levels of the plastics in general are on par with the rest of the class, the predominantly black plastics on top of the dash feels hard and look a bit too shiny under the harsh arc lights. Some soft-touch plastics would have been nice, as well as a two-tone interior theme.
New Hyundai i20 space, comfort and practicality
The new i20 now also feels as substantial as a mid-size sedan up front, and some of that is down to the wider cabin. The driving position is sporty and low, the driver's seat adjusts over a wide range (so you can sit high if you want to) and side bolstering on the wide leatherette seats is also reasonably good. While visibility in general is good, the large free-standing screen could cause a bit of a blind spot, especially at low speeds.
Leatherette front seats have good side bolstering.
There are however plenty of spaces to store your odds and ends – there's a fairly large cooled glovebox, the door bins up front run the full length of the door, there's a cubby hole under the centre console (where the cooled wireless phone charging pad sits) and there are also a pair of cup holders between the seats. Only the tiny elbow box is disappointing. Also, should you need to charge other devices, or connect with a wire, there are also USB sockets up front.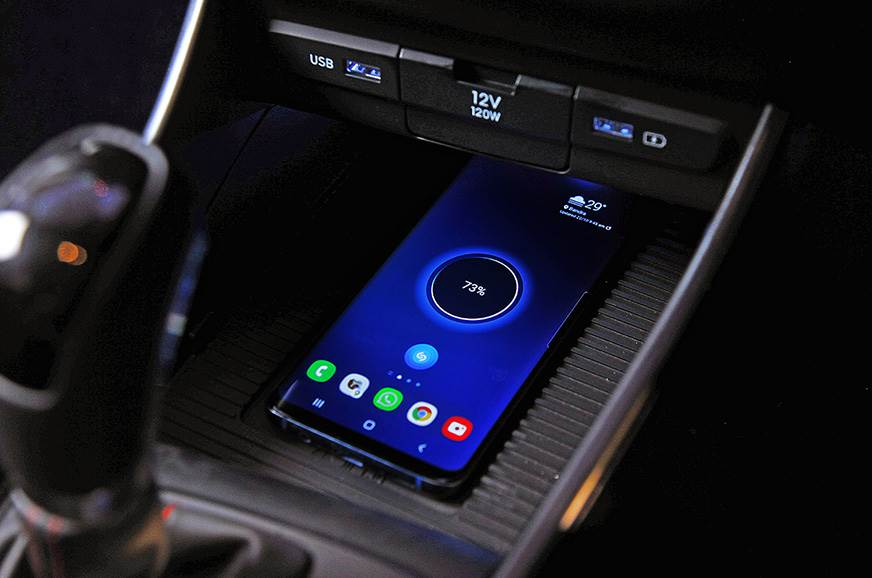 A wireless charger is another segment-first.
With the longest wheelbase in the class and generous width, the cabin is very spacious. Hyundai claims rear legroom is the best in class, there's 40mm more shoulder room for occupants than on the earlier i20, meaning seating three abreast at the rear is marginally better, and with the scooped-out roof, headroom at the rear is pretty generous too. The bench is placed a bit low, but the seat supports your thighs nicely, the backrest is perfectly reclined, and the seat is both, supportive and soft enough to be comfortable. You even get an elbow rest, and there's a USB socket in the back. While the door pocket at the rear isn't too large, it can still hold a bottle and some odds and ends.
Space in the rear is good enough to seat three abreast.
The 311-litre boot is a bit small for this class; it is the smallest here, but those interested can fold and flip the rear backrest down. The seats, however, don't split.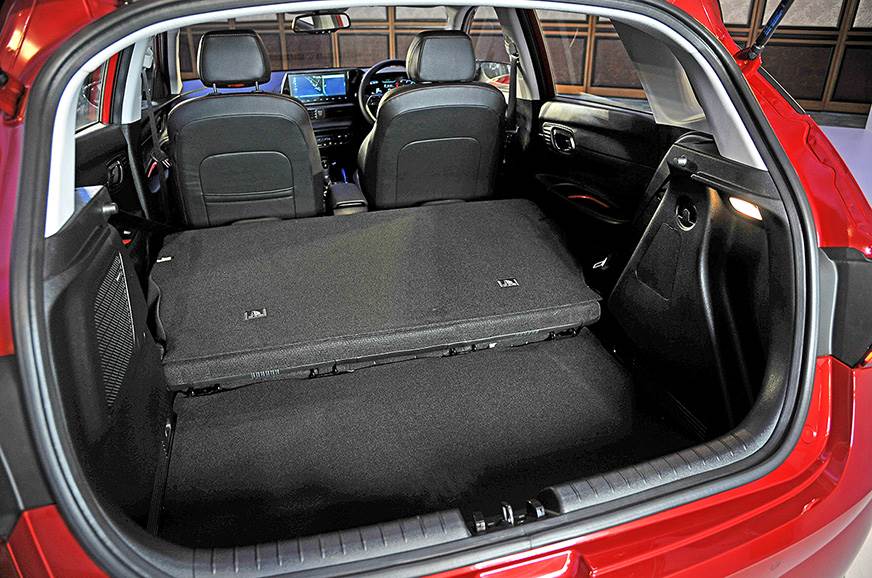 311-litre boot is small by class standards but rear seats fold to liberate more room.
New Hyundai i20 safety equipment
The first i20 was something of a safety pioneer. It came with ABS and six airbags, and seatbelt warning lamps for all four seats. The new-gen car takes that forward – it gets six airbags, electronic stability control, a tyre pressure monitoring system (a segment first) and hill assist control to help on slopes.
Tyre pressure monitor is another segment-first.
New Hyundai i20 engine and gearbox options
Hyundai has launched the i20 in India with a wide range of engines and gearboxes. There are three engines on offer – two petrols and a diesel – and apart from a 5- and 6-speed manual, there's also a clutchless manual or iMT, a twin-clutch automatic, and an IVT or CVT automatic as well.
120hp, 1.0-litre turbo-petrol engine option on the new i20.
The bread and butter engine is the updated 'Advanced' 1.2 Kappa petrol, which gets lighter bits, a more efficient variable intake system and improved low engine speed responses. It will be available with a 5-speed manual, putting out 83hp, and with an IVT or CVT automatic, making 88hp. The ARAI mileage figure for the manual is 20.35kpl while the CVT version is rated at 19.65kpl. The i20 will also come with a large 100hp, 1.5 diesel driving a 6-speed manual, an option that could deliver tremendous performance and economy; its ARAI rating is 25.2kpl.
The turbo-petrol unit comes with 7-speed DCT (pictured) and 6-speed iMT options.
The range will be topped off with what should be the most fun car of the lot, a 120hp version of Hyundai's 1.0 petrol. The 'turbo' version will be the most powerful car in its class and come with a twin-clutch automatic and a clutchless manual or IMT. Hyundai claims a 0-100kph time of 9.9sec for the DCT, which should make it faster than the new torque convertor equipped VW Polo automatic and close to even the manual 1.0 turbo-petrol VW Polo.
New Hyundai i20 price and rivals
Hyundai has priced the new i20 between Rs 6.80 lakh for the entry-level variant and Rs 11.18 lakh for the top-spec petrol-DCT version (ex-showroom, India) for an introductory period, until December 31, 2020.
New Hyundai i20 prices (ex-showroom, India)
1.2 NA petrol MT
1.2 NA petrol CVT
1.0T petrol iMT
1.0T petrol DCT
1.5 diesel MT
Magna
Rs 6.80 lakh
-
-
-
Rs 8.20 lakh
Sportz
Rs 7.60 lakh
Rs 8.60 lakh
Rs 8.80 lakh
-
Rs 9.00 lakh
Asta
Rs 8.70 lakh
Rs 9.70 lakh
Rs 9.90 lakh
Rs 10.67 lakh
-
Asta(O)
Rs 9.20 lakh
-
-
Rs 11.18 lakh
Rs 10.60 lakh
Compared to key rivals like the Maruti Baleno (Rs 5.64-8.96 lakh), Toyota Glanza (Rs 7.01-8.96 lakh), Tata Altroz (Rs 5.44-8.95 lakh) and the Honda Jazz (Rs 7.50-9.74 lakh), the new i20 comes across as a bit expensive, especially in range-topping form.
2020 Hyundai i20 vs rivals: Price
New i20*
Baleno
Glanza
Jazz
Altroz
Polo*
Petrol-MT
Rs 6.80-8.70 lakh
Rs 5.64-7.90 lakh
Rs 7.01-7.64 lakh
Rs 7.50-8.74 lakh
Rs 5.44-7.75 lakh
Rs 5.87-6.82 lakh
Turbo petrol-MT
Rs 8.80-10.67 lakh
-
-
-
-
Rs 8.08 lakh
Petrol-AT
Rs 8.60-9.70 lakh
Rs 7.77-8.96 lakh
Rs 8.33-8.96 lakh
Rs 8.50-9.76 lakh
-
-
Turbo petrol-AT
Rs 10.67-11.18 lakh
-
-
-
-
Rs 9.19-9.67 lakh
Diesel-MT
Rs 8.20-10.60 lakh
-
-
-
Rs 6.99-8.95 lakh
-
While we'll only be able to tell you what the car is like when we get it for a full review, first impressions are very promising. Attractive looking, spacious on the inside, well equipped and specified generously with a wide array of engines and gearboxes, the new i20 appears to be the all-rounder to beat.
Also see:
2020 Hyundai i20 image gallery
2020 Hyundai i20 first look video
Upcoming Tata Altroz Turbo to take on all-new Hyundai i20
New car, SUV sales surge due to heavy festive demand
Car maintenance cost comparison Part 7: Premium hatchbacks