The Korean mid-range hatchback builds on its predecessors' strengths, but is that enough to trouble the Swift?
What is it?
The Grand i10 Nios comes as a gulp of fresh air in a market dominated by SUVs or crossovers, especially in 2019. It's a hatchback – plain and simple – no added ground clearance, no black plastic cladding, no scuff plates, no pretence. And it sits in a critical point in the hatchback segment, which – SUV craze notwithstanding – will always be the core of the Indian market. It goes squarely up against the impressive Maruti Swift, which is the second-best-selling car in India.
'Nios', incidentally, means 'more', and signifies that this car offers more than the current Grand i10, which will continue to be on sale, albeit repositioned a little lower. You'll remember this is what Hyundai did for the last generation too – the i10 lived on, while the 'Grand' moved in above it.
2019's Nios nomenclature brings with it a number of changes, of course. It's 40mm longer, 20mm wider, with 25mm more in the wheelbase, though the height remains the same. Much like the new Santro, it's built on a modified version of the old car's platform, that's made up of 65 percent high-strength steel. This has actually allowed for a weight reduction of around 30-40kg compared to the old car. The 1.2-litre engines themselves haven't changed, but the petrol is now BS6-compliant (the diesel will be upgraded later), and both are now available with manual and AMT gearbox options – just like the Swift.
What's it like outside?
Thanks to the way Hyundai has proliferated its new design language around its model range, you won't mistake this for a car from any other brand. Ironically, you might mistake it for a Santro from the front at first glance, thanks to its similar overall shape, the upswept headlamps and that big 'cascading grille'.
A closer look, however, will reveal projector elements in those headlamps, low-set round fog lamps, and unique boomerang-shaped LED DRLs placed at the edges of the grille, identifying this as the Grand i10 Nios. That grille is a single-piece unit now –not split – and is finished in gloss black or silver, depending on your paint shade. Frankly, the way it extends down to the base of the bumper makes it look a bit out of proportion.
There are more nice details at the side, like sharper creases in the bodywork and 15-inch diamond-cut alloy wheels on the top Asta trim, or 14-inch gunmetal grey ones on the lesser Sportz variant. A detail whose execution I'm a big fan of is the textured blacked-out section in the C-pillar, with 'G-i10' embossed in it – it looks very classy. At the rear, the Hyundai 'H' has gotten positively huge, you'll find a 'shark fin' antenna on the roof, and there's even a chrome strip at the base of the tailgate. The relatively small tail-lamps do well to accentuate the car's width, but there's no escaping the fact that there's a whiff of Tiago or Figo about their design.
What's it like inside?
The more apparent leap forward comes once you step inside. The interior borrows much from newer and more expensive Hyundais like the Venue and Kona, and does a few things hitherto unseen in this segment. Things like the hexagonal textures on the dashboard, doors and by the gear lever – a simple, modern touch that gives the Nios a distinct identity. Similar is the use of light-grey plastics – rather than the usual black or beige – although it's prone to catching dust and stains. There's a part-digital instrument cluster – an analogue tachometer with the speedo and all other information on a 5.3-inch monochrome screen. And finally, the big, single-piece gloss-black binnacle that houses both the 8.0-inch touchscreen and the instrument cluster; it gives off a classy, Mercedes-like vibe.
Though it all looks very cool, it has to be said that material quality hasn't taken a huge step up from the old car, as we've come to expect from every new Hyundai. There are even some bits, like the window switch array, that don't feel so great to the touch.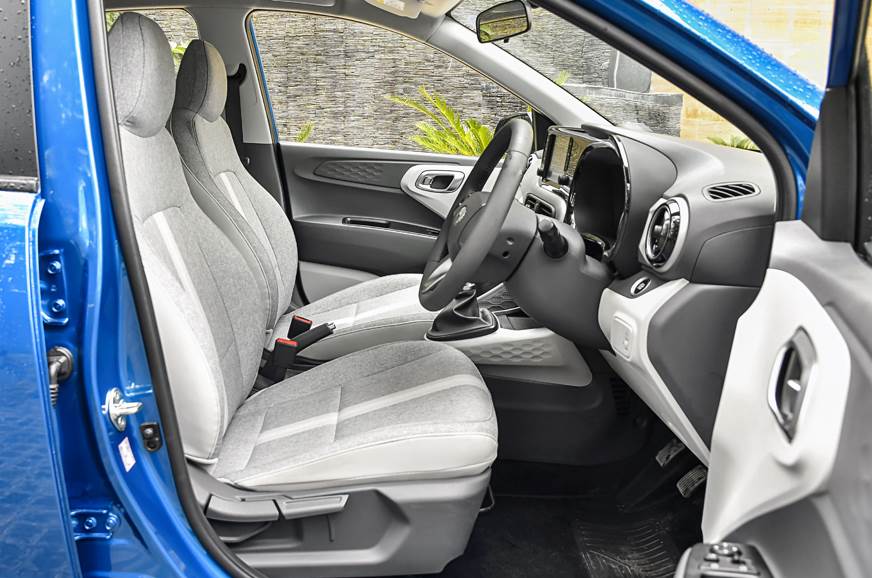 Hyundai's power play has always been to offer class-leading features, and they've attempted that here too. But you finally get a sense that they've reached saturation point with this car. The Swift and Figo each have a few features that the Nios doesn't, like automatic headlamps and wipers, an auto-dimming rear-view mirror, Isofix child seat anchors, the option of six airbags and split-folding rear seats. But the Hyundai has a few tricks of its own, like wireless phone charging, rear AC vents and the ability to keep the rear-view camera feed on permanently via the 8.0-inch infotainment screen.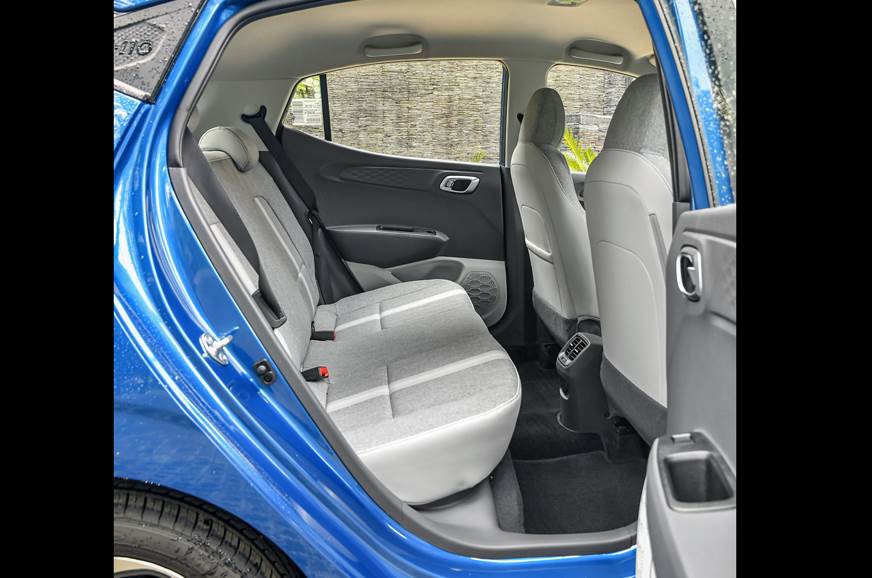 That touchscreen, incidentally, is the largest in class, and Hyundai's operating system remains one of the slickest in the business. It misses out on the connected tech of the Venue – understandably at this price – but is otherwise loaded up with all the stuff you'd expect, and it's dead easy to use. The part-digital cluster functions well, with the speedometer large and in the centre, but frankly, it feels more an aesthetic choice than a feature advantage to remove the analogue speedometer and extend the MID display.
It may have smoothened out in recent years, but the 'tall boy' design philosophy that started with the original Santro is still evident here, using height to maximise space. You're perched relatively high up in the driver's seat with a great view out despite that large instrument housing behind the steering wheel. The front seats have been given added side-bolstering to hold you in place, and it works, although those with larger frames might still find them a little small; they are well-cushioned though. Hyundai's decision to skip leatherette upholstery and go instead with a nice textured fabric is one I rather like. It's not your usual fabric seat material, and instead looks and feels far more chic.
Another thing worth commending is the space in the rear, which Hyundai says betters the Swift despite the Nios being smaller than the Maruti in terms of their exterior dimensions. It would seem so; clever packaging means the seat offers good space, comfort and support (thanks, again, to more bolstering all round), and you get a better sense of roominess thanks to the large glass area. The boot – at 260 litres – is right at par with the segment as well.
What's it like to drive?
It's no bad thing that Hyundai's stuck with the same engines as before, as both 1.2-litre units are smooth, refined and well-suited to a car of this type – a small, urban hatchback. A bigger point to note in the scheme of things is Hyundai's decision to retain its small diesel engine and eventually upgrade it to BS6 emissions standards, which could give it a big advantage over Maruti – the brand has chosen to remove diesel from its small cars entirely. We spent a good chunk of time with the diesel engine and its new 5-speed AMT gearbox, but we also drove the petrol with the manual gearbox.
The 1.2-litre, three-cylinder diesel engine has an audible clatter, but it's not the worst around. Its 75hp and 190Nm are identical to what you get on the Swift's outgoing 1.3-litre Multijet diesel engine. In the Grand i10 Nios, those numbers feel perfectly adequate. Power delivery is very smooth and linear and the only spoilsport in this case is the AMT gearbox, which does give you a bit of 'head nod' on shifts – more so when you attempt to press on quickly – although there's always the manual shift mode to get around this if you're in a hurry. That pause between gears aside, the AMT's shifts themselves are smooth, and the diesel engine's added torque means you can modulate the throttle to stay in one gear for most of your driving needs. That's assuming your needs are focused in urban areas, because while it can hold its own, this powertrain doesn't quite have the guts to be a highway star, like, for example, the Figo's 1.5 diesel.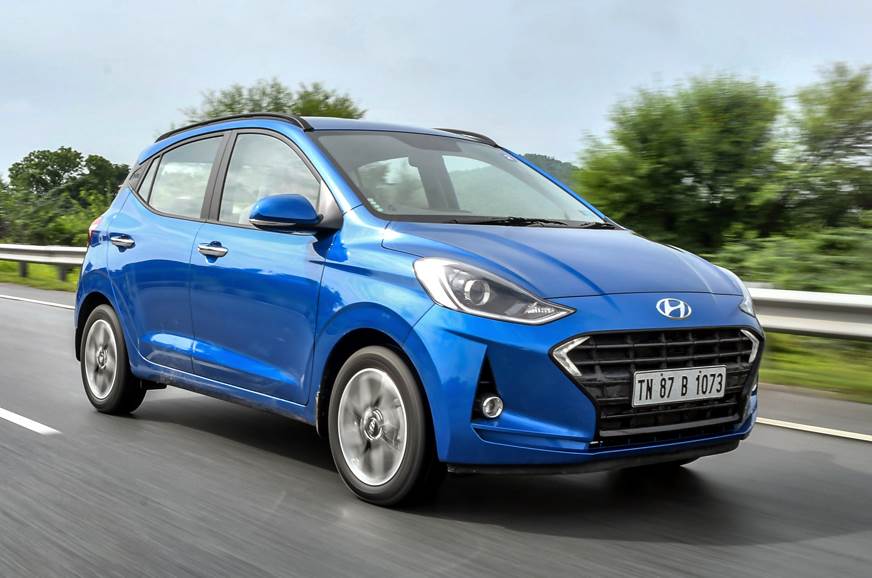 Even less suited to the highway is the 1.2 petrol. Its 83hp and 114Nm, again, mirror the Swift's outputs, but despite this, its gearing and gentle power delivery meant it was never quite as exciting to drive. And now, after the measures put in to upgrade it to BS6, that power seems to have been sapped even more. Power delivery feels really flat at just about all engine speeds, and you really have to work the engine to pick up the pace. Even in flowing city traffic, you'll find yourself in second, rather than third gear, in order to make smooth progress. Luckily, the gearshift and clutch action are as smooth as ever. A highway run is a relentless race for the redline that still won't yield great progress, and the Nios petrol struggles beyond 100kph.
The dynamic setup of the Grand i10 Nios, as with all Hyundais, focuses more on ease of driving than fun. That said, there have been improvements this time around to at least make it more stable and reassuring. The steering, though still light enough, has a bit more weight and feedback to it now, and you no longer feel disconnected from the road at high speeds. It's still not quite like the corner-carving Figo, but you now get a better sense of what the front wheels are doing.
The suspension? Well, that depends, again, on which car you're driving. Our diesel-AMT test car was running 14-inch wheels and taller tyres (being the lesser Sportz trim), and its suspension setup is stiffer than the petrol car's. The result was a more planted ride that soaked up some huge craters beautifully, albeit at low and medium speeds. The petrol Nios is set up a lot softer, particularly at the rear, and our top-spec Asta test car was on the 15-inch wheels. The result was a bouncier ride and some crashing through potholes. Neither version is ideal for the highway, but the diesel did inspire a bit more confidence.
Should I buy one?
It might not have dropped any segment-breaking features this time, but value still seems to be the Grand i10 Nios' calling card, with a price that – spec for spec – undercuts its major rivals, even if only slightly. In this class, value is important, but then so is desirability. Hyundai's done a great job here, with exteriors and interiors that feel modern and inviting. Ease of driving – a Hyundai strength – has returned, with an added sense of maturity to the dynamics. The engines are adequate, but not this car's strongest suit – particularly the petrol – although the option of an AMT on both engines gives it a convenience not there before. The Nios comes across, as the name suggests, as 'more' than its predecessor. But with such strong rivals, is that enough? It's a complete package, but too much of an evolution, with not enough revolution. We wish it shook things up more, as it would need to, in order to really put a dent in the Swift's sales.
Also see:
Click here for Hyundai Grand i10 Nios prices, reviews, images, videos and more details
Click here for Hyundai India models, prices, reviews, images, videos and more details
Hyundai Grand i10 Nios facelift video review
10708 Views|4 months ago
Autocar Drag Day 2021: Volkswagen Polo TSI vs Hyundai Nio...
27614 Views|2 years ago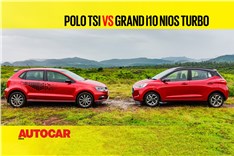 Hyundai Grand i10 Nios Turbo vs VW Polo 1.0 TSI compariso...
21895 Views|2 years ago