One of the most anticipated launches of 2019 – the Kia Seltos – will arrive on August 22, 2019. It enters the hotly contested midsize SUV segment and take on the likes of the Hyundai Creta, Nissan Kicks, Renault Captur, Tata Harrier and MG Hector. The Hyundai Creta has been on sale for four years now, although it has been upgraded through the years with refreshed styling and more equipment – which is why Hyundai India plans to launch of the all-new Creta next year, when it completes 5 years in the Indian market.
We've previously reported that the upcoming Seltos and next-gen Creta (which will go on sale in the Chinese market as the ix25) will share several parts and features – both Kia and Hyundai are part of the Hyundai Motor Company. So what sets them apart? We take a look at the dimensions, engine options and other factors that would influence buyers to go either one way or the other.
Dimensions and design
Despite being bigger than the current model on sale in India, the only metric on which the next-gen Creta is bigger than the Seltos is its height; and that's by a mere 2mm. The Seltos is 15mm longer and 10mm wider, even though the wheelbase of both SUVs is the same. Expect interior room on the models to be similar. We can confirm that the Creta will also be introduced with a 5+2 seat layout by 2021; though the existence of Kia Seltos' seven-seat variant is yet unknown. Do note, the known dimensions of the new Creta are the exact same as the Hyundai ix25, which means that the India-spec model may have slightly differing values.
While design is a subjective topic, the Seltos is a good-looking SUV. It looks well-balanced in profile and it is quite striking from the front and rear without looking like an oddball. If the next-gen Creta arrives with the same styling as the China-spec ix25, it'll look like a larger Hyundai Venue – the nose features a tweaked version of Hyundai's 'cascading grille' and it will get a split-headlight setup as seen on the compact SUV. The design may be eye-catching to some; but does not have the same appeal as the Seltos.
New Creta vs Seltos: Dimensions
New Creta (ix25)
Seltos
Length
4300mm
4315mm
Width
1790mm
1800mm
Height
1622mm
1620mm
Wheelbase
2610mm
2610mm
Engines and gearboxes
As we had reported before, the BS6-compliant petrol and diesel engines that made their debut in the Seltos will be rolled out on a number of Kia and Hyundai models. Along with the Hyundai Verna (which will get the 115hp, 1.5-litre petrol and diesel engines), all three engine options are expected to be available under the bonnet of the new Creta. The gearbox options for each engine will also be shared between the two SUVS. A 6-speed manual is standard on all three engines. The 1.5 diesel gets a 6-speed torque convertor, the 1.5 petrol gets a CVT and the 1.4 petrol gets a 7-speed dual-clutch automatic.
New Creta vs Seltos: Petrol engines
New Creta (ix25)
Seltos
Displacement
1.5-litre/1.4-litre
1.5-litre/1.4-litre
Engine type
4 cyls, naturally aspirated/4 cyls, turbocharged
4 cyls, naturally aspirated/4 cyls, turbocharged
Power
115hp/140hp
115hp/140hp
Torque
144Nm/242Nm
144Nm/242Nm
Manual gearbox
6-speed
6-speed
Automatic gearbox
CVT/7-speed DCT
CVT/7-speed DCT
New Creta vs Seltos: Diesel engines
Displacement
1.5-litre
1.5-litre
Engine type
4 cyls, turbocharged
4 cyls, turbocharged
Power
115hp
115hp
Torque
250Nm
250Nm
Manual gearbox
6-speed
6-speed
Automatic gearbox
6-speed torque convertor
6-speed torque convertor
On paper, or at least in terms of specifications, there isn't much to separate the new Hyundai Creta and Kia Seltos. The interiors of the two models are also expected to be of comparable levels and the equipment on offer will also be similar – Hyundai's BlueLink technology compared to Kia's UVO Connect suite, et al.
The few factors that might make a difference are metrics that we don't know yet. For example, the weight difference between the two might be telling in terms of performance and fuel efficiency. In addition, the Hyundai brand name carries cachet in our market; and while Kia has done a good job on creating brand awareness in the country, its aftersales and service record is still unknown. The exact prices for both models is also yet unknown.
Time (and more details) will tell whether or not the Hyundai Motor Company will rue its decision of having two of its brands competing in the same segment in the Indian market.
Also see:
Kia Seltos GT Line vs Tech Line: What's different?
Click here for Kia India models, prices, reviews, images, videos and more details
Click here for Hyundai India models, prices, reviews, images, videos and more details
Maruti Suzuki Grand Vitara vs Hyundai Creta vs Kia Selto...
31847 Views|7 months ago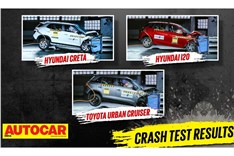 Hyundai Creta, i20 & Toyota Urban Cruiser Global NCAP cra...
12016 Views|1 year ago