New cars for 2018: Upcoming SUVs
Published On Jul 17, 2018 12:27:00 PM
Besides a number of premium SUVs from Audi, BMW, Jaguar and Land Rover, Honda, Hyundai, Tata and Skoda will also launch new SUVs in 2018.
HONDA CR-V
There's a new CR-V on its way here and this one is going to feature a diesel engine option – a first for the CR-V in India. In addition to its proven 2.4-litre petrol, on offer will be anew 120hp, 1.6-litre, four-cylinder diesel enginethat is likely to be sold with a nine-speed automatic gearbox. This fifth-generation version of the CR-V is bigger than the model it replaces and will be launched in a seven-seater guise only. This should give the CR-V an immediate advantage over like-sized rivals such as the Hyundai Tucson. Honda has worked hard to up the premium quotient as well, there's generous use of soft-touch materials all around and it features a dashboard similar to the Accord Hybrid's. A 7.0-inch touchscreen infotainment system offers a host of smartphone connectivity options. Fully loaded variants are likely to come with dual-zone climate control, heated wing mirrors, electrically adjustable front seats and remote engine start. Now, with seven seats and a diesel engine option, it's likely that the CR-V will be more popular than ever before.
Coming: October 2018
Engines:2.0P, 2.4P, 1.6D
Expected Price:Rs 23-26 lakh
Also see:
2018HondaCR-Vreview, test drive
HondaCivic,CR-Vat Auto Expo 2018 first look video
ISUZU MU-X FACELIFT
Expected to arrive in the coming months, the facelift for the MU-X has been on sale in some international markets. The refreshed SUV gets subtle cosmetic changes including projector headlamps with LED daytime running lights, new alloy wheels, LED tail-lamps and a revised front and rear bumper. The largest changes are expected on the inside with a dual-tone dashboard that has been redesigned, faux wood trim, a new touchscreen infotainment system and more. It is likely to be powered by the same 177hp 3.0-litre diesel with either two- or four-wheel drive mated to a five-speed automatic transmission.
Coming:End 2018
Engines: 3.0D
Expected Price:Rs 25 lakh
Also see:
Isuzu MU-X facelift spied testing in India
NEW JEEP WRANGLER
The Wrangler is the quintessence of Jeep and, for India, more of a capability showcase rather than a bread-and-butter model. Jeep recently unveiled the latest generation of the Wrangler abroad, and it is expected to make it to Indian shores in the near future. The styling is a modern interpretation of the iconic SUV but still retains enough elements like the keystone-shaped grille, iconic round headlamps and square tail-lamps. According to the American company, the Wrangler's tremendous 4x4 capability has been honed further and will now feature more fuel-efficient powertrains than before.
Coming:End 2018
Engines:3.6P, 2.0D
Expected Price:Rs 70 lakh
Also see:
2018JeepWranglerfirst look video
India-bound 2018JeepWrangler: A close look
JEEP COMPASS TRAILHAWK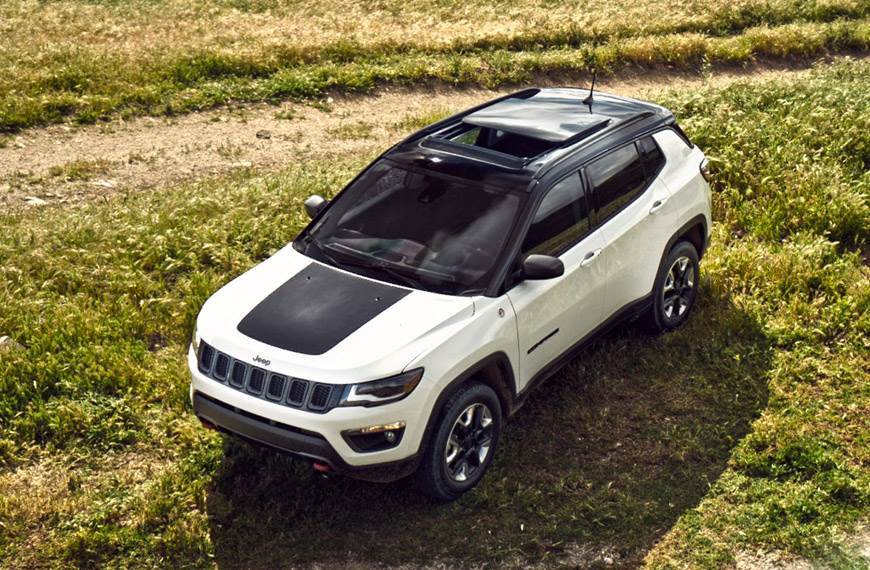 The launch of the more off-road capable Jeep Compass has been delayed to the end of the year. The Compass Trailhawk will debut diesel-automatic engine-gearbox option in India, with a nine-speed automatic on offer. In addition to the standard off-road tech offered on the Limited 4x4 trim, the Trailhawk will also get a Rock mode for the Selec-Terrain 4WD mode selector, and sits 20mm higher than its standard counterpart. It also gets uniquely designed front and rear bumpers, which result in better approach (30 degree) and departure (33.6 degree) angles; its breakover angle stands at 24.4 degree.
Coming:End 2018
Engines:2.0D
Expected Price:Rs 25 lakh
Also see:
2018 Jeep Compass Trailhawk review, test drive
2018 Jeep Compass Trailhawk video review
MAHINDRA COMPACT SUV (BREZZA RIVAL)
Mahindra is synergising with its Korean subsidiary SsangYong to develop two new crossovers to enter the burgeoning small SUV space. The monocoque SUV will be based on SsangYong's Tivoli, and for India it will get higher ground clearance and thicker tyres. Also, in a two-pronged attack, the Indian SUV-maker is readying two variants – a five-seater and a seven-seater – the smaller one of which will be less than four metres in length to benefit from the tax concessions; the Tata Nexon and the Maruti Brezza are in its crosshairs. The seven-seater variant will square up against the Hyundai Creta and the Renault Duster. Expect it to come packed with features like dual-zone auto climate control, seven airbags, a 7.0-inch touchscreen and ESP. Powering these SUVs will be an all-new 1.2-litre, direct-injection turbo-petrol or a 1.5-litre common-rail, turbo-diesel engine.
Coming:Late 2018
Engines:1.2P, 1.5D
Expected Price:Rs 7-12 lakh
Also see:MahindraS201SUV: What we know so far
NEWMAHINDRA REXTON
The second-gen Rexton has already been spied on test in India post its Auto Expo 2018 unveiling. This Mahindra SUV is likely to hit showrooms sometime around Diwali this year. The second-gen Rexton for India will not be a mere 'badge engineering' job. The India-spec model will get Mahindra's grille design but will also feature a slightly tweaked suspension, different ride height and handling package to suit Indian road conditions.The India-spec SUV will get a 2.2-litre, four-cylinder diesel that generates 187hp and 420Nm of torque, and comes paired to a seven-speed auto gearbox; it will also get 2WD and AWD options. Mahindra will assemble the SUV in India and is likely to price it at a substantial Rs 3-4 lakh less than the segment-leading Toyota Fortuner.
Coming: End 2018
Engines:2.2D
Expected Price:Rs 28-30 lakh
Also see:
MahindraRextonspotted testing ahead of Diwali launch
New SsangYong Rexton review
ROLLS-ROYCE CULLINAN
The opulent 'high-bodied vehicle', as Rolls-Royce likes to call it, will slot in between the Ghost Rs 4.5 crore) and Phantom (Rs 9.5 crore) in terms of pricing when it arrives in India. It is powered by a reworked iteration of the 6.75-litre, twin-turbocharged V12, which now produces 571hp and 850Nm of torque. The SUV boats actual off-roading capability, underlined by an off-road button on the centre console that lets owners drive over rough tracks, gravel, wet grass, mud, snow or sand.
Coming:Late 2018
Engines:6.75P
Expected price:Rs 5.5 crore
Also see:
Rolls-RoyceCullinanfirst look video
2018Rolls-RoyceCullinanimage gallery
TATA HARRIER SUV
Tata took the wraps off the stunning H5X SUV concept at the Auto Expo 2018 earlier this year. Since then, prototypes of this new SUV have been seen multiple times.The SUV will feature five-seat and seven-seat layouts, the former's name has been confirmed as the Harrier while the seven-seat's name is yet to be disclosed.Given that the Harrier shares the Land Rover Discovery Sport's platform (Codenamed L550), the Tata SUV should be an able performer, in terms of ride and handling. The SUV will also feature a very similar floor pan, a near-identical all-independent suspension setup and similarly configured steering gear. The model's wheelbase is expected to remain the same as the Discovery Sport's 2,741mm. The Harrier will be powered by a Fiat-sourced 2.0-litre MultiJet II engine in two states of tune – 140hp for the five-seat and 170hp for the seven-seat. A six-speed manual is standard while an automatic transmission is also expected; both will send power to all-four wheels via Tata's own 4x4 system on higher-spec trims. Tata is expected to launch the production version of the H5X in January 2019.
Coming: January 2019
Engines:2.0D
Expected Price:Rs 13-20 lakh
Also read:
TataHarrierSUV: 5 things to know
H5X SUV officially namedTataHarrier
Tata H5X prototype spied inside out
TataH5X, 45X concepts showcased at Geneva
TataH5Xinterior video from the Auto Expo 2018
SKODA KAROQ
Manufacturershave found the Rs 15-25 lakh price bracket to be very alluring, especially after the success of the Jeep Compass. Skoda seems to have taken notice as well. To compete, the carmaker will bring the Kodiaq's smaller sibling – the Karoq – to India. A replacement for the capable, but slow-selling Yeti, the Karoq is a more conventional-looking SUV than the former. Also, like its main rivals, the Jeep Compass it is a five-seater. The Karoq is the first Skoda to come with a digital instrument panel and you can expect build and interior quality to be top-notch. The Karoq is built on the VW Group's MQB platform, and will be offered in India with a 1.4 TSI petrol and a 2.0 TDI diesel engine.
Coming: End 2018
Engines:1.4P, 2.0D
Expected Price:Rs 18-22 lakh
Also see:
SkodaKaroqspied in India
Skoda's 'India 2.0' project to bank heavily on localisation
Skodato take charge of VW Group model development for India
SkodaCEO confirms localisation of VW 1.0 TSI petrol
Skodaplots 6 new models for VW Group's India comeback
AUDI Q8
The Q8 will be top dog in Audi's SUV line-up when it launches in India. Revealed recently, the Q8 retains a number of the concept's striking exterior design elements, particularly the coupé-like roofline and frameless doors. It shares its MLB platform with the Q7 but with a 5,020mm length, 2,040mm width and a 3,000mm wheelbase, it is even larger than a Range Rover Sport. For international markets, Audi provides two engine options – a 340hp, 3.0-litre petrol in the 55TFSI and a 286hp, 3.0-litre diesel in the 50TDI – though a lower-spec 230hp, 3.0-litre diesel V6 in the 45TDI is expected to arrive later.
Coming:2019
Engines:3.0P + electric
Expected Price:Rs 1.1 crore
Also see:
Audi Q8 SUV officially unveiled
2018AudiQ8image gallery
SCOOP! 2018AudiQ8spied in India
BMW X4
The X4 is to the X3 what the X6 is to the X5 – a sportier, coupé-roofed sibling. In the new X4, you'll get all the features and space of the new X3, but with less of headroom at the rear. It sits on BMW's CLAR (Cluster Architecture) structure and uses a mix of high-strength steel and aluminium. Confirmed to arrive in the first half of 2019, the X4 will arrive as a CKD and be powered by a 2.0-litre, four-cylinder petrol that makes 252hp and 350Nm of torque in the xDrive30i, and a 3.0-litre, six-cylinder diesel producing 265hp and 620Nm of torque in the xDrive30d.
Coming:2019
Engines:2.0P, 3.0D
Expected Price:Rs 65 lakh
Also see:
BMW X4 India launch in 2019
HYUNDAI COMPACT SUV (CARLINO)
Hyundai will enter the big volumes compact SUV segment with a new baby SUV based on the Carlino concept from Auto Expo 2016. When launched, it will rival the likes of the refreshed Ford EcoSport, Maruti Brezza and Tata Nexon. Keeping the Korean brand's recent track record in mind, expect the SUV to feature high-quality interiors and long equipment list. While engine details are sketchy, we expect it to get a new 118hp, 1.0-litre turbo-petrol engine, along with Hyundai's tried and tested 90hp, 1.4-litre turbo-diesel.
Coming: 2019
Engines:1.0P, 1.4D
Expected Price:Rs 6-9 lakh
Also see:Hyundai Carlino first look video
NISSAN KICKS
Similar to Renault's Captur, the Nissan Kicks is a no-holds-barred shot at SUVs ranging from the Hyundai Creta to the pricier Jeep Compass. The Kicks shares its robust mechanicals with the Nissan Terrano and is built with sharper styling, almost coupé-like profile and a floating-roof design, making it look a lot more attractive and modern. The Kicks' cabin is quite a modern affair and comes with part-digital instrumentation, a flat-bottomed steering wheel with audio and phone controls, a 7.0-inch touchscreen bundled with smartphone connectivity and a reverse camera, and auto-climate control. Fully loaded variants are also likely to get a 360-degree camera, side curtain airbags, and traction control. Powering the Kicks will be the same 1.5-litre diesel and 1.5-litre petrol motors offered on the Terrano. Its pricing, though will be on the higher side.
Coming: 2019
Engines:1.5P, 1.5D
Expected Price:Rs 10-15 lakh
Also see:India-boundNissanKicks: 5 things to know
Also see:
Newcarlaunchesaround the corner
Bestnewcardiscounts this month
Bestnewbike discounts this month
What do you think about this News