Giving customers what they want is the easiest way to guarantee success. That's exactly what Honda plans with the all-new, fifth-generation CR-V.
Honda is the largest producer of internal combustion engines in the world. Two wheelers, four wheelers, marine engines – it produces them all, and in massive numbers. Last year, for example, it manufactured a colossal 29 million engines. Part of this is because Honda engines, in general, are only slightly short of brilliant. They are light, smooth, efficient, powerful and have bulletproof reliability. And then there's the fact that they are happiest when spun fast; the feel-good factor is tremendous. Yes, there was a period where Honda seemed to be stuck in the past, but now it seems to be back at the cutting edge of technology with its new direct-injection petrol engines, and cars like the super-efficient Accord Hybrid and the powerful NSX hybrid supercar.
DIESEL DILEMMA
So much for petrol engines. Diesels are a different story altogether. Honda only really got started with diesel recently, and its first engine wasn't exactly drowned in praise. The words that actually come to mind are 'ordinary' and 'disappointing'. Sure, the numbers are good – 100hp and class-leading fuel economy – and the 1.5-litre diesel has proved dependable as well. But the Earth Dreams 1.5 diesel is so un-Honda-like in character, it smarts. It rattles like there are nuts and bolts banging inside the cylinder head, performance is one-dimensional, and though initial response is good, there isn't really much to look forward to after that.
So I'm not expecting much when I pick up the keys for a CR-V diesel from the rental company. The 1.6-litre diesel engine isn't likely to be a huge improvement over the 1.5 we have in India. The two engines share many parts, and then there's the fact that this 1.6 is a mere 99cc larger. How much better can it be? And this new CR-V, with its larger seating capacity and greater mass is also a huge 142kg heavier than the current car.
A DIFFERENT BEAST
A quick glance at the brochure before I set off, however, has me grinning. The engine now puts out 160hp and not 120hp, as in Europe, and that's big step up. Torque is up to 350Nm as well, which is a lot for an engine this compact and small in capacity. Honda also says recent upgrades have made a big difference. The amount of friction in the cylinder bores has now been further reduced (it is now in line with that of similar-capacity petrol engines, despite the longer stroke), there are new pistons that are both lighter and stronger, and the updated engine now enjoys better cylinder swirl. The increase in power primarily comes from a new, twin-turbo setup. The larger one uses a variable-geometry inlet and, interestingly, works in conjunction with the smaller one at low speeds, say when you accelerate from a low engine speed. And the new engine also uses an updated 1,600-bar fuel-injection system with a new pilot injection pattern meant to provide smoother and cleaner combustion.
What will also give Honda an advantage in India is that these 1.6 diesel engines are already being made here for export, with major components for the same already being shipped out to the plant in Swindon, UK, where the company makes its cars for Europe.
I'm a bit distracted as I drive out of the parking lot. Slotting the big nose of the car through a tight gap has my full attention, and I'm also not entirely sure where the exit is. But then, as soon as we get onto the main road, it hits me: where's the rattle, where's the clatter? The windows are rolled down but this engine still feels extremely silent and refined, and that's not just in comparison to the 1.5-litre diesel we have in India. It is smooth and refined even in isolation.
Out onto the chaotic streets of Bangkok, I begin to appreciate the smoothness and good acoustic damping of the engine even more. It's near silent when cruising on the long, wide roads that lead out of the city. When I tap on the throttle, it responds smartly, and when I really pull, it seems too eager to rev. Finally, a Honda diesel that feels like a Honda engine should! What also undoubtedly helps here is that this car uses a nine-speed automatic gearbox that always seems to have the engine at its correct speed.
Soon we're up onto a faster elevated section. And here too, the 1.6 continues to impress. The increase in pace is linear with the amount of throttle I'm using, and while there's no typically gratifying turbo-diesel spike in performance, nor a sudden rush of boost, the power keeps coming and coming. And that feels nice. This carries on as I work my way up the gearbox, the engine pulling all the way to 4,000rpm before shifting to the next gear.
Under load, say when I push my foot to the floor suddenly, the 1.6 engine does get a bit noisy and that instant sledgehammer-like punch you'd get from a larger-capacity motor, like on the Hyundai Tucson, isn't there. And I do miss having that when it comes to overtaking faster cars. But, for the most part, the seamless, long pull this engine delivers and its willingness to rev are likely to keep the CR-V diesel in good stead.
Keen to find out how quick this car really is, I strap on our mini Vbox for a quick and easy figure. And the CR-V diesel doesn't disappoint, with 0-100 coming up in 10.26sec. The 185hp Hyundai Tucson does this around a second faster in 9.48sec, but the Honda isn't too far off.
What's nice is that the nine-speed gearbox works pretty well too; it does pause momentarily before a downshift at times and isn't as quick as a twin-clutch, but for everyday driving there really is nothing to complain about.
DYNAMIC APPEAL
With its longer wheelbase, marginally wider track and larger, 235/60 R18 tyres, the new CR-V is extremely comfortable at speed. As traffic thins and I get long, clear stretches of road to play with, I begin to hold on to higher and higher speeds. And despite some tightening corners along the way, and even some negative-camber descents, the CR-V holds on gamely, with a fair amount of confidence coming from the electric steering. All the stiffening and use of additional high-strength steel truly seem to have had an effect here. This car is clearly bulkier and heavier than the one it replaces, but it feels so stable, I just don't feel the extra weight getting tossed around.
Once off the elevated highway, I get the opportunity to attack some tighter stuff. Now Honda could have easily gotten away with making this car sloppy and loose to drive around tight corners, especially with all that extra bulk. But the steering feels a bit quicker than earlier, the car responds a bit faster to a tweak of the wheel and, although it does roll, body control is kept in check nicely. So carving up a few corners is actually mildly entertaining, aided and abetted by some well-set-up brakes.
It's easy to forget that the CR-V was once one of the pioneering soft-roaders, with its car-like driving manners and SUV bulk and looks. And though this car doesn't quite drive and handle like the brilliant third-generation car, it clearly is a step up on the one currently on sale in India.
Ride comfort is better too. Over bad patches, the suspension does thud and, at times, there's a secondary movement from it, a typical Honda trait. But this new car, on its bigger wheels, seems to absorb more of the surface irregularities, the cabin is clearly more silent and better encapsulated, and ride is flatter as well, with less up and down movement. There, however, is quite a bit of road noise on some less-than-perfect surfaces. This is not something I expect, because otherwise the cabin is well insulated. Somehow, the road noise seems to work its way up from the tyres and suspension components, and through bits of the car that resonate and carry the sound.
BACK TO THE FRONT
The other area where the CR-V scores well is in the cabin. Not only is it all new now, there also seems to be a change in attitude. Let me explain. This is because on the earlier car you had the impression Honda was trying to give you the minimum required and not much more. But here it clearly wants to please you much more. The design is all grown up and more pleasing, the quality of the materials is much improved and even the level of detailing and finish are better.
What impresses first is the sheer width of the dash, enhanced by a design that tapers towards the outside, making it look wider than it is. Then Honda has tastefully used 'leather' trim and prominent stitches on the dash. And the wood and metal highlights are executed tastefully and with a good amount of restraint. The best bit, however, is that with the minimalist instrument panel, the big frameless touchscreen and the unique, push-button gear selector, the new CR-V now has a lot more character on the inside as well. The monochrome temperature and fuel gauges are classy, the knobs and buttons on the central console are nicely crafted and the padded doorpads add to the feeling of quality as well.
Also impressive are the large front seats. Built for American frames, they are long in squab, wide in shoulder and offer particularly good lateral support. Rear-seat comfort is good too, but you are sat a bit low and thigh support in the back is not as good as it could have been. Yes, this will be a good car to be chauffeur-driven around in, and with the second row pushed back on its sliding rails and that supportive backrest, comfort is good; a bit more thigh support would've done wonders for those long drives though.
The highlight of CR-V, however, is the third row at the back, and Honda has catered well for rear-seat passengers. You can recline the backrest, you get individual air-con vents (important, because otherwise it can get really hot in the back), and you even have stuff like cupholders and charging points. It's just that space in the back is at a premium and getting in and out, especially dismounting, is a bit of a pain. You are sat just off the floor, your knees up, and foot room is tight, especially for my size 11.5 flippers. So, as ever, the rear is only good for short journeys or kids. Still, third row is a feature most SUV buyers want, and now the CR-V has it.
Otherwise, the cabin is quite practical, with its large glovebox, huge adjustable elbow box and big doorpads and bins. You have multiple USB slots up front, a pair of ports in the rear, and Honda has incorporated a full-sized spare under the third row of seats. Even the powered tailgate can be programmed to avoid slamming into the roof of your low garage.
IF LOOKS COULD KILL
Where the new CR-V doesn't really wow is in the looks department. The design is so evolutionary, it's easy to confuse the car with the one that's currently one sale in India. And that's despite the greater bulk this one possesses. Place the two side by side, as I did in a parking lot, and it's easy to see where this new one differs. The bulging wheel arches, the wider front fenders, the more stand-up headlights (as on the new City), the grille dominated by a chrome bar, and the bigger wheels are tell-tale signs, but the one that works and looks the best is that bulging 'L'-shaped tail-lights.
THE ONE YOU WANT?
The new CR-V, when it comes sometime in the middle of 2018, is likely to a bit more expensive than the current car. Prices are expected to start at Rs 23 lakh (ex-showroom, Delhi) for the petrol 2WD, similar to that of the current car, but this diesel is likely to be a bit more expensive at around Rs 25 lakh. Those who've been wanting a diesel CR-V will find the car hugely appealing. It's is comfortable, smooth, powerful, better built than the earlier car and should be efficient. And you'll get the practicality of seven seats as well.
Yes, performance could have been a bit better and there are likely to be other similar-sized alternatives available for less money. But, even as things stand, the CR-V offers so much car for the money, it's likely to be quite popular. And then there's the fact that it will appeal to those who will look at it as an easier-to-drive, less bulky alternative to a Toyota Fortuner. And that could be a game-changer for Honda.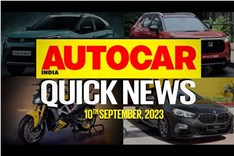 Quick News Video: September 10, 2023
1184 Views|23 days ago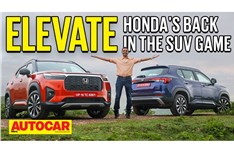 Honda Elevate video review
35931 Views|2 months ago
Takuya Tsumura on the new Honda Elevate, future models, E...
8499 Views|3 months ago