We recently reported that the Maruti Suzuki Grand Vitara has racked up 53,000 bookings just weeks ahead of its launch later this month, with the strong-hybrid variants accounting for 43 percent of the total bookings. Now Maruti Suzuki has revealed that 4WD variants – offered only with the mild-hybrid manual powertrain – have so far accounted for 5-7 percent of overall bookings.
4WD system limited to only Zeta and Alpha trims
Prices for Grand Vitara to be announced later this month
Maruti Grand Vitara: 4WD variants see limited demand
The 4WD variants thus comprise about 2,750-3,750 units of the total bookings, and that is not a lot. This is despite it being offered in a mild hybrid manual powertrain, which could see the 4WD being priced competitively. Notably, the Grand Vitara also misses out on the 4WD system with the mild-hybrid automatic powertrain, although the same is offered on the made-in-India Grand Vitara that is exported to South Africa.
In India, customers preferring 4WD option in vehicles that offer them have been rather limited. The
Mahindra XUV700
and
Scorpio N
are the only two SUVs in the sub-Rs 25 lakh range to be offered with an optional 4WD system. For these two vehicles, it is understood that 4WD variants account for about 15 percent of their overall sales. In the total passenger vehicle market, 4WD SUVs still form less than 1 percent. As far as hardcore off-roaders are concerned, only the
Mahindra Thar
and Force Gurkha come with a 4x4 system as standard in this price range.
Maruti Suzuki is, however, confident that the Grand Vitara has a strong chance of disrupting the segment. "What I feel will turn out to be very positive for the Grand Vitara is the sheer range of options on offer," said Shashank Srivastava, senior executive officer, Marketing and Sales, MSIL. "Within the SUV segment, it will attract different customers, those who are looking at a hybrid, the convenience of an automatic, or the capabilities of an all-wheel drive SUV."
The Grand Vitara may have the distinction with segment-unique hybrid and 4WD technology, but the competition – led by the Hyundai Creta and Kia Seltos – is also well placed in terms of myriad options like a diesel, turbo-petrol and naturally aspirated petrol powertrain. Maruti Suzuki, however, believes that this all-new SUV will end up eating into the sales of its main rivals as well as expand the segment.
"As it happens with any new model, they end up uplifting their respective segments. We expect a bit of both – cannibalisation of existing models within midsize SUV segment as well as its overall expansion with the entry of the Grand Vitara," Srivastava said.
Maruti Grand Vitara: launch and delivery timeline
Maruti Suzuki will announce prices of the Grand Vitara SUV by the last week of September, with customer deliveries set to begin from early October. Bookings for the Grand Vitara have been underway for a token amount of Rs 21,000. For more details on the Grand Vitara's specifications, trims and features, click here.
Also See:
Maruti Suzuki Grand Vitara Drive; Initial on track experience
Toyota Urban Cruiser Hyryder review: Say hi to hybrid
2022 Toyota Urban Cruiser Hyryder video review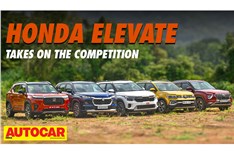 Elevate vs Seltos vs Creta vs Grand Vitara vs Taigun: Mid...
16743 Views|27 days ago
Autocar Awards 2023 video: Maruti Grand Vitara, Bajaj Pul...
9876 Views|8 months ago