Honda Cars India has called off all work-in-progress on its new midsize SUV – the Honda HR-V. On sale in some key markets as the Honda Vezel, the five-seat SUV (codenamed 2XV), will not be available in the Indian market, sources have exclusively told our sister publication Autocar Professional. This development comes after Honda India's multiple attempts at bringing the model to the country.
When contacted for an official confirmation, a Honda Cars India spokesperson said: "We do not comment on speculation."
The 4.2-metre-long crossover, which is built on a monocoque construction, was expected to arrive on Indian roads to rival the Hyundai Creta and Kia Seltos with a 1.8-litre naturally aspirated petrol and a 1.6-litre turbocharged diesel engine.
It is understood that the company first conducted a feasibility study on the HR-V back in 2013, soon after the SUV was launched in the US and Japan. However, it did not get the nod then, given the high level of import content in the model, which wouldn't have given Honda the scope to price it aggressively when it still had plans to bring the cheaper BR-V and position it in the Rs 10-14 lakh price bracket.
Given the exponential growth in the utility vehicles segment in India – which recorded a surge of close to 30 percent between April 2016 and March 2017 – and after tasting much success with the WR-V that had launched in 2017 – it saw the company's UV market share nearly double from 3.54 percent in FY2017 to 6.50 percent in FY2018, the brand decided to increase its efforts and started work on the 2XV project in late 2017 in a bid to bring in the MY2018 HR-V facelift to India.
According to sources, it was in 2017 that the company finally considered the HR-V seriously enough to plan its assembly together with the new CR-V and the Civic at its Greater Noida plant. For this, the company kept up investment into new jigs and fixtures at the 1,20,000-units-per-annum capacity factory over the last two years.
Only 30 percent localisation achieved
To keep costs in check, Honda's main focus this time was to localise the new model to the highest possible extent. While it is likely that it had identified local suppliers for batteries, seats tyres and some plastic components to achieve roughly 30 percent localisation (a level similar to the Civic) the current slowdown in India plummeted its volume confirmation to its vendors, which was recently revised from an already low 12,000 units over two years to 8,000 units; this didn't warrant a strong business case to bring the model to India, sources tell us.
Called off at the last moment
While work on the HR-V was in full swing and Honda had also conducted two trial productions of the SUV – one last year and another earlier this year – and produced around 4-5 prototypes, the company was all set to complete the final trial production of the HR-V in September, before subsequently aiming for mass production in December of 2019.
It is believed that the foray of MG Motor and Kia Motors into India made a tough climb look even tougher for the Japanese carmaker, which was tasked with procuring nearly 70 percent of components for the HR-V from Japan, Thailand and China. This high level of import content would have meant that Honda India would have found itself in a disadvantageous position when it came to pricing the model amidst the aggressively positioned newfound competitors in the Indian market.
Compensating suppliers
Since its suppliers had participated in two trial productions and had invested an early amount into developing tooling for the prototypes, Honda will now need to honour its agreement terms and compensate them for their initial investments. While there is no final word on it yet, sources tell us that the compensations could be roughly to the tune of around Rs 20 lakh per vendor, depending on the part.
The sum doesn't look so big because most of the parts that were localised had commonality with the City and the Jazz, and some of the new tools that have been made will continue to produce parts for these models currently on sale in the market.
While it took way too long to decide and remain firm on its stand to act upon what could have been a rather attractive proposition for the Indian market, it looks like all plans on the Honda HR-V's launch in India have finally been laid to rest.
The company, it seems, will now focus on the launch of the fifth-generation Honda City sedan, slated for an introduction in 2020.
Click here for Honda India models, prices, reviews, images, videos and more details
Honda Cars
Honda Amaze
₹ 7.94 - 13.31 lakh
Honda City
₹ 13.42 - 23.70 lakh
Honda Elevate
₹ 12.85 - 18.63 lakh
Honda Sustaina C, Prelude Concepts first look video
3854 Views|27 days ago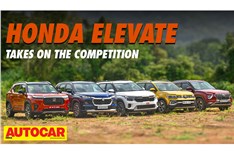 Elevate vs Seltos vs Creta vs Grand Vitara vs Taigun: Mid...
17154 Views|1 month ago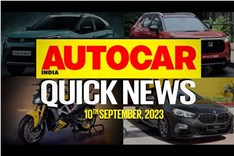 Quick News Video: September 10, 2023
1913 Views|2 months ago