Carlos Tavares, the global CEO of Stellantis, has confirmed that an all-electric Citroen C3 "will be launched early next year". The exact date has not been announced, but it is likely to be in January soon after Auto Expo 2023.
Citroen e-C3 to be priced between Rs 10 lakh-12 lakh
Will come with a 30.2 kWh battery
Planned to be exported to several global markets
Called the e-C3, Citroen's first electric offering for India comes a mere six months after the petrol-powered C3 was launched. The company is quick to point out that no other mass manufacturer has developed and launched an EV variant of an ICE car within such a short time window.
Citroen e-C3 battery and powertrain
A big target for Citroen is the price of the electric C3. "How to make EVs affordable to the middle class is the biggest challenge," Tavares said during a media interaction in Chennai on Wednesday. "Only affordability can create scale and only then can it have a significant impact on the environment."
Thus, to keep costs in check, the e-C3 will have a modestly sized battery with a capacity of 30.2kWh, and sources tell us it will use LFP cells from Chinese firm Svolt. The car will have a 3.3kW onboard AC charger, and also be capable of CCS2 fast charging. Citroen, however, is also keen to have this localised. "I would love to buy a battery from an Indian supplier. I am still looking for it. We have not found a source yet; it will happen in the next few years," Tavares said.
For reference, the largest battery available on a Tata Tiago EV is 24kWh which is good for an ARAI-rated range of 315km, while a Tata Nexon EV Max uses a 40.5kWh battery which gives it an ARAI range of 437km, so the diminutive Citroen e-C3 could get a surprisingly long range too.
We have also learnt that the Citroen eC3's single electric motor will have a power output of 63kW (86hp) and 143Nm, which again, is relatively modest. For reference, the 1.2 Turbo petrol Citroen C3 produces 110hp and 190Nm, and the EV is likely to be heavier. That said, the Tata Tiago EV produces just 74hp and 114Nm.
Citroen e-C3 expected price
To optimise costs, the electric version of C3 will share all other parts and components, which are heavily localised, with the petrol model. The body, interior and mechanicals are common; that's why the e-C3 looks identical to its petrol-powered cousin and the only differentiator is the charging port located on the front fender. The interior too is likely to be unchanged, except for the drive controller that replaces the petrol manual's gearstick.
Citroen is confident that it can price the e-C3 competitively, and though no indication of the price and positioning have been given, it's fair to assume it will be priced around the Rs 10 lakh to 12 lakh bracket.
That competitive price will also make the e-C3 the most affordable Citroen EV in the world, except for the Citroen Ami, which is a quadricycle. This would also give it huge potential in export markets, where compact EVs are popular, but the price-to-size ratio still can't quite match that of an ICE vehicle.
Citroen e-C3 sales and exports
A lot is riding on the e-C3, which, apart from seeding Citroen's EV technology in India, will give a significant boost to overall C3 volumes that have been disappointingly low by segment standards.
Tavares is quick to add that he is not chasing volumes and is in no hurry to win market share. His priority is to get the product and the quality right. "At Stellantis, we do not push the metal, because we consider pushing the metal one kind of value destruction. So we are not chasing volumes; we are doing the right thing, in the right way. If we do the right thing, the volume will be the reward."
Supplier sources reveal that an annual production volume of 25,000 units per annum for the e-C3 has been projected, which includes a substantial number for exports. Tavares is excited about the export possibilities of the e-C3 saying, "There is a big opportunity for India to be able to sell EV compact cars at an affordable price protecting the profitability. Because the country has such a cost-competitive supplier base, so it [exports to Europe] is possible." But he also cautions there is no concrete plan for now and that exporting to Europe is no "walk in the park".
With the buzz around EVs in India at an all-time high, the e-C3 could be just what Citroen needs to create awareness for its compact crossover hatch and put it on the car buyer's radar.
Also see:

Citroen C3 review: Haute cross fun
Citroen C3 to get more features
New Citroen seven seater being readied for India

Citroen C3 Turbo vs Mahindra XUV300 TurboSport drag race
7411 Views|1 month ago
Billy Hayes of Stellantis on Citroen's dealer network, fu...
2386 Views|3 months ago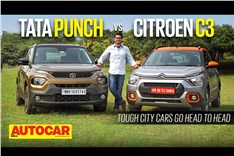 Citroen C3 vs Tata Punch video comparison
22554 Views|1 year ago