Having secured a major chunk of the compact and midsize SUV market in India with the Sonet and Seltos, Kia India is now readying a new "compact lifestyle SUV" alongside its current SUV line-up to bring in incremental sales. Much like the Sonet and Seltos, the upcoming SUV will try to address a wider price point with a multitude of engine and transmission options in the core of Rs 12 lakh to 24 lakh bracket.
Kia AY SUV to sit between Sonet and Seltos
Will be sold with electric and petrol powertrain options
Will be exported to other markets as well
Kia AY SUV: upright design, tough looks
This as-yet-unnamed SUV, internally codenamed AY, will be a grounds-up, sub-four-metre vehicle and will sit between the Seltos and the Sonet in the Kia India line-up. Sources tell us that this SUV will have a tall and boxy design and will most likely have a tough SUV-like presence, which will distinguish it from the Seltos and the Sonet which have more of a crossover-ish design.
The AY is also expected to address one of the weaknesses of the Sonet, which is poor legroom in the rear that has been compromised in the interest of boot space. The AY with its tall stance is expected to be roomier and more spacious. We are also told that this new SUV will take design inspiration from the Kia Soul, a highly successful model for Kia overseas.
Kia AY SUV: ICE and EV powertrain options
Company sources have hinted that the Kia AY SUV will come with ICE as well as EV powertrain options. Its rugged looks are possibly aimed at pulling away potential Thar and Jimny customers. The ICE variants are likely to be powered by a sole 1.0 turbo-petrol engine. They won't come with 'proper' 4WD capabilities and will be based on the existing Sonet's front-wheel-drive running gear.
Kia AY SUV: made-in-India for domestic as well as export sales
Sources tell us that Kia India plans to produce close to one lakh units of the Kia AY SUV annually with 80 percent volumes coming from the petrol version, while the balance contribution will come from the EV derivative. These volumes include allocations for RHD overseas markets too.
In a fast growing Indian SUV market, Kia has been a strong contributor in helping the segment double to 1.5 million vehicles in the past four years. The company sells about 2.4 lakh units of utility vehicles, with an SUV market share of over 10-12 percent. In a short span of time, India has already become the third largest market for Kia and a key export hub. Not only has this relatively new Korean brand become the fastest to sell half a million units cumulatively, but it is the fastest to break into profits.
Kia to follow Hyundai's template for EV rollouts in India
Kia is likely to follow a similar template as Hyundai for its EV roll out in the country. It will rely on a mix of completely built imports (CBUs), as has been seen with the launch of the fully imported EV6, and further on will introduce ICE-derived EVs like the AY SUV. Finally, the third step will be to come out with electric vehicles spun off the Group's E-GMP skateboard architecture as its sourcing arm Hyundai Mobis secures the supply base to ensure high localisation and a competitive price.
Unlike the other global alliances of Renault-Nissan, Skoda-Volkswagen and Suzuki-Toyota, who have relied on co-badging to keep costs low, Hyundai-Kia have ensured significant differentiation in design, look and feel – with optimum commonisation of parts, which has ensured strong traction for both brands in the marketplace. So instead of eating into each other's share, both brands have created incremental volumes in India for the Hyundai Motor Group.

An email sent to the brand did not elicit any response.
Also See:
New Kia Carnival, Sorento, EV9 concept to be on display at Auto Expo 2023
Every new car, SUV launching in January 2023
Toyota GR Corolla hatchback to be showcased at Auto Expo 2023
Maruti Suzuki XL6 vs Kia Carens comparison video
9005 Views|1 month ago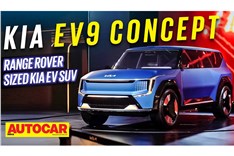 Auto Expo 2023: Kia EV9 concept walkaround video
1364 Views|2 months ago