With the Mumbai monsoon in full swing and water-logging everywhere, is it time to switch to an SUV?
SUVs are indeed where the world is headed right now, there's no escaping that. In fact, it's rare these days that a new sedan or even hatchback comes in for us to test – every newly launched car is some form of high-riding crossover, if not a big boxy SUV. And that is why, when the work day is done and I lower myself into my long-term Maruti Ciaz, I take comfort in its sedan-ness. It's low, it's long, it's soft and mushy. It's not a driver's delight and apart from a bit of pep at low revs, it's not particularly quick either, which makes it the antithesis of what we as motoring journalists like to yammer on about (guilty as charged). Frankly, it's a car you'd recommend to your dad. But there's a time and place for everything, and the time and place for the ever-relaxing Ciaz is my slow commute home. Comfy ride, easy shifts, smooth petrol engine, good fuel economy – if it had an auto gearbox, I'd be completely sold.
POTHOLE KING: Soft suspension good at supressing sharp bumps.
However, the rains have now come to Mumbai, and predictably, the city's drainage system is woefully unprepared to deal with it. What that means is we're never too far away from a newly formed water body, and since the Autocar India office is located in, effectively, a giant basin, we're all too accustomed to it. For the first time, I'm considering brokering a deal with one of my colleagues to exchange it for one of the many crossovers in our long-term fleet. The Captur? The Kicks? The Creta? The EcoSport? I know, in absolute terms, it's not much of a difference. It's more about careful driving than the car you're in, but I'd just feel a little bit more comfortable in any of those. Talk about psychological conditioning.
After a humiliating series of laughter-filled rejections from my colleagues – I don't otherwise share my Ciaz with them, so fair enough – I decided to suck it up and get on with it. And you know what? It was just fine. Sure, it can't wade as deep as a crossover, but it's not like I was out searching for rivers to ford either. What it does well is more basic stuff – the suspension soaks up unexpected potholes really well, the wipers have a good spread and don't leave trails on the screen, and visibility all round is great. The windows do a good job of not fogging up in heavy rain; this might seem pretty basic, but you'd be surprised how many modern cars still have this problem. A special mention must go to the piercing blue beams of the LED headlamps that can cut through a torrent like the proverbial hot knife.
ILLUMINATION: LED headlamps really light up murky roads nicely.
I'd be wont not to mention where it doesn't fare so well in this weather, of course. The beige carpets aren't beige anymore, I'd have liked some more reassurance from the steering in tricky road conditions, and if you do encounter deep standing water, make sure you turn off the engine stop-start system – because the last thing you want when powering through a flood is the engine cutting out.
THAT'S MUCKED UP: Beige carpets show dirt and grime too easily.
So yes, you don't need an SUV in the monsoon, but whatever you drive, it pays to be sensible and careful. The Ciaz looks like it will handle the rains just fine, and I'll be back with another report on the other side.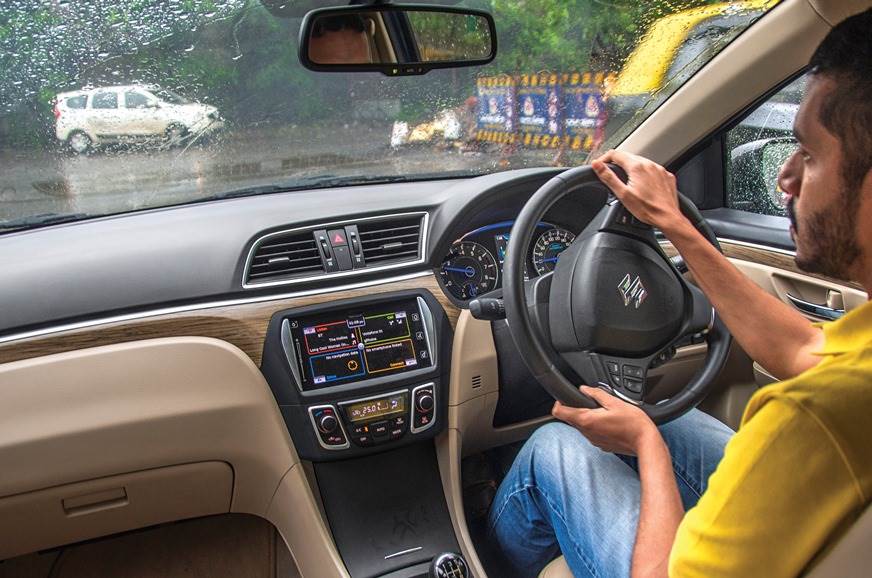 STEER CRAZY: Light and mushy steering doesn't inspire confidence.
Also see:
Maruti Suzuki Ciaz facelift long term review, second report
Maruti Suzuki Ciaz facelift long term review, first report
Click here for Maruti Suzuki Ciaz prices, reviews, images, videos and more
Click here for Maruti Suzuki models prices, reviews, images, videos and more