Our photographer goes from behind the camera's lens to behind the wheel of our long-termer.
I don't usually use our long-termers, but for the Hyundai Venue Great India Drive (GID), Rahul asked me to drive the support car – the Creta. It had been with us for a while, but somehow had never been on a long expedition; so I thought this would be a good opportunity for both, me and the car.
This was the plan – we were all to drive to Gujarat and pick up the Venue. Our team for GID included me, Saumil and three members from our video team. So it was five of us and our luggage, and we all packed into the Creta quite easily. With Saumil behind the wheel, I sat in the front seat and the others sat in the back. I noticed the ride was a bit too soft, as our heads were bobbing around on the slightly bumpy roads. I wondered if this was due to the load, but, according to Saumil, this is one of the few weaknesses of the car.
LIGHT 'EM UP: Spread and throw of the low beams is quite good.
In Gujarat, with the Venue in our custody, Saumil handed over the Creta to me. I was pleasantly surprised when I tried adjusting the seat and couldn't find the adjustment lever below the cushion, as I didn't expect the Creta to have electric controls. This was really handy as I tend to tweak my seat position a little now and then when on a long drive.
After we were done with the tracking shots for the video, I was eager to drive from the Statue of Unity to Saputara, where we had a hotel booking for the night. Saputara was a bit off course, but we chose to stay there as there were no hotels at our next shoot location in Mangi-Tungi. The drive was long and went way past sunset; I wasn't too happy about this as I generally don't like driving at night. Moreover, the roads were unfamiliar to me and Saumil also kept pulling away. At some point, we were driving through a forest reserve that had some bad roads. So there I was, bobbing along and regretting agreeing to drive for these few days. Saumil was nowhere in sight and my phone had no reception.
ACE OF SPACE: Big boot, enough for all our bags and equipment.
With the Venue far out of viewing distance, I quit trying to keep up and realised I could drive with a lot more confidence at my own pace on the dark roads. Thankfully, the Creta's headlights have terrific spread and illumination.
Considering I was in no rush, I decided to have a little fun with the Creta's on-board computer and see how high I could get the fuel-efficiency read-out to. At the start of the day, it was 12.5kpl, and by the time night fell, I managed to bring it up to 15.1kpl, feeling chuffed with this little achievement.
BOOST LAG: Dull off-boost response can catch you off guard when going uphill.
Eventually, the roads started smoothening out and, to my surprise, I noticed familiar-looking tail-lights in the distance. Spotting Saumil in the Venue couldn't have come at a better time, because, just then, the road came alive. It was freshly laid and well marked out with cat's eyes (road studs), begging to be enjoyed in whatever car you were in. Getting onto this road seemed to have riled up Saumil because he was out of sight again. Now I was in a dilemma – do I try and keep up with him? Or should I sacrifice the now 15.5kpl reading on the MID?
My foot very quickly made a decision for me weighing down on the accelerator. On steep inclines, there was a bit of turbo lag, but the driving was pretty spirited and, on the whole, a lot of fun. Soon I had Saumil in my sights again. About an hour away from the hotel at this point, the Creta had certainly performed well on the smooth and open roads. And, overall, besides the soft suspension, I had no other complaints. We reached our rest point not worse for wear; the air-con, and music system kept us comfy and happy, the powered seat let me make my minute adjustments with ease, and the seats were very comfortable.
SIZE MATTERS: Large phones with bulky cases don't fit on the wireless charger.
After a good night's rest in a comfy bed, I would have no regrets about getting back into the driver's seat.
Also see:
Hyundai Creta 1.6 diesel long term review, first report
Maruti Suzuki Grand Vitara vs Hyundai Creta vs Kia Selto...
23007 Views|3 months ago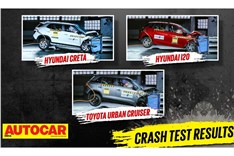 Hyundai Creta, i20 & Toyota Urban Cruiser Global NCAP cra...
10009 Views|10 months ago