The SUV champ, the Hyundai Creta, joins our long-term fleet, but has been, so far, confined to the city streets.
Like the market, our long-term garage too is heavily populated with SUVs, but perhaps it's the work load at the office, all we've managed to do with them are city runs. Last month, Hormazd told you that he couldn't take the CR-V on his new car initiation trip to Mahabaleshwar, and Nikhil, despite having a holiday home in Goa, only dreamed of taking the EcoSport there. And it's the same with me and the Creta. Since our summer vacation was spent abroad this year, we missed our annual Goa trip. So all we've done with the Creta is drive around Mumbai, to shopping malls, to work and for the weekend football run. Oh, and yes, that opening picture is very much Mumbai – Goregaon, or Aarey Colony, to be precise. I just had to have an outdoorsy shot with the SUV, and so the family and I bundled into the Creta and headed off in search of greenery.
Seats really cradle you and have just the right amount of cushion firmness.
Driving through Aarey is very therapeutic. If you're fed up with the concrete jungle, just head into the colony and the trees, fields and vast open spaces are a welcome respite. Sitting in the Creta made us feel like we were on vacation in Goa, thanks to the good outside visibility that everyone seemed to like. Another favourite are the very comfy seats at the front and the rear; they feel real nice and supportive and you really feel like you're sitting in it, rather than on it. It's super easy to fall asleep here, when spending long hours in traffic, cooled by the very effective AC. Sadly though, the suspension is a real let down, as far as slumber goes. The setup is very soft and this causes a lot of body movement and pitching over speed breakers and small undulations, and, as my wife said, it's like someone shaking you awake, where the other cars are rocking you to sleep. Now with the monsoons here, I know this will only get worse as the road conditions are bound to deteriorate. Perhaps I can convince Hormazd to let go of the CR-V.
BOUNCY CASTLE: Soft suspension creates a lot of body movement over undulations. Very uncomfortable.
Besides the shopping trips, the Creta also had a couple of airport runs, and the boot was more than adequate. The only thing is that the loading floor is quite high, but thankfully, it's flat and so you can easily slide suitcases in and out. Oh, and, of course, the electric boot release is nice and convenient to use. Speaking of conveniences, the Creta has a wireless charging mat that sits below the centre console storage tray. This is a really nice feature if you have a phone with such capabilities, but if you don't, the space is quite restricted for use.
ROLL ON/ROLL OFF: Flat floor means you can roll bags in and out. Yes, those are suitcase tyre tracks on the felt.
As for the mileage, the Creta returned 11.4kpl (purely in the city), and this is pretty decent, especially given the hours of idling you are subjected to in Mumbai. It only makes sense for us to head off to the hills to enjoy the waterfalls, rivulets and streams in the monsoons, and the Creta will make for an excellent companion then too. This will also give me an opportunity to measure its highway efficiency with a full load of people and luggage. Until then, I guess I have a few more weeks of the city crawl.
Also see:
Click here for Hyundai Creta, prices, reviews, images, videos and more
Click here for all Hyundai models, prices, reviews, images, videos and more
Maruti Suzuki Grand Vitara vs Hyundai Creta vs Kia Selto...
26734 Views|4 months ago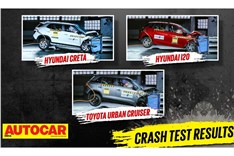 Hyundai Creta, i20 & Toyota Urban Cruiser Global NCAP cra...
10740 Views|11 months ago