Its sharp angular looks are quite familiar, but underpinning the new NX is an all new platform, some new tech bits and, of course, Lexus' hybrid technology.
Lexus' India operation is quite the paradox. On one hand, it keeps a low profile, with just four dealers currently and only two more planned for this year, but on the other, it takes our market quite seriously, investing in an assembly line at the Toyota plant in Bengaluru – India is one of just four plants producing Lexus cars – and putting on sale nearly every model from its global line-up including this, the all new NX.
NX is offered in three variants – Exquisite and Luxury trims (red car) get grey alloys, while the F-Sport (blue car) gets an all-black treatment.
Unveiled last year, the NX comes to India as a CBU (currently only the ES sedan is made here). It will fight it out in a fairly crowded segment that comprises the German trio – the Mercedes GLC, BMW X3 and the Audi Q5 – and also the Volvo XC60 and the Land Rover Discovery Sport. It's got its work cut out for sure, but it comes well prepared, as the NX is the only strong hybrid in its class, and while the older car was underpinned by the MC architecture, the new car utilises an all new platform – the TNGA-K.
Lexus NX: exterior styling and details
At first glance, the new NX looks very much like the previous model, and that familiarity is no doubt down to the very strong angular Lexus design language. But look at the details and you'll notice that the two are indeed completely different. The headlights remain narrow and angular, but they are single units, whereas the older car had a split set-up with the DRLs set below. The large signature Lexus spindle grille remains, as do the low-mounted fog lights, which are in an even more angular housing that projects a fair bit, almost like a mini front wing with a lot of horizontal surface area.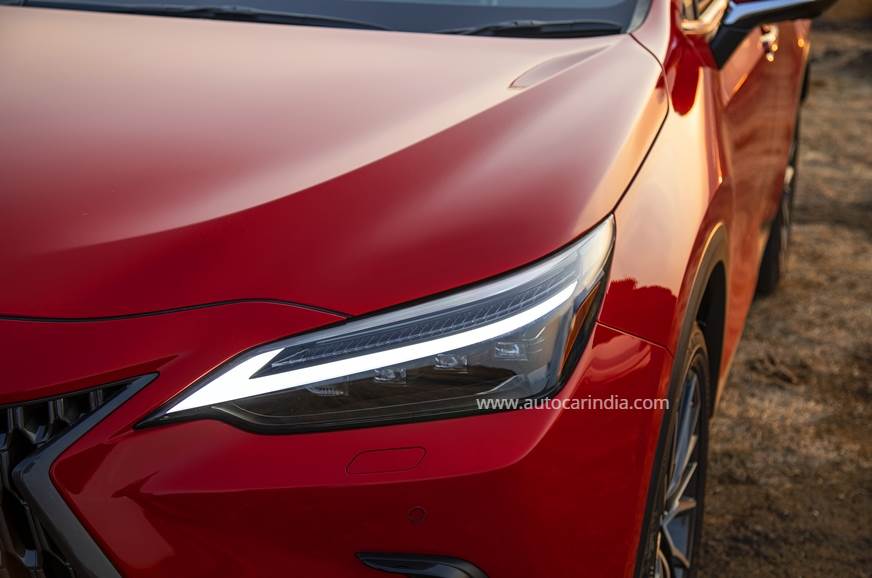 Single-unit headlamps replace the split headlight arrangement from before.
At the side, there are interesting elements, like the shoulder line that runs the length of the car but splits into two towards the rear, travelling above and below the rear door handle. There are two alloy patterns, both multi-faceted and 20-inch in diameter. The Exquisite and Luxury (red car) get a grey tone, whereas F-Sport trim (blue car) is an all-black affair. The F-Sport also carries badging on the front fender and has other aesthetic bits like extra black trim.
The rear is an all-angular affair like before, but a big design difference is the tail-light unit that stretches right across the body and looks neat with its matt-like diffused LED light bars. There's also Lexus lettering in the centre where the logo previously resided and stylistic vents cut vertically into the outer sides of the bumper.
Tail-lights stretch across the width of the boot lid; company lettering replaces Lexus logo.
Lexus NX: interior features and space
It's here where the new NX departs quite radically from its predecessor. The earlier car had a quirky interior, with the entire dashboard projecting in and out and having some sharp cuts to it. The new car, however, goes with a flatter treatment and while it's more traditional in that sense, it's also far more modern. Dominating the dash is a large touchscreen. Yes, the new car gets a touchscreen, losing the touchpad controlled screen of the previous generation. At 14 inches, it's really very large – almost laptop sized – and it's responsive to touch, with functions like pinch-to-zoom working with the fluidity that only a high-quality tablet could better. Clarity is also very good, and it has the expected connectivity options like wireless Android Auto and Apple CarPlay.
What I really like is the fact that despite the large high-quality touchscreen, Lexus has retained physical controls for stuff like the audio system and HVAC, and they operate with a high-quality feel and damping. This approach of physical controls for stuff like the HVAC and audio system and leaving lesser used functions on screen is so much safer and intuitive to use.
Another interesting touch is the door handles, Lexus has electrically operated units both outside and in, which the company calls the e-latch system. On the outside, the pull handles don't actually move, but when you tug on them, your fingers end up pressing a button that releases the latch, thus opening the door in one smooth pull. Inside, too, you need to simply push the handle, which presses a button to release the latch, thus opening the door in one move. In case of an electrical failure, there is a manual key override on the outside, while on the inside, you simply pull the handle to mechanically open the lock.
NX uses Lexus' e-latch system – buttons on the exterior and interior door handles unlock the doors.
The audio system on the Luxury and F-Sport trim is a 17-speaker Mark Levinson system that sounds really brilliant. Other kit includes a digital instrument panel, a 3D surround camera, dual-zone climate control, ambient lighting, powered front seats with memory for the driver, and quite a few handy storage options. A particularly nifty one is the wireless charger tray that slides away to reveal a cubby below, while also charging your phone at the same time. The steering-mounted buttons are touch-sensitive, but they also depress to give you that button feedback; what's neat is the command also displays in the HUD. The NX has a large panoramic sunroof as well, but it has a fairly large central beam.
Slide the wireless charger tray to reveal a cubby hole.
At the rear, there's a fold-down armrest, twin Type-C USB ports and rear AC vents, but it misses out on temperature or blower speed control. Rear seat space is adequate and while my 5ft 8in frame had enough leg and head room, the overall space is not very impressive and taller folks will find it tight. The darker theme also doesn't help, making the insides appear smaller still. Boot space isn't class leading either, but 520 litres should be sufficient and there's a large under-floor unit to increase that capacity.
Though not class leading, the 520-litre boot space should be sufficient. There's also a large under-floor unit to increase capacity.
Lexus NX: engine and driving impression
In India, Lexus is all about hybrids, and the new NX is no different. Internationally available in regular ICE, hybrid and plug-in hybrid varieties, the company has brought only the hybrid model to India and uses its 'self charging hybrid' tag to describe it. That means this isn't a plug-in model, but it charges on-board while the car is moving. Don't mistake this for a mild hybrid though, which only assists the engine, as this is a full hybrid that can also power the car solely on electric power. Not being a plug-in with a large battery, range is limited to just about 4-5km on pure electric power.
NX 350h combines a 190hp petrol engine with a 182hp motor at the front, and a 54hp motor at the rear axle; total system power is limited to 243hp.
How this helps though is that the electrical system continuously comes in to assist the engine, and at times even powers the NX in EV mode only, so your real world mileage should be quite good. Lexus says around 16.9kpl which is impressive for a car of this size and weight. Interestingly, on the engine scan tool, we saw that we motored for a little over 50 percent of the time on electric mode only, over the course of our drive. Of course, this electricity is generated by the car itself and not drawn from the grid, but since the generation is almost entirely done during coasting and braking, the fuel impact isn't high at all. Thus, you can expect a very good efficiency, especially in the city where there's a lot of lift-off coasting and braking.
The NX's powertrain consists of the battery that powers two motors, one on the front and the other on the rear axle, and the engine that powers only the front wheels, which means the rear is a pure-electric axle only. The system works seamlessly, and you can't really tell when the engine and motor/s switch over.
The 2.5-litre petrol engine makes 190hp, the front motor 182hp and the rear motor 54hp. Total system power is limited to 243hp. That's plenty, but don't expect lightening quick acceleration times. Lexus claims a 0-100kph time of 7.7sec, and while it's decent enough on its own, it isn't class best.
Lexus has set up the NX with a bias towards a smooth drive and it divides front-rear power in ratios between 100:0 and 20:80, all biased towards a smooth drive and lower linear G-forces for better occupant comfort. As a result, it never feels punchy or sprightly and those looking for that sharp and lively feel will have to look elsewhere. There is, of course, a Sport mode, but this improves things only slightly.
Gearshifts too aren't quick, which is expected of a CVT, but the good bit though is that, unlike the previous car, the rubber band-like effect is minimal. You do feel it stretching revs a bit before it shifts, but it's not as acute as before. However, as you push it harder, the engine audio levels increase notably and come through into what is otherwise a very silent cabin. It's almost as if the NX is reminding you of its more laid-back intentions.
NX's engine-gearbox set-up is more suited to a laid-back driving style, though the ride and handling is truly impressive.
Where the NX will impress those behind the wheel is with its handling characteristics. Body roll is well contained and the car corners with confidence, thanks to a good level of road grip, and the steering is nicely weighted too. The F-Sport version also has variable dampers that firm up in Sport mode, but, unfortunately, we only had the F-Sport with us for a short time and that meant we could not really test it thoroughly. First impressions are good, however, and what's nice is that even in Sport mode the excellent ride does not deteriorate. The suspension on the cars did a marvellous job of rounding off everything that the road threw at them.
The NX also come equipped with a comprehensive ADAS suite that comprises lane-keeping assist, lane-departure warning, rear cross traffic alert, along with other bits like an adaptive high beam and pre-collision warning. Emergency braking, however, has been disabled for our market.
Lexus NX: price and verdict
The NX is brought in as a CBU and is priced from Rs 64.90 lakh-71.60 lakh, which means it's at a small premium against its German rivals. For example, the BMX X3 starts at Rs 59 lakh and tops out at Rs 65.90 lakh (ex-showroom). But there's one key differentiator – unlike all the Germans, the NX is a hybrid. Against the Land Rover Discovery Sport, it's priced roughly at par and also against the Volvo XC60, which is a mild hybrid. So, it's within the ballpark, in terms of price. So who should buy this then?
The NX clearly isn't going to appeal to those looking for a punchy, lively drive or massive interior space, but if you value the excellent mileage and want a car geared more towards laid-back driving, this does warrant attention. It's clearly set up for those looking for a comfortable drive, as not only is the powertrain tuned to be very linear, the ride and handling balance is also well judged and delivers a comfortable feel. There are also a few impressive tech bits like the massive, clear and responsive touchscreen and the unique door handles. And backing this up is the legendary Lexus reliability. So, if all this sounds interesting to you, the Lexus NX deserves a good look.
2022 Lexus NX image gallery
10793 Views|1 year ago
2017 Lexus NX300h image gallery
4662 Views|5 years ago
Navin Soni on the new Lexus NX, growing Lexus in India an...
2724 Views|10 months ago
2022 Lexus NX video review
36854 Views|10 months ago
2017 Lexus NX300h video review
14782 Views|5 years ago