Ladies and gentlemen, brace yourselves for one of the biggest battles of 2020 – the all-new Hyundai Creta vs the Kia Seltos. While the Kia is the SUV to beat, the latter is tasked with taking the Creta nameplate back to the top of the midsize SUV sales charts, where the original model spent much of its time in its near-5-year run.
What makes the competition all the more interesting is that the second-gen Hyundai Creta, which was recently launched at an introductory price of Rs 9.99 lakh (ex-showroom, pan-India), and Kia Seltos are built on the same platform and also share engines. There are differences, however, that could send buyers either way.
We've listed down the commonalities and the crucial points of differences between the two SUVs.
2020 Creta vs Seltos: Dimensions and design
Dimensions
New Creta
Seltos
Length
4300mm
4315mm
Width
1790mm
1800mm
Height
1635mm
1620mm
Wheelbase
2610mm
2610mm
Wheel size
17-inch
17-inch
Since both SUVs are based on the same platform, they have an identical 2610mm-long wheelbase. The new Creta, however, is 15mm taller than the Seltos, but the Kia is 15mm longer overall and 10mm wider. In their top-spec trims, both SUVs get 17-inch alloy wheels.
But for all their similarities, the Creta and Seltos don't look alike in any way. The Seltos sports neat and tidy lines, and while there are some flashy elements like the headlight LEDs that extend to the grille, styling on the whole is safe and understated. The new Creta, on the other hand, carries a more extroverted look. The three-part headlights and tail-lights, the squared arches and silver-finish C-pillar give the Creta a distinct visual identity but one that's also polarising. It's a big departure from the original Creta's 'please all' looks, and it'll be interesting to see how buyers take to the second-gen Creta's look.
2020 Creta vs Seltos: Interior
Radical as the 2020 Creta's exterior is, its interior is fairly conventional in look. The low-set dashboard features a landscape-oriented, 10.25-inch touchscreen infotainment system positioned at the centre console. The driver environment is enhanced by the inclusion of a 7.0-inch digital display that's a segment-first feature. Quilted leather upholstery has also been used to give the Creta's cabin a more upmarket look.
The Kia Seltos interior is smartly styled, with the dashboard having the 10.25-inch touchscreen higher up, which is a more convenient position. The Seltos might lack the Creta's digital dials but the MID is informative and includes a display for the blind-spot cameras – a feature missing on the Creta.
The cabins of both SUVs can be had trimmed in beige or black upholstery (depending on variant), and we expect the Creta to at least match the Seltos on its impressive cabin quality. Given that the wheelbase is the same, cabin room will be near-identical. The SUVs also offer two-step rear backrest recline.
2020 Creta vs Seltos: Features
Features
New Creta
Seltos
Airbags
6
6
Rear discs
Yes
Yes
Parking sensors
Rear
Front & Rear
Parking camera
Rear
360-degree
Electronic parking brake
Yes
No
Blind spot monitor
No
Yes
Tyre pressure monitor
Yes
Yes
Instrument cluster
7.0-inch digital
7.0-inch LCD MID
Drive modes
Yes
Yes
Traction modes
Yes
Yes
Head-up display
No
Yes
Remote engine start
Manual and automatic
Automatic only
Paddleshifters
Yes
No
Sunroof
Panoramic, voice-activated
Single
Air purifier
Yes
Yes
Touchscreen
10.25-inch
10.25-inch
In-car connectivity
BlueLink
UVO Connect
An extensive features list has long been Hyundai India's USP in this segment, and the all-new Creta is no different. Click here to read the new Creta's complete break-up of the trim-wise features.
The Kia Seltos is no slouch in this department either. In fact, there are some features that are available on some versions of the Seltos that will not be offered on the Creta at all – such as the head-up display, front parking sensors, a 360-degree camera and blind-spot monitor.
On the other hand, the Hyundai Creta's features list includes kit not seen on the Kia Seltos. Aside from the 7.0-inch digital instrument cluster already mentioned, the Creta will see key inclusions like a panoramic sunroof – a hit feature in India – and is also set to become the most affordable car with an electronic parking brake.
Paddleshifters for the Creta automatics will also be a feature of interest for keen drivers. Both SUVs get eSIM-based connected-car tech but the Creta's Advance BlueLink 1.5 system adds in a few more frills, like voice-activated controls for the sunroof and remote starting for the manual gearbox versions too.
2020 Creta vs Seltos: Powertrains
Petrol Engines
New Creta
Seltos
Displacement
1497cc/1353cc
1497cc/1353cc
Engine type
4-cyl, NA/4-cyl, turbo
4-cyl, NA/4-cyl, turbo
Power
115hp/140hp
115hp/140hp
Torque
144Nm/242Nm
144Nm/242Nm
Manual gearbox
6-speed/-
6-speed/6-speed
Automatic gearbox
CVT/7-speed DCT
CVT/7-speed DCT
ARAI mileage (MT)
16.8kpl/-
16.5kpl/16.1kpl
ARAI mileage (AT)
17.1kpl/16.8kpl
16.8kpl/16.5kpl
The Seltos and Creta share their engines and gearboxes, though Hyundai doesn't offer a manual transmission with the sporty 1.4 turbo-petrol as offered on the Kia. The 1.5 petrol, however, is offered with manual and CVT options, while the 1.5 diesel gets manual and torque converter auto options as on the Seltos.
Diesel Engine
New Creta
Seltos
Displacement
1493cc
1493cc
Engine type
4-cyl, turbo
4-cyl, turbo
Power
115hp
115hp
Torque
250Nm
250Nm
Manual gearbox
6-speed
6-speed
Automatic gearbox
6-speed torque convertor
6-speed torque convertor
ARAI mileage (MT)
21.4kpl
21kpl
ARAI mileage (AT)
18.3kpl
18kpl
While there's no difference in power or torque figures, the Hyundai Creta does have the edge in fuel economy, going by the official ARAI-certified numbers. The differences are small but would be something your friendly Hyundai salesperson will highlight at the dealership.
What we can't wait to see is if the two SUVs also drive in the same manner. The identical power and torque figures point to similar performance, but the proof of the pudding is in the eating, so we'll just leave this open-ended for now. Hyundai, however, will set up the Creta's suspension a bit softer than the Seltos', and this could mean crucial differences in the way the cars drive. Could Hyundai have sacrificed some driving dynamism for better comfort? And would that make the Seltos the choice for enthusiast? We'll know soon.
2020 Creta vs Seltos: Prices
Prices
New Creta
Seltos
Petrol-MT
Rs 9.99-13.46 lakh
Rs 9.89-16.29 lakh
Petrol-AT
Rs 14.94-17.20 lakh
Rs 14.09-17.29 lakh
Diesel-MT
Rs 9.99-15.79 lakh
Rs 10.34-15.34 lakh
Diesel-AT
Rs 15.99-17.20 lakh
Rs 13.54-17.34 lakh
Here's where things gets interesting. The Kia Seltos was launched with a killer price tag last year but prices have creeped up since then, if still not by a very large sum. Hyundai has also priced the Creta competitively, ranging from Rs 9.99 to 17.20 lakh. In fact, the difference in price between respective 1.5 petrol and diesel variants of both is only a few thousand rupees. The big difference comes with regard to the turbo-petrol engine. The Seltos turbo-petrol range, thanks to the cheaper manual box, starts at Rs 13.79 lakh, while the new Creta's turbo-petrol range, which is DCT only, begins at Rs 16.16 lakh. A comparable DCT-equipped Seltos GTX costs Rs 16.29 lakh, so spec-to-spec prices remain close.
In terms of the diesel-automatic configuration as well, there's a large difference in the starting price of both SUVs. This is because the new Creta's diesel-AT range starts with the higher mid-spec SX trim whereas the Seltos' range starts at the low mid-spec HTK+ trim.
With identical power figures, near identical pricing and very few differences in terms of features, the Seltos and Creta are as close as they come. And just like you, we can't wait to bring them together in the real world to find out which one deserves your attention.
Also see:
2020 Hyundai Creta interior first look video
Maruti Suzuki Grand Vitara vs Hyundai Creta vs Kia Selto...
16031 Views|1 month ago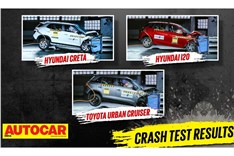 Hyundai Creta, i20 & Toyota Urban Cruiser Global NCAP cra...
8258 Views|7 months ago