There's no doubt about it. The MG Hector's launch has been one of the big events of the automotive year in India so far. There was much buzz surrounding the SUV prior to its launch and, courtesy aggressive pricing, interest in the Hector has only grown since it went on sale. At last count, bookings for the SUV had crossed the 13,000 units mark. While the aggressive launch price is the big draw, Indian market newbie - MG - is going all-out to establish trust in the name and attract buyers unfamiliar with the brand. A key component of the strategy includes what the carmaker calls MG Shield. In brief, MG Shield encompasses a range of aftersales initiatives and plans offered on the Hector.
What does MG Shield entail? What are the terms? And what are the costs involved? Read on to know.
Warranty
The Hector comes with a 5-year warranty as standard with no mileage restrictions for private buyers and a 1,50,000km mileage cap for commercial buyers. The Hector's standard warranty is the best among rival SUVs, and by a fair margin.
MG Hector vs rivals: Warranty
Model
Standard warranty
MG Hector
5-year/unlimited km
Hyundai Creta
3-year/unlimited km
Tata Harrier
3-year/1 lakh km
Renault Captur
2-year/50,000km
Nissan Kicks
2-year/50,000km
Mahindra XUV500
3-year/1 lakh km
Jeep Compass
3-year/1 lakh km
MG officials insist the warranty conditions are "fuss free" though the fine print does reveal a 1-year warranty on the 12V/48V batteries and tyres, and a 3-year warranty on the infotainment system.
Service
MG is offering 5 free services on the Hector and owners will not be charged for labour costs on the first 5 scheduled services either. Also on offer are 2 maintenance plans – Classic covers routine maintenance while Premium covers wear and tear (excluding tyres, batteries and collision repairs) in addition to routine maintenance.
MG Hector maintenance plans
Plan
Coverage
Cost
Classic (Petrol)
3 years/30,000km
Rs 8000
Classic (Petrol)
5 years/50,000km
Rs 13,000
Premium (Petrol)
3 years/30,000km
Rs 30,000
Premium (Petrol)
5 years/50,000km
Rs 55,000
Classic (Diesel)
3 years/45,000km
Rs 15,000
Classic (Diesel)
5 years/75,000km
Rs 28,000
Premium (Diesel)
3 years/45,000km
Rs 50,000
Premium (Diesel)
5 years/75,000km
Rs 80,000
MG has claimed the Hector has a best-in-class ownership cost of Rs 0.45 per kilometre for the petrols and Rs 0.49 per kilometre for the diesels. According to MG, these projections are for preventative maintenance at 1 lakh kilometres and includes parts, consumables, labour and taxes.
Assured buy back
One of the most interesting elements of MG Shield is the assured buy back plan. Marketed as a '3-60' plan, the program guarantees owners a buy back value of 60 percent of the original ex-showroom price after 3 years of ownership. Do note, the 3-60 plan is a paid extra and is to be bought in conjunction with one of the aforementioned maintenance programs. There are some other riders too. For one, only petrol Hectors with under 30,000km and diesel Hectors with less than 45,000km on the odo are eligible for the full assured buy back sum. Vehicles with more mileage will be charged a nominal penalty calculated per kilometre above the mileage cap. Also, the plan has to be opted for at the time of purchase.
MG Hector maintenance and buy back plan
Plan
Coverage
Cost
Classic 3-60 (Petrol)
3 years/30,000km
Rs 40,000
Premium 3-60 (Petrol)
3 years/30,000km
Rs 65,000
Classic 3-60 (Diesel)
3 years/45,000km
Rs 50,000
Premium 3-60 (Diesel)
3 years/45,000km
Rs 85,000
Roadside assistance
MG has started its India innings with 120 centres and officials have announced the network of touchpoints will expand to 250 by September 2019. While the physical network will cover much of the country, MG is also offering a standard 5-year/unlimited km roadside assistance program. Accessible via a 24x7 call centre, services offered include on-the-spot repairs, battery jump start, lost key assistance, fuel assistance and towing services. Owners will also be provided an alternate car and in the case of an accident, medical assistance can also be summoned.
MG sure is trying hard to give buyers peace of mind. Time will tell if the strategy pays off.
Click here for MG Hector prices, reviews, images, videos and more
MG Hector facelift video review
14839 Views|9 months ago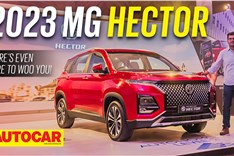 MG Hector facelift walkaound video
11356 Views|10 months ago