The Skoda Kushaq is set to see its global unveil in March later this year. The mid-size SUV will be the first product under Skoda Auto Volkswagen India's renewed efforts for our country. With the hopes of the entire group riding on it, the Kushaq has been built with a specific focus on the Indian market. "It's not just the name that is Indian, but everything that this car does is Indian," Gurpratap Boparai, managing director, Skoda Auto Volkswagen India, told Autocar India on the sidelines of the Kushaq prototype test drive.
Kushaq designed with feedback from Indian customers
SUV to be unveiled in March with localisation level of 93 percent
Diesels to be given a miss; two turbo-petrol engines to be offered
India-specific design and engineering
While Skoda hasn't taken the wraps off the production-ready SUV's styling just yet, the company did preview its upcoming product with the Vision IN concept at the 2020 Auto Expo. Commenting on the Kushaq's design, Boparai said, "This is the first car (from Skoda) that has been designed with Indian customer feedback. So we held numerous customer clinics and we have designed this car based on that."
Even under the skin, the SUV will feature India-specific elements, including the MQB A0 IN platform that's been derived from the company's European MQB A0 architecture. Various components have been engineered for our conditions. For instance, with higher ambient temperatures in India, there was no need to choose components for extreme cold weather performance. This has allowed the company to select materials like different plastics "without compromising on their durability in the environment in which the cars are going to operate", ultimately helping to rein in costs.
"We've also done other changes which are more relevant to India. In Europe,for example,you tend to have a more prominent transmission tunnel; these cars (in India) will have an almost flat transmission tunnel," said Boparai. However, he added that this will not impact the chassis stiffness. "We have ensured that the torsional rigidity of this car is significantly higher than the current generation of the Rapid." Nonetheless, a flat transmission tunnel does rule out the possibility of 4x4 capabilities for the SUV.
"Rear legroom was fundamental and therefore we've chosen the longest wheelbase available on this platform," mentioned the group head. Though complete technical details are yet to be revealed, the Kushaq, with its 2,651mm wheelbase, pips direct rivals like the Hyundai Creta and Kia Seltos on the metric, though the Nissan Kicks and Renault Duster pack in a longer 2,673mm wheelbase still.
Localisation
VW Group cars in India have been characterised by modest levels of local content in the past, however, the Skoda Kushaq is set to debut with 93 percent localisation, which the company aims to increase to 95 percent in the future.
"That is the way forward," said Boparai. However, he added, "But the auto industry in India still doesn't have the scale for certain type of components. So, while we localise as much as we can, there will still be imports required, and that's true for the entire industry." As such, the company expects imports to continue mainly on the electronics front, such as sensors.
Skoda Kushaq petrol-only line-up
In a move similar to a lot of the automakers in the Indian market, Skoda will give diesels a miss with its latest product and only offer 1.0-litre and 1.5-litre turbo-petrol engines. Commenting on the business case against oil burners, Boparai said that the" economics of diesel is extremely difficult to justify now" and unless a customer drives for 50,000km per year, the operating benefits of diesels do not materialise.
He further added that the company's turbo-petrol line-up will have a "strong performance" and be "fuel efficient, especially with cylinder-deactivation technology" that we got a glimpse of in the Volkswagen T-Roc's 1.5 TSI mill.
However, there still remains a significant demand for diesel in the mid-size SUV segment, something that the remaining few players have capitalised on. For instance, the Hyundai Creta, despite getting a strong 1.4-litre turbo-petrol motor, sees over 50 percent of its customers choosing the 1.5-litre diesel option instead.
Skoda Kushaq price estimate
The company has hinted at keen pricing for the Kushaq which, however, won't severely undercut the competition in an attempt to grab market share. "Clearly, we do want to do volumes, so the car will be competitively priced. But we'll continue to be slightly premium," said Boparai.
Having been engineered for India, with substantial localisation, and a choice of fuel that many of its competitors are gravitating towards, the Kushaq does seemingly pack in a lot of India-specific elements, more than any other recent Skoda. As a result, while the upcoming SUV is set to duke it out in one of the most competitive segments in our market, with well-entrenched players like Hyundai, the VW Group head has "very high expectations of the car in terms of volumes".
Boparai is expecting the upcoming four products (the Skoda SUV and mid-size sedan, and their VW counterparts) under the India 2.0 plan to give the group "close to 5 percent" market share in India by 2025. "And then, of course, we will have to add other products to get to 5 percent," he added.
Also see:
Skoda Kushaq prototype video review
2021 Skoda Rapid Rider priced at Rs 7.79 lakh
2021 Skoda Superb launched at Rs 31.99 lakh
Skoda India Brand Director Petr Solc on the return of the...
3286 Views|4 months ago
Hyundai Verna vs Skoda Slavia vs Volkswagen Virtus video ...
18276 Views|4 months ago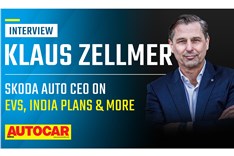 Skoda Auto CEO Klaus Zellmer on EV strategy, future India...
2446 Views|4 months ago