VW's latest crossover may not have size on its side, but could it make a case for itself as a fun, well-appointed compact family car?
What is it?
To say the Volkswagen T-Roc swims against the tide of Indian SUV convention is an enormous understatement. We Indians tend to equate SUVs with size and bombastic road presence, and naturally, price is a direct correlation - the more expensive an SUV is, the bigger it needs to be. Even among the crossovers, the popular vote still goes to the tall, chunky, squared-jawed type, so much so that even hatchbacks have started to ape the look. And then there's the continued preference for diesel power with vehicles like this. So this compact crossover with its low-slung roof and 1.5-litre petrol engine at a price of Rs 19.99 lakh (ex-showroom) sounds like something that simply should not work. And yet, VW was able to find takers for almost its entire 1,000-unit CBU import allocation in just over a month. There's clearly more to it than meets the eye, and we aim to find out just what that is with this review.
Just how big is the VW T-Roc in terms of dimensions?
To put that size into perspective, while a Creta is 4,300mm long and the VW's cousin, the Skoda Karoq, is 4,382mm long, the T-Roc clocks in at 4,234mm long. Moreover, its height of 1,573mm makes it lower than even most sub-four-metre SUVs and puts it almost into premium hatchback territory. But then, its 1,819mm width and 2,590mm wheelbase do at least give it a nice, relatively wide stance on the road. It casts a silhouette that's more akin to a hatchback too, with a bonnet that's not too tall and front and rear windscreens that are pretty steeply raked.
What it lacks in outright size and blocky shape, it attempts to make up for with panache in the details. The LED headlamps and chrome-lined grille merge into one continuous form, there's a neat LED running lamp signature where you'd expect the fog lamps (the fog lamps sit lower, and the DRLs double up as indicators) and there's even a brushed silver skid plate sitting below the big honeycomb air dam. There's a good amount of the requisite black cladding around the base of the T-Roc and some prominent character lines on the bonnet and sides, especially over the pronounced wheel arches. At the rear, you'll find faux exhaust surrounds and cladding that cuts into the bumper to house the number plate, plus more strong lines, and the words 'T-Roc' written bold under the VW logo.
But perhaps the least SUV-like thing about it - the raked roof - is its most distinguishing feature. All colours of the T-Roc come with a gloss black roof treatment that extends down to the A-pillars. The C-pillar, meanwhile, is thick and body-coloured with a silver accent. And just for that last reminder that this is no hatchback, there are roof rails. Since the car is so small, the 17-inch alloy wheels fill the arches nicely, and while you could have your T-Roc in black, white or grey, you should have it in orange, blue or this rather striking Kurkuma Yellow.
What is the VW T-Roc like on the inside?
The interiors are very Volkswagen - which is to say dark in colour, full of straight lines, but also very well built. That said, we wish there were some soft-touch plastics in here; you won't find any on the dashboard or the door cards, but the quality of the textured hard plastics is superb and they're perfectly screwed together. It's nice that they've done a bit to liven things up with things like dull gold and piano black trim, a centre console that's slightly canted towards the driver and tri-tone Vienna leather upholstery.
Good forward visibility, excellent build quality, but wish things were a little brighter.
Speaking of the seats, the ones up front are sculpted and snug, offering a good amount of adjustment, including lumbar for the driver. They are heated, but unfortunately, not powered or ventilated. Sitting up front, you don't really feel like you're in as compact a car as the T-Roc is, because forward visibility is great and the dashboard spreads out wide in front of you.
Move over to the back seat, however, and you'll find where the space compromise has been made. This is not one for the chauffeur driven, with very average knee room, and headroom that will be tight for six-footers, even though the roof has been scooped out. Moreover, it's not a very high-set seat, and the fact the front seats are so close to you does make you feel a bit hemmed in. Helping to alleviate that feeling is the panoramic sunroof which, though not as large as most, does let a lot of light in. The bench itself is best for two though, but they will be comfortable, thanks to more of that snug bolster sculpting, a large centre armrest and good thigh support.
Knee and head room will be tight for tall people, but seat is very comfy.
The boot, at 445 litres, isn't anything to write home about either and the sloping tailgate doesn't help, but you will be able to easily fit a weekend's luggage for four in here, and if you really must move stuff, you can split-fold the rear seats for more space.
What equipment does the VW T-Roc come with?
So the T-Roc doesn't set any benchmarks for interior space, but VW has made sure to load it up with equipment to make its price tag a little more palatable. Some of the highlights are dual-zone climate control, a crisp and customisable 10.25-inch digital instrument display, an 8-inch touchscreen with Apple CarPlay and Android Auto, electronic parking brake with auto hold, 6 airbags, tyre pressure monitoring, fuel-saving engine stop-start, heated mirrors, the panoramic sunroof, rear disc brakes, front + rear parking sensors and much more. What was a surprise were the sensor-based driver aids, like lane-keep assist which will gently steer the car back into line if it detects you've crossed the lane markers, and even a head-on collision warning system, which luckily, we didn't get a chance to test.
Instrument screen is highly customisable.
What's the VW T-Roc like to drive?
As we said before, the T-Roc gives you a big-car feel from behind the wheel, and that's not just to do with the way the interior is laid out. Its width and 1,546mm and 1,541mm front and rear tracks give it a planted stance, and combine that with a stiff chassis and suspension that's unchanged from the European version and what you get is an unflappable poise on the road. Sure, there's an inherent firmness to the ride that you'll feel on smaller bumps at lower speeds, but as you pick up the pace it simply demolishes even rough roads with confidence. High-speed stability is superb and even in the corners, apart from a steering that isn't bristling with feedback, it remains beautifully devoid of body roll. It's the best of both worlds, really, with a sense of solidity you'd otherwise find in a larger car, but the dimensions compact enough for you to really enjoy it.
The 150hp, 1.5-litre turbo-petrol engine has a strong mid-range, and is also free-revving.
Power is courtesy the VW Group's 1.5-litre TSI Evo engine via a 7-speed DSG, and is sent to only the front wheels. It's the same 150hp, 250Nm unit you'll find in the Skoda Karoq, but the T-Roc weighs 45kg less. Performance, then, is marginally better, with 0-100kph coming up in 9.89sec, and thanks to the quick-shifting DSG, kickdown acceleration is quick too – 20-80kph in 5.51sec and 40-100kph in 6.36sec. This new-gen direct-injection turbo-petrol engine is interesting in the way that it enjoys a strong mid-range, as do most of its ilk, but is also incredibly free revving. In fact, in sport and manual modes, it will happily race all the way to its 6,500rpm redline with no fuss.
Cylinder shut-off under light load and engine stop-start lower fuel consumption.
But if you aren't in the mood for aggressive driving, this engine-gearbox combo handles ambling duties well, and under low engine loads, can even shut down two of its four cylinders seamlessly for better fuel economy.
Revs to 6,500rpm in Sport or Manual.
VW T-Roc performance*
Acceleration (from rest)
20kph
1.83s
40kph
3.18s
60kph
4.93s
80kph
7.14s
100kph
9.89s
120kph
13.30s
140kph
18.34s
160kph
25.61s
Acceleration (in gear)
20-80kph (in kickdown)
5.51s
40-100kph (in kickdown)
6.36s
Should you buy a Volkswagen T-Roc?
So just where does the T-Roc fit in the Indian marketplace? To answer that, you need to abandon the idea that it is an SUV; it's not. What it is, is a crossover that leans heavily into its on-road ability at the cost of the traditional SUV space, practicality and road presence. It's good for a small family, or an individual who occasionally travels with friends, it has its own distinct style and it delivers big on driving dynamics and feel-good factor.
The compact T-Roc has rock-solid stability, even at three-digit speeds.
To put it another way, we've always wondered if VW would ever bite the bullet and bring in its full-size hatchback, the Golf, to India. But it hasn't, and won't, because the idea of a hatchback so big and expensive just wouldn't fly here. The T-Roc is the Golf they can bring here, thanks to the added crossover appeal and practicality, and there's nothing else quite like it on the market.
*Not to Autocar test standards
Also see:
Volkswagen T-Roc almost sold out in India
Skoda Karoq vs rivals: Price, specifications comparison
2021 Volkswagen Tiguan facelift first look video
Volkswagen Virtus GT 11,000km long term video report
3507 Views|11 days ago
Quick News Video, November 5, 2023
2065 Views|22 days ago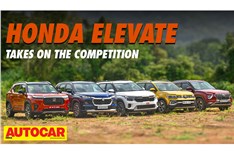 Elevate vs Seltos vs Creta vs Grand Vitara vs Taigun: Mid...
16708 Views|27 days ago