Honda's made-for-India Creta rival will finally make its global debut here in India in June 2023. We say finally because not only is Honda very late to the party, rivals are now so well-entrenched, taking them on is going to be even more difficult.
The task before Honda today is not one to be scoffed at. Honda's new SUV has to be big and bold, and give off a real SUV vibe. Then there's the 'small' matter of it having to be tech- and feature-loaded and cost-competitive, all at the same time. No biggie.
Honda's new midsize SUV to share the platform with the City
Will borrow design elements from Honda's global models
Could get a strong hybrid powertrain at a later stage
Strange thing is, it was Honda who kick-started the softroader genre in India with the second-gen CR-V way back. Honda did, in all fairness, try to address SUV buyers with the BR-V in 2016. But that frankly was a half-hearted attempt; the BR-V didn't have the all-important upright SUV stance, it was more MPV than an SUV, and it didn't feel as well-built and wasn't as well-equipped as rivals either. What we see this time around is a much more concerted and serious attempt. In addition, the impression we get after taking a close look at the spy shots, and speaking with insiders who've seen the car in the flesh, is that this clearly is Honda's most serious shot at the Creta class yet.
Honda's new SUV for India: design details
So just what do we have here? Initial impressions are that Honda has got the basics right. The bonnet is flat and wide, the nose looks big and imposing, and Honda has even used what look like chunky details to make it feel like a bonafide SUV. Enhancing these looks are chrome embellishments on the grille, sharp-looking LED headlights and, around the side, muscular-looking wheel arches and a narrow-pinched waist.
Spy shots clearly show India bound SUV's flat bonnet and raked windscreen.
When it comes to the glass house, Honda seems to have used a fair amount of rake on the front and rear windscreen, and this gives the SUV something of a sporty feel. Still, the roof is relatively flat and not coupe-like and comes with roof rails. At the rear, the tail-lights look similar to the new-gen WR-V, which Honda revealed in Indonesia late last year, and the top-mounted rear spoiler also works well with the rest of the design.
Honda's new SUV for India: dimensions and platform details
As far as dimensions go, Honda's new SUV will measure between 4.2-4.3 metres and will come with an appropriately long wheelbase. This is clear when you see the SUV in profile. While there is some front overhang, there's, interestingly, almost none at the rear. Honda insiders also say the new midsize SUV shares its platform and engines with the fifth-generation City. This should bring several benefits. The new City chassis is already extremely stiff, relatively light — which makes it good for ride and handling — and added stiffness will pay dividends when it comes to crash safety as well.
At the rear, the tail-lights look similar to the new-gen Honda WR-V.
Honda's new SUV for India: powertrain details
The new SUV will also be powered by the new twin cam 1.5 petrol that's also used to power the City. The output is likely to be bumped up for the SUV and should be up from 121hp, with more power and torque available in the mid range. This is one of the reasons Honda went from a single cam 1.5 to a twin cam on the new City. The twin cam offers greater forward compatibility and allows for greater flexibility when it comes to tuning. The 1.5-litre petrol is, however, likely to be the only engine on offer at launch; a strong hybrid or 1.0-turbo is likely to arrive later. One thing's for sure, owners will miss the additional torque a turbo-petrol delivers. Gearbox options are likely to be similar to what's already offered on the City – a 6-speed manual and a CVT for the 1.5-petrol. There will be no diesel.
Honda's new SUV for India: interior and features
While the interiors haven't been revealed, Honda's Creta rival will come with a large free-standing touchscreen, a good amount of space on the inside and from what we hear, a very competitive feature list. One thing's for sure, Honda will have to put its shoulder to the wheel when it comes to the touchscreen's user interface, and getting the look and the feel of the interior right will be vital for its prospects here too.
Honda's new SUV for India coming in June 2023
Expected to hit showrooms as early as the second half of the year, if things go to plan, Honda's Creta rival is likely to be priced at a slight premium over its rivals, somewhere in the Rs 12 lakh-19 lakh price band. Heavy localisation and the production of the engine here in India are likely to make it cost competitive, but Honda is also likely to maintain a small gap over rivals – model to model – for the sake of positioning. What will be a first is that the new SUV is likely to get a name like City, Jazz or Amaze, and not use an acronym like CR-V or BR-V as it usually does for its SUVs. So, yes, finally a midsize SUV from Honda, and one that could be right on the money: this one could be big.
Also see: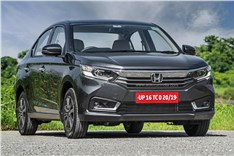 2021 Honda Amaze facelift image gallery
10839 Views|2 years ago
New Honda Amaze image gallery
94007 Views|5 years ago