Driving in the city is a gratifying experience in a Camry Hybrid.
It's been a quiet few weeks with the Camry Hybrid, in the true sense of the word. Quiet not because that's the character of the car (especially in EV mode) but quiet because the strict lockdowns enforced to battle the second surge of COVID-19 have meant that for most of the time we've had the Camry, it's been, well, quietly parked. But, I still got to drive it enough to appreciate it more as a car than just an eco-friendly device, and that meant lounging in the back seat, driving it like a normal sedan and playing around with the gadgets in the cabin. But before that, let's get the most important thing out of the way – fuel efficiency. Now, when you put down Rs 40.59 lakh for a Camry Hybrid, is efficiency really that important? No, it isn't but it's a measure of how efficiently the hybrid system is working and saving fuel; this means lowering exhaust emissions and that means saving the environment, or at least doing your bit for our blue planet. Anyone buying a Camry Hybrid has some sense of eco-consciousness and even if you don't, you'll soon develop one the more you drive the Camry Hybrid.
BACK UP Well-cushioned back seat is exceptionally comfortable.
There is something deeply gratifying about driving a big and heavy luxury car that consumes petrol as frugally as a WagonR. Yes, the Camry Hybrid is shockingly efficient, more so in the city than on the highway, as the low-speed environment lets the 130hp electric motor calmly take over from the 2.5-litre petrol motor for short stretches. Also, unlike on the highway, you brake more in the city, and more braking means more electricity regenerated and a longer distance possible on battery power.
I achieved a best fuel efficiency figure of 14.9kpl, which is pretty amazing when you consider the Camry Hybrid's closest petrol rival, the Skoda Superb, would struggle to even achieve half that figure. Sure, the diesel Superb would be far more efficient and ease into double digits in city driving, but I doubt it could come close to matching the Camry Hybrid's efficiency. On the highway, it's a different story and diesels have an edge, but since my Mahabaleshwar trip (see long-term report April 2021 issue) the Toyota sedan has been confined to Mumbai. So, how did it find city life?
VENTING: Rear air con vents feel cheap and flimsy.
Traffic in Mumbai was nearly back to pre-COVID-19 levels before the lockdown, which meant lots of bumper-to-bumper driving and long waits at traffic lights. Driving conditions like this can frustrate any motorist but it's exactly what the Camry Hybrid thrives in. The 7km drive to office was done largely in EV mode, and its only when the battery level drops that the engine unobtrusively kicks in to recharge the battery and, of course, power the car. It's this ability to easily switch to electric power that drastically reduces fuel consumption and greenhouse gases. Just think of it, sitting in traffic for hours, an emission spewing internal combustion engine is replaced by silent and clean battery power. The more I drive the Camry Hybrid in town, the more I feel that hybrids are a great stopgap solution to improving air quality in cities.
TWO IS COMPANY: Two USB ports at the rear, which are easy to access.
Let's park aside the hybrid hard sell for a moment and look at it as an executive sedan. What stood out most was the incredibly comfortable back seat. Yes, the Superb has more legroom, but in every other way, the Camry aces it with better under-thigh support, perfectly judged cushioning, and a recline function that lets you wallow in the back seat in sofa-like comfort. As a passenger, you appreciate the linear power delivery of a hybrid even more. There are no jerks, no vibrations, just a seamless change of pace, which makes simple tasks like reading mails on your phone easy to do, without inducing motion sickness. A touchpad in the flip-down armrest lets you conveniently adjust the multi-zone rear air con.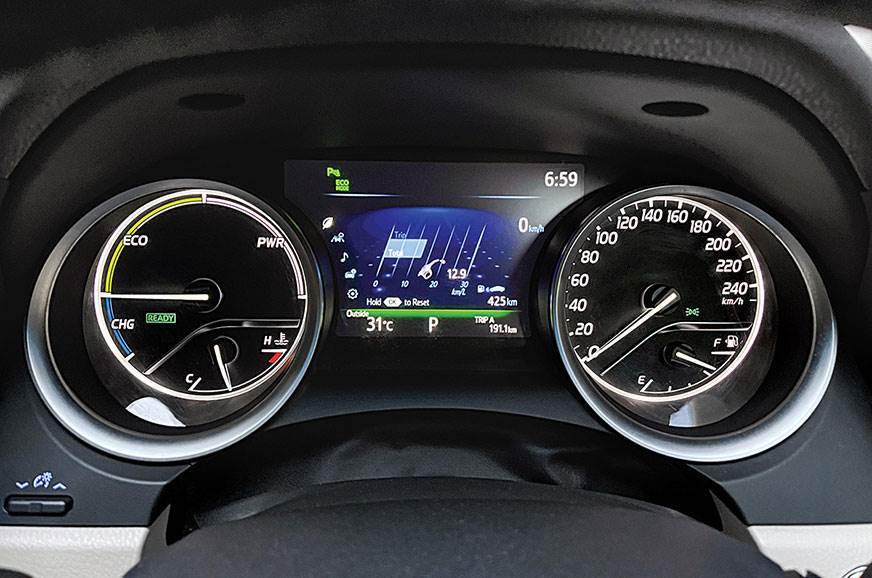 BEHIND THE TIMES: Analogue instrument cluster and digital display look dated.
But for all its brilliant hybrid tech and future readiness, the Camry's dashboard stood out like an old thumb. The analogue instruments feel dated and even the touchscreen lacks the contemporary look and feel you expect from a Rs 40 lakh car in 2021. Yes, the cabin experience is free from drama too, like the rest of the car.
Also see:
Toyota Camry long term review, first report
All-new Toyota Land Cruiser LC300 officially revealed
2021 Toyota Hilux to rival Isuzu V-Cross in India
Toyota Urban Cruiser: Which variant to buy?
2022 Toyota Camry Hybrid video review
16601 Views|1 year ago
Sponsored: Toyota Camry - Peak Performance feature video
6943 Views|4 years ago
2019 Toyota Camry Hybrid video review
18193 Views|4 years ago