Toyota's flagship sedan opens its account with us with a leisurely drive to Mahabaleshwar. So just how efficient is a hybrid on the highway?
Another long-termer, another trip to Mahabaleshwar. Barely had I got the keys to the Toyota Camry Hybrid when its sharp nose was pointed eastwards towards the Mumbai-Pune expressway and my favourite hill station.
The Camry Hybrid had arrived on a Friday afternoon just in time for my weekend trip, which has become so routine that it almost feels rude to not invite a newly initiated long-termer to what is my second home up in the hills, in Mahabaleshwar.
But I wasn't sure if the Camry Hybrid would be happy with the invitation, because the truth is hybrids don't feel at their best on highways. Hybrid cars, by their very nature, are most efficient at city speeds, or in stop-and-go traffic when the electric motor pitches in to take over propulsion duties from the internal combustion engine every now and then. In fact, the Camry Hybrid's switch from electric to petrol engine and back to electric is so smooth that you can hardly feel it. And, with the air-con blower cranked up to max speed (my default setting for the hottest March in recent memory), you couldn't hear or tell if the engine was on or off. So, the only sign that the engine was running on pure electric power (or not) was the green EV light in the instrument cluster.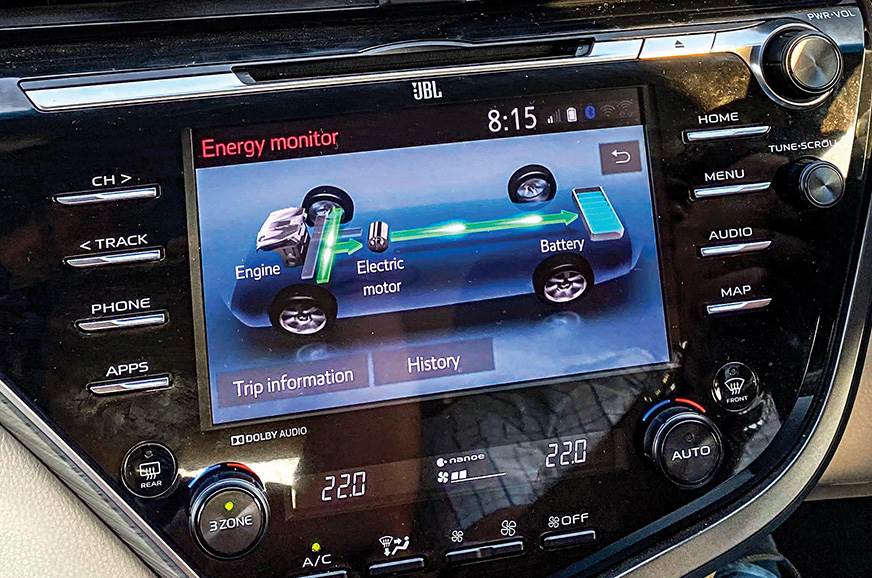 SMOOTHIE: Electric motor and engine seamlessly integrated.
The Camry Hybrid's utterly seamless power delivery, which most owners take for granted, is something that impressed me the most. Getting the two powertrains, a 178hp, 2.5 petrol engine and a 120hp electric motor to work in perfect unison, without a jerk or jolt when switching from one to another or working together, is the culmination of the work of thousands of engineers and decades of experience. It's also a constant reminder as to why Toyota is the absolute master of hybrid technology. The e-CVT transmission also plays a key role in the linear, uninterrupted power delivery that I have quickly come to appreciate as the hallmark of the Camry Hybrid.
Leave the gearbox to its own devices, which essentially means leaving it in D, and this Toyota sedan has the stepless lope of an electric car. Except that it's not all-electric, especially on the highway.
Coming back to my Mahabaleshwar trip, before I got gobsmacked by the Camry Hybrid's ultra-smooth character on my way out of town, it's on this maiden outing that I also realised that it feels just like a regular petrol sedan on the highway.
HIGHWAY DUTY: Engine has to work hard on the highway and can be heard.
Driving at highway speeds, the Camry falls back on good old internal combustion. For one, all-electric drive is limited to 50kph; beyond that speed, the engine kicks in. Also, while acceleration is smooth, it's not entirely effortless and the naturally aspirated petrol has to be pushed when overtaking on single-lane roads or powering up the ghats.
Yes, the electric motor does give a bit of a nudge, but it's the petrol engine that's doing most of the work. This four-cylinder unit becomes audible when stretched, a characteristic made more obvious by the CVT's penchant for keeping the engine revved at a constant RPM. I found myself reaching for the paddle-shifter for a better sense of control on the windy Wai Ghat, and I must say the 'shifts' are nicely simulated and give you the sensation that the gearbox is actually shifting gears.
QUICK SHIFT: Paddles feel good to operate, nicely mimic gearshifts.
It does take a lot of energy to whisk this 1.66-tonne sedan from mean sea level to over 4,000 feet, and to tackle three ghats along the way, interspersed with frequent bursts of acceleration to overtake slow moving traffic. And that leads us to some important questions. Just how fuel efficient is the Camry Hybrid? Does it live up to its promise of delivering massive savings in running costs?
In all fairness, the highway is not where a hybrid car shines because the engine is constantly running. But despite not being able to save fuel in a way you would expect (from a hybrid), the highway fuel efficiency of the Camry Hybrid was far from bad.
GREAT WEIGHT: Hybrid system makes Camry heavier than c/onventional rivals.
For the 600km round trip, which included some pretty heavy-footed driving up the ghats, the Camry Hybrid sipped petrol at the rate of 13.4kpl, which is quite good when you consider our long-term Volkswagen Tiguan Allspace gave just 9.6kpl for the same round trip.
Okay, a Superb is a more like-to-like comparison, but the point is that the Camry's powertrain is around 25 percent more fuel-efficient than an equivalent turbo-petrol. And on the highway that makes it about as efficient as a modern diesel, and, if anything, makes the case for diesel as the best highway option.
In the city, it's a different story altogether and neither a conventional petrol nor a diesel is likely to come close in terms of efficiency, refinement, and overall ease of driving. That's what we'll be focussing on in our next report.
For more on the Toyota Camry, click here
Also see:
Toyota Fortuner, Innova Crysta, Camry prices hiked
Toyota Land Cruiser vaccine transporter gets WHO prequalification
Toyota President Akio Toyoda awarded 2021 World Car Person of the Year
Best automatic hatchbacks under Rs 10 lakh in 2021
2022 Toyota Camry Hybrid video review
10196 Views|3 months ago
Sponsored: Toyota Camry - Peak Performance feature video
5606 Views|3 years ago
2019 Toyota Camry Hybrid video review
16449 Views|3 years ago