After spending most of its time in pandemic-induced short-haul runs, the Hector finally got to stretch its legs on a holiday to Goa.
After months of curbs and limited movement, my family was really looking forward to our holiday in Goa. For me it was a chance to do some 'real' driving, and I was yearning for a neat, fast, good-handling sedan. Sadly though, none were available, so it was the Hector that I picked, quite simply because of the large boot and the diesel engine.
The nice, wide and flat boot floor easily took in our entire holiday luggage, and I didn't have to think too hard about the placement of individual items, which meant I didn't have to ask my wife – who has better spatial ability – to pack the car.
ILLUMINATED STORAGE: Lit-up cupholders make for a storage space that's easy to see in the dark.
The cabin of the Hector, too, is extremely spacious, and although the four of us are fairly small built, it was nice having all that room. The seats are comfortable too, but the surfaces are a sore point. The artificial leather makes you sweaty and, after long hours in the seats, you do feel that mild damp sensation on your back and under-thighs.
LACKS A PHONE TRAY: There's no neat and secure space to store your phone.
Other issues are a broken rear AC vent and the sunglasses holder that refuses to stay shut. There is also no real space to keep your phone securely and, as we've mentioned often before, the touchscreen needs a massive improvement. The camera display resolution should be better, the screen is slow and the UI needs a lot of work. Right now, if you're on a call, you can't adjust the car's settings controlled via the screen, and that includes the AC and fan speed, which is really quite annoying. Hopefully this isn't a hardware issue, as we did receive an over-the-air software update, thus this could potentially be fixed.
CALL SCREEN FREEZE: Can't use the car's other screen-based functions while on a call.
These bugbears aside, the entire drive to Goa was very relaxed. There's ample legroom to stretch out, the ride is good and the suspension easily coped with the completely washed out (now repaired) Chorla Ghat. Though high-speed stability and cornering aren't confidence inspiring, the Hector is best enjoyed as a relaxed cruiser. Driving this way will also reward your wallet; the Mumbai-Goa round trip, as well as lots of driving in Goa, saw a consumption of 13.26kpl measured tankful to tankful, while the Goa to Mumbai highway run showed an impressive 20.4kpl on the trip computer.
SOFTWARE UPDATE: Nice to see active development and updates for the system.
I must also mention the massive sunroof which, coupled with the SUV's tall height, served up a neat platform for some bird photography. In its time with us, we've pretty much all enjoyed the Hector and it's been a reliable performer. It's not much of a driver's car and the touchscreen is really slow, but it's frugal and very spacious, and with my sister-in-law and her many bags arriving into India soon, I'll probably be holding on to the big MG a little while longer.
Also see:
MG Hector long term review, first report
2019 MG Hector review, road test
2019 MG Hector petrol-automatic review, test drive
2019 MG Hector review, test drive
MG Hector facelift video review
13575 Views|7 months ago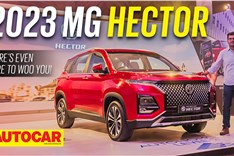 MG Hector facelift walkaound video
10777 Views|8 months ago