What impact has COVID-19 had on sales for Kia in India, especially for the Seltos?
Seltos sales have continuously had momentum, and even during COVID-19 we can see the customers' interest in the product. We still have good orders in hand. I think in this situation, we can reach our sales target for the Seltos even this year under this COVID-19 situation.
Because of the pandemic, have you revised your sales target downwards for the Indian market?
We haven't changed our target for this year. Fortunately, because of the good response to the Seltos, and also because of the incoming Sonet. We are targeting this year probably 1,30,000 units in the Indian market, plus some export volumes. I think the demand will still be good, and also response to the new vehicle Sonet is quite good. So I believe that we can comfortably operate our factory based on the 3,00,000-unit capacity we have built. Out of that volume, 2,00,000 units will be for the domestic market in India and 1,00,000 units in export. This is the kind of volume scale in our mind at the moment.
How important is India in Kia's global strategy? Do you plan to make India a big global export hub even for future products after the Sonet?
Definitely! India is very important to us from a strategy point of view – not only for sales, but also on the production and corporate side. We will use the India factory as a standard export hub for compact and medium-sized SUVs, because worldwide trend for SUVs is getting stronger and stronger, while the hatch and sedan are weakening. I think that we will continue to think about what type of SUV will be necessary, not only in India, but also on a worldwide basis, and we will produce in our Indian factory those kind of vehicles.
Is it fair to say that hatchbacks and sedans are not a priority for Kia in India at the moment?
Yes, at the moment we don't have any plan for hatchbacks and sedans for India. Some of our other global plants like in Mexico will produce small, compact and medium-size hatchbacks and sedans, but India will be used for compact and medium-size SUVs. We don't want duplication of process to be an issue, and I think our priority in India is for the future trend of vehicles for the time being – because as you know,  we are investing more than USD 2 billion in the market and we have to fully utilise that investment, as well as our capacity.
Many carmakers are looking at adding MPVs to their line-ups. The Carnival hasn't really taken off, but what are Kia India's plans for more MPVs?
It was just poor timing of COVID-19, that is why we didn't do enough in way of marketing and communication activities that I wanted. But I believe the Carnival can appeal to the premium business in the area because Carnival has very good product qualities and specifications, which will make it appeal to premium-vehicle buyers. But new MPVs are coming into the Indian market and yes, India is the only country where demand for MPVs is growing. In all the other countries, MPV demand is decreasing, but it's the opposite in India. I think the demand is also because of the new entrants coming with new products and models. We are looking at that sector seriously. The new-generation Indian buyer – the millennial, or Gen Z – is quite a difficult target to tackle; they have very high expectations from all kinds of vehicles and are tech-savvy. I think we need to be smart, to get into the market and we are seriously studying the interest.
Will the next-gen Carnival come to India pretty soon so there's more scope for localisation?
I think we don't have any plan yet to bring the new Carnival to the Indian market because we first need to localise the current model. Localisation brings many challenges, like the economics of developing local parts. There are many players in this environment who have localised their products, so if we want to make a success of the current Carnival in the Indian market, we have to increase localisation of parts even with today's volumes. Localisation depends on the kind of economic scale we have.
Everyone's talking about electrification. What are Kia's plans for EVs in India?
At the moment we don't have any plans for EVs in the Indian market in production terms. If I look at the evolution of EVs in the western market, there are things that have to come together – charging infrastructure, plus government incentive to localise and stimulate  demand. Without these, the demand for EVs cannot grow. We need time to look at this area, especially for us, as a young brand in the Indian market. To think about EVs, at the moment, it is too early, and we have to give it more time to think about the advantages.
How has COVID-19 had an impact on your global strategy? Is there some delay on investments and model programmes to just save cash right now?
No. First of all, we don't have any plan to change our investment plans or future portfolio issues because of COVID-19. And also, in the first half of the year, everyone in the car industry has suffered because of the pandemic – and fortunately, we are better off than the others. Global demand for the industry decreased 30 percent all around the world in the first half of the year, but fortunately, in our case, it was only a 15 or 16 percent decrease. Of course, we have lost some volumes in the first half of the year; but generally speaking, regarding the volumes second half of the year, we are slightly or nearly managing our plan. That means that we don't see any big change in our overall global strategy.
Also see:
Kia Seltos Anniversary edition prices revealed
Kia Sonet vs Venue comparison video
Kia Carnival and Toyota Innova Crysta: The Vanguard
Maruti Suzuki XL6 vs Kia Carens comparison video
8743 Views|1 month ago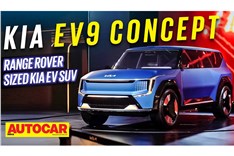 Auto Expo 2023: Kia EV9 concept walkaround video
1351 Views|2 months ago