Rarely has anticipation for a new car been so high, which means Tata Motors' new SUV has a lot to live up to. We've finally driven it and can tell you if it does.
What is it?
Can you believe it has been 10 years since Tata Motors acquired JLR? During that decade, Indians everywhere have been gushing with pride at our very own superpower of a carmaker playing on the global field. For a time, some of them even foolishly assumed every new Tata Motors vehicle that followed would be a rebadged 'Jaguar' or 'Range Rover'. That misconception has since blown over, but many learnings from the British brands have made their way to Tata's cars – and now, a decade on, we're getting the first tangible collaboration between Tata and JLR.
With all the buzz that's led up to the Tata Harrier since it was previewed as the H5X Concept at Auto Expo 2018 in February (and perhaps even prior to that) it really doesn't need much introduction at this point. It's a rival to the Mahindra XUV500 and Jeep Compass that will be launched in January 2019; but what really got people talking is that it's based on a platform Tata calls Omega Arc, which in turn is derived from Land Rover's D8 or L550 platform – which car nerds will know as the underpinnings of the Land Rover Discovery Sport and Range Rover Evoque.
But this is no badge-swap job – of course it couldn't be on a car that will cost a third of the price! While the hard points have remained, and the independent front suspension is closely related, pretty much everything else is different. The rear suspension is a more cost-efficient non-independent torsion-beam set-up, the engine and gearbox are from Fiat, the sound system is from JBL, the infotainment unit is from Visteon and the styling is all Tata's own.
What's it like on the outside?
Tata Motors promised a design very close to the H5X Concept from February 2018, and after seeing what they did with the Nexon, expectations were very high. Yes, they've had to give the styling a dose of reality in production form, and the result has already been polarising, to say the least; but to these eyes, this is one of the most striking SUV forms out there, price no bar. I was sceptical of the low-set Xenon projector headlamps, but in the flesh, the design really works, especially when it's all lit-up at night. The blade-like LEDs at the top do double duty as daytime running lamps and indicators, and look very aggressive – especially leading up from the gloss-black 'Humanity Line' grille.
In profile, it's just the right mix of the Nexon, the H5X Concept and the Discovery Sport – well-proportioned, with swollen wheel arches and a gently rising window line that ends in a thick blacked-out D-pillar. This provides a floating roof effect and there's also a nice, brushed-metal panel with 'Harrier' emblazoned across it. The only let-downs here are the ordinary-looking and small 17-inch wheels; the 235/65 R17 tyres have tall sidewalls but the large wheel arches crave a bigger size. Fun fact: if you can find the Discovery Sport's 18-inch wheels aftermarket, they're a direct bolt-on fit.
The rear appears to have stayed truest to the H5X Concept, and there's even an air of Jaguar about it. There's a slim, high-set, rear windscreen (which doesn't give you a great view out, as I found out later) atop a narrow glossy-black strip that sprouts out into a very elegant set of part-LED tail-lamps (the indicators and reversing lamps are halogen). The only badging on the tailgate is the word 'Harrier', and the tall rear valance below includes a rear skid plate and even faux exhaust outlets.
It has to be mentioned though that there are some glaring inconsistencies to the way some body panels fit. For instance, there are visible gaps around the lower parts of the doors, and even the base of the tailgate.
What's it like inside?
Interior fit and finish has been something Tata has struggled to get right with all its cars, even the most recent ones; so it's a wonderful surprise to see how much things have improved here. You have to look quite hard to find an ill-fit set of panels or a rough edge. Materials in this car are on a new level for the company, too, with things like a soft, faux-leather dash top, a rich-looking slab of imitation wood on the dash (you won't realise it's plastic until you touch it), and thick metallic door handles. I also like that the soft leatherette upholstery is finished in chocolate brown, rather than black or the passé beige. However, though the front seats are big and supportive, the lumbar support they serve-up seems excessive.
Although the Harrier's cabin feels plusher and more premium than the Compass, it's not quite as well put together as the Jeep. The dashboard design is simple, minimalistic and elegant, and as I said earlier, the mock wood actually looks convincing. The 8.8-inch touchscreen, coupled with the central AC vents, looks like a cohesive freestanding unit, while the HVAC controls sit in a neat little recess bound by a brushed-silver strip. Even the door grab handles are finished in perforated leather, look rich and feel solid to grasp. The only bit of design I'm not a fan of is the steering wheel, which just doesn't have a premium look, feel or finish to match the rest of the cabin.
For all this quality, though, a few ergonomic flaws have crept in. There are two USB ports in this car – one at the front and one at the rear – but we wouldn't blame you if you never found them; they're hidden from view and tricky to access. There's no lock-unlock button anywhere, and while the huge wing mirrors might look good on the outside, they're set very high and create a massive blind spot around the A-pillars.
When you get to the back seat (not too much of a climb up, incidentally) you realise the Tata Harrier would also make for an excellent chauffeur-driven car. Rear-seat space is positively huge, which you can thank the long, 2,741mm wheelbase for. It's not just legroom though; the seat is wide and flat so it can comfortably take three people, the windows are big and you sit high up so there's a great view outside, and if you're wondering where the rear AC vents are, they're in the B-pillars. The seat itself is also very comfortable; but a huge omission that's bound to irk potential buyers is a sunroof – the market simply demands one in cars of this segment. Despite its size, there's no third row of seats, however, there will be a seven-seat version of this car in 2020.
425 litres doesn't seem like a lot of boot space, but it's shaped so well that you'll be amazed at how much stuff you can fit in there. The only issue is that tall bags may not fit under the parcel tray, which will have to be moved to accommodate them.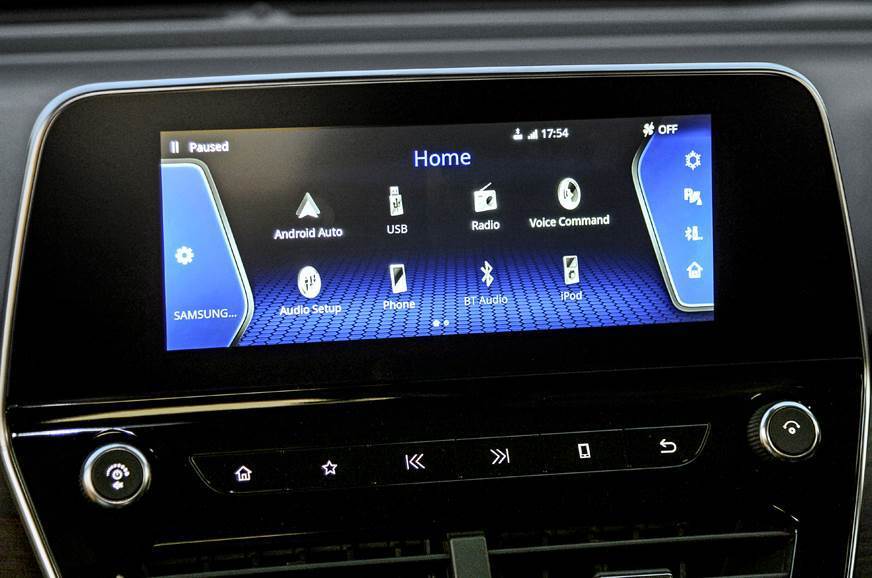 More space still is freed up under the boot floor thanks to the spare that sits under the chassis (which might get tedious when it comes time to change it) and you can split-fold the rear seats down for a solid 810 litres of space.
On the equipment front, there's a lot of what you'd expect from such an SUV. Keyless entry and go, auto climate control, a rear-view camera and rear parking sensors, cruise control, six airbags, auto headlamps and wipers, and cornering lamps make up the basics. Then there are features that'll wow you, like the 9-speaker JBL sound system with a subwoofer, and puddle lamps that project the car's silhouette on the road (yup, just like a Range Rover).
A key piece of kit is the dual-screen system comprising the 8.8-inch touchscreen and the 7.0-inch screen in the instrument cluster. The big screen uses the latest version of Tata's interface, which is much smoother than the one in, say, the Nexon; but it's still shy of the best in the market, like Hyundai and Ford. It gets the features you expect, including Android Auto and Apple CarPlay, and the best part is you can still access the car's functions while using either smartphone interface. More interesting is the 7.0-inch screen that takes up two-thirds of the instrument binnacle; it includes a digital tachometer and a very detailed fuel computer. It also has displays for the various driving modes and even relays media and navigation info from the main screen so that you don't have to take your eyes too far off the road. For all this, though, there are some pieces of equipment missing that rivals do offer. The front seatbelts aren't height-adjustable, the driver's seat isn't powered, and of course, there's the lack of the all-important sunroof.
What's it like to drive?
What potential buyers will also miss are an automatic gearbox and AWD – and for now, the Harrier gets neither. It's front-wheel drive only and with a sole diesel-manual powertrain option. It's the same Fiat-sourced 2.0-litre Multijet II motor (Or Kryotec in Tata parlance) you'll find in the Jeep Compass, which, incidentally, is one of this car's main rivals. In the Harrier, however, its power output is a lower 140hp, but it has the same 350Nm of torque.
It's a noisy engine, and there's no escaping that fact; not at idle, nor on the move at most speeds. It fires up to a loud grumble and you also get noticeable vibrations through the gear lever. On the move, a bassy diesel din is your constant companion and it gets particularly loud once you cross 3,000rpm. There's even a driveline clunk each time you get on and off the power. It's an unfortunate first impression, and sadly one you'll get even if you're just a passenger.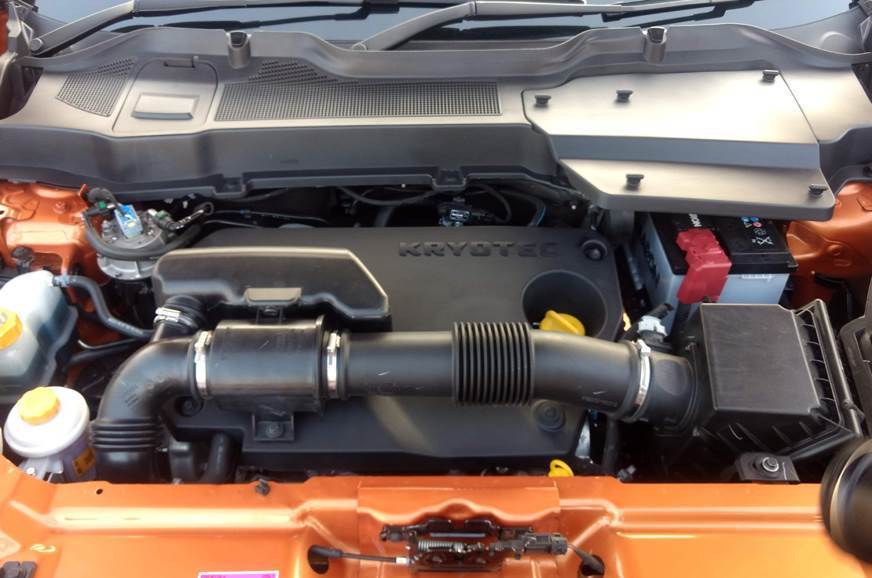 To drive, it's actually rather good. The clutch and gearshift action are impressively light for this sort of big diesel car (certainly more so than the Jeep) and it's quite responsive off the line. Like other Tatas, it gets three drive modes – Eco, City and Sport. The first two don't feel all too different, and that's good if you want to save fuel; it doesn't make driving feel like a chore. However, when you want to drive briskly, even City mode just won't cut it and you'll want to shift up into 'Sport'. Even in this mode, however, you'll wish there was a slightly stronger top-end for overtaking. The mid-range is good enough for most needs, but only out on the highway could it feel lacking, especially while overtaking. At a more relaxed pace, however, this SUV is very comfortable holding a three-digit cruise.
And that comfort will extend to the Harrier's occupants too, as it feels absolutely rock-solid at speed. The Discovery Sport's independent front suspension has been retained, but at the rear is a new torsion-beam set-up – Tata's own. They've done a stellar job of it, too, because this SUV is just superb at hammering out bad roads. It's so tough and unfazed by even the largest and sharpest of potholes, you feel more than comfortable dropping two wheels off the tarmac on a narrow road; even at high speed, you'll barely feel it in the cabin. It can feel a little lumpy at lower speeds, but that soon vanishes as you move along.
At low speeds, you'll also find the steering a bit heavy; it's an old-school hydraulic unit (like the one in the Hexa) and not a more modern, more expensive electric power steering (EPAS) unit. But you'll enjoy the steering at higher speeds for the greater sense of control it'll give you. No, that doesn't make this car a sharp handler, and sporty, it certainly is not (there's a fair amount of body roll) but what it is instead is tough, planted and confidence-inspiring.
Though it's only front-wheel drive, they've made it a point to include a Terrain Response System on top-end cars, which adjusts the electronics for low-traction situations – namely wet and rough-road driving. In fact, there are a huge number of electronic driver aids, including off-road-specific ABS, hill-start assist, hill-descent control, traction control, stability control, corner-stability control, brake pre-fill, brake wipe, rollover mitigation and even hydraulic-brake-fade compensation.
Speaking of the brakes, some might be disappointed to learn that the Harrier doesn't get rear disc brakes, and yes, that might have been expected in an SUV in this segment. However, we're happy to report that braking performance is good, although the pedal travel is longer than we'd have liked, and the bite point could have been higher up in the travel.
Should I buy one?
The first thing to remember with the Tata Harrier is that even though it borrows a basic platform, it is not a Land Rover. It is, instead, a rival to everything from the Mahindra XUV500 to the Jeep Compass, and your expectations have to be set accordingly.
It is, no doubt, a milestone moment for Tata Motors – the first time it's properly leveraged its synergy with JLR – and though it's a damn good product too, it's not without its flaws. Ergonomics, some missing equipment and NVH come to mind. Moreover, even though the lack of AWD could be forgiven, people are already up in arms about the absence of an automatic gearbox option – and rightfully so. In a segment where 35 percent of sales are automatic, Tata Motors will miss out on a big chunk of potential buyers.
But there's something more significant about the Harrier, and it's that it feels like the first vehicle from an Indian brand that's truly a global player; one that wouldn't just sell, but potentially be quite successful in foreign markets. It's a strong package, has great space and comfort, a plush interior, a good ride and striking looks. At a price of Rs 12.69 lakh to Rs 16.25 lakh (ex-showroom, Delhi), the Harrier significantly undercuts its chief rival the Jeep Compass, making the bigger, plusher and more spacious Tata quite a steal, and one we can confidently recommend. The Harrier has the makings of a winner.
Also see:
Tata Harrier waiting period up to three months
Tata Harrier official fuel efficiency figure revealed
2019 Tata Harrier vs rivals: Price, specifications comparison
2019 Tata Harrier price, variants explained
2019 Tata Harrier launched in India, priced at Rs 12.69 lakh
2019 Tata Harrier image gallery
2022 Tata Punch, Nexon, Harrier, Safari Kaziranga Edition...
9690 Views|5 months ago
Rajendra Petkar talks about Tata Harrier's turnarou...
9738 Views|1 year ago