While the performance car segment isn't large in our market, it does provide the most thrilling and exciting models. Be it uber-fast super sedans like the BMW M5 CS, or low-slung track weapons like the Mercedes AMG GT Black Series, Ferrari 812 Competizione and Porsche 911 GT3, this segment has it all. We have listed all the new performance cars set to enter our market over the next year.
BMW M3 and M4
Though they're still arguably the most sought-after M models, the design of the new M3 and M4 definitely divides opinion, with their polarising, vertical kidney grilles. That aside, both models have also received the full-blown M styling treatment, with more aggressive bumpers and bonnets, widened fenders, a boot-mounted spoiler and a multi-channel diffuser.
Both cars are powered by a 3.0-litre inline-six twin-turbo engine that produces 480hp and 550Nm in standard form and 510hp and 650Nm in Competition guise. Both versions come with an 8-speed torque converter auto, and this translates to 0-100kph times of 4.2sec for the regular models and 3.9sec for the Competition cars. The top speed is limited to 250kph, although buyers can specify a driver's package that lifts it to 290kph. The X3 M (which uses the same engine) is offered in standard guise here, and when Mercedes-AMG launched the facelifted C63 in India, they stepped down from the 510hp S to the 469hp standard version, so it remains to be seen which versions of the M3 and M4 BMW chooses for India.
There are also some sporty changes to the interior, as BMW offers M Sport seats and steering wheel, along with digital instruments and infotainment functions with M-specific graphics and unique trim elements.
Coming Mid 2022
Engine 3.0 P
Expected Price Rs 1.45 crore
BMW M5 CS
Unveiled in January, the BMW M5 Competition Sport (CS) is the pinnacle of the 5 Series range and the most powerful BMW series production car ever. Powered by a 635hp, 4.4-litre twin-turbo V8, the CS has 10hp more than the M5 Competition and can do 0-100kph in a claimed 3.0sec. That's not all, the CS has even more aggressive engine mounts, a retuned suspension set-up, as well as a lighter hood and carbon-ceramic brakes as standard, all of which add up to a more engaging driving experience (and a weight saving of 70kg).
Additionally, it also gets a bronze kidney grille, gold 20-inch alloy wheels, yellow Daytime Running Lamps and a paint shade exclusive to the M5 CS, to help it stand out.
Coming Mid 2022
Engine 4.4 P
Expected Price Rs 2 crore
Ferrari 296 GTB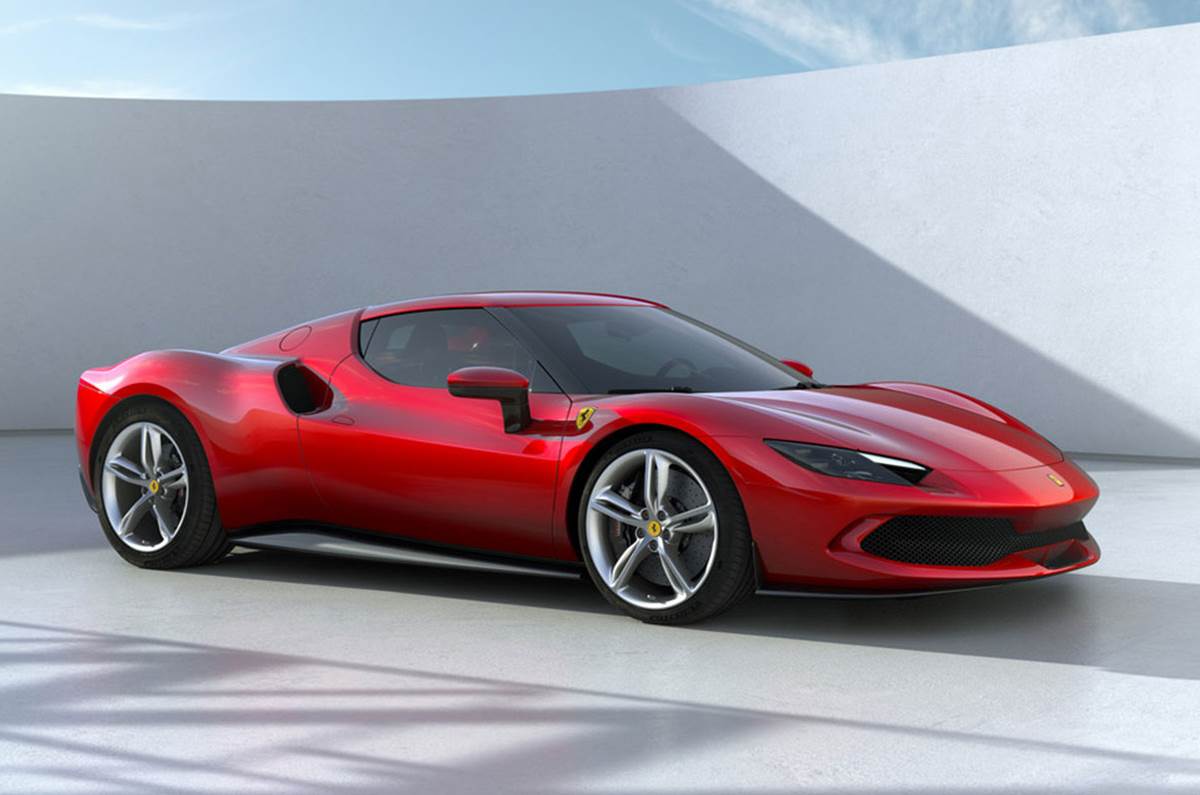 The 296 GTB marks a new era for the legendary Italian supercar maker's mid-engined offerings – the first-ever Ferrari to be powered by a V6 hybrid engine. The engine in question is a 2.9-litre, twin-turbo V6, coupled with an electric motor for a combined power output of 830hp and 741Nm. It can go from 0-100kph in just 2.9sec. The 296 GTB's underfloor 7.45kWh battery also allows it to be driven on electric power alone, for roughly 42km and at speeds of up to 135kph.
There are various cues on the 296 GTB that tie in with other new-era Ferraris, like the SF90 Stradale and Roma. However, Ferrari also claims that it has taken inspiration from the 1963 250 LM, which can be seen in the design of the B-pillar, rear haunches and Kamm tail. Additionally, this is the first time Ferrari has used active aero for generating downforce. The cabin is also very similar in design and layout to the tech-heavy interior of the SF90 Stradale.
Though the 296 GTB will sell alongside the F8 Tributo and its derivatives, it's likely that its successor will replace both models at once.
Coming Late 2022
Engine 2.9 P
Expected Price Rs 4.5 crore
Ferrari 812 Competizione
The Ferrari 812 Competizione and Competizione A (Aperta) are limited-edition track-focussed versions of the 812 Superfast and the 812 GTS, respectively. Much like the 599 GTO and F12tdf before it, they will be made in limited numbers – 999 units for the coupe and 599 units for the convertible. Unlike its predecessors, however, some units have been allocated for India.
Both models get distinct design updates that not just add flair, but also improve aero. And they also feature the most powerful iteration of Ferrari's 6.5-litre naturally aspirated V12 engine in a road car, as it puts out 830hp and revs to 9,500rpm.
Coming Mid 2020
Engine 6.5 P
Expected Price Rs 6.5 crore
Ford Mustang facelift
While Ford may have wrapped up local production in India, the carmaker will continue operations with sales of certain imported models. The first of the models under the revised Ford plan will be the Mustang facelift that made its debut back at the 2018 Frankfurt Motor Show.
As part of the mid-cycle refresh, Ford updated the Mustang's front end with a lowered hood line, slimmer grille, reshaped headlights and reprofiled bumper, all of which add a degree of aggression. At the rear, the design of the bumper and diffuser has been tweaked for a sportier look. The profile of the iconic sportscar has remained the same as the pre-facelift model, barring the new alloy wheel design.
On the inside, the Mustang carries forward the same design as the older model, though Ford has tried to improve interior quality with the use of more soft-touch plastics on the centre console and doors. It also gets more features like a 12.0-inch digital instrument cluster, LED headlights and adaptive cruise control as standard.
The big 5.0-litre, naturally aspirated V8 engine now makes 450hp instead of the 415hp of the pre-facelift model, while the engine now comes paired to a 10-speed automatic gearbox instead of the older car's 6-speed unit.
Coming Late 2022
Engines 5.0 P
Expected Price Rs 90 lakh
Lamborghini Urus Evo
The Urus has been Lamborghini's bestselling model in India, with the company having sold more than a 100 units so far. The Urus Evo will essentially be a mid-life update to the performance SUV in a similar vein to the Huracan Evo. We can expect a refreshed exterior design accompanied by some new features and tech inside. The 4.0-litre, twin-turbo V8 will also likely be updated to make more power and could also feature some other mechanical updates. The Urus Evo is expected to be unveiled later this year, and given how quickly Lamborghini has been bringing its new models to India, it's likely to come to our market shortly after.
Coming End 2022
Engines 4.0 P
Expected Price Rs 3.5 crore
Lamborghini Aventador Ultimae
Lamborghini's flagship supercar – the Aventador – is bowing out with the limited-run Ultimae Edition, which also happens to be its last pure-combustion powered V12 production car. While the Aventador's successor will carry forward the 6.5-litre naturally aspirated V12 engine, it will be hybridised.
Hence, it gets the most powerful iteration of the iconic engine in a road-legal car yet, making 780hp and 720Nm. With a 0-100kph time of just 2.8sec and a top speed of 356kph, the Ultimae also claims the crown of the fastest road-going Aventador.
It also comes with bespoke styling, taking some of the best elements from the S and SVJ variants like the more aggressive bumpers and air intakes, as well as the high-mounted dual exhaust pipes. A unique grey-on-grey colour scheme with contrasting red accents was also seen on the model showcased, though like with other Lambos, customers will have plenty of options for customisation.
Lamborghini will only make 350 coupés and 250 roadsters – each sold with a numbered plaque – and select allocations have been assigned to India.
Coming Mid 2022
Engines 6.5 P
Expected Price Rs 7.5 crore
Maserati MC20
The MC20 is Maserati's first all-new sportscar in over a decade, and is a critical one at that, given that it will spearhead a bold new revival plan for the brand. The MC20 has been designed to maximise aerodynamic efficiency, though some influences from the MC12 supercar and other iconic Maseratis can also be seen.
It is also the first Maserati in over two decades to be powered by an in-house developed engine, named the Nettuno. The 3.0-litre, twin-turbo V6 petrol engine produces 630hp and 730Nm, with power going to the rear wheels via an 8-speed DCT gearbox. Given the sportscar's lightweight carbon-fibre construction (weighing under 1,500kg) and power figure, Maserati claims a 0-100kph time of less than 2.9sec, with 0-200kph taking 8.8sec. Top speed is claimed to exceed 325kph. As the MC20 is designed to accommodate an EV powertrain, an all-electric version is expected in the future.
Coming Mid 2022
Engines 3.0 P
Expected Price Rs 4 crore
Mercedes-AMG GT 63 S e-Performance 4-door Coupe
The electrified era of AMG has begun with the new range-topping GT 63 S e-Performance 4-Door Coupé. This is AMG's first ever plug-in hybrid model and it comes with a 639hp, 4.0-litre twin-turbo V8 engine coupled with a 204hp electric motor on the rear axle, producing a total output of 843hp and 1,400Nm. This also makes it the most powerful AMG ever and it can go from 0-100kph in just 2.9sec with a top-speed of 316kph.
The hybrid powertrain is said to be derived from Mercedes-AMG's Formula 1 racer. Being a PHEV, it has an electric-only range of roughly 12km at speed of up to 130kph – courtesy of the 6.1kWh battery pack.
There are some subtle design changes over the standard car, such as the new front bumper, bespoke badging, battery charging lid on the rear bumper, new exhaust outlets and exclusive 20-inch and 21-inch wheel designs. The rest is visually and technically identical to the standard GT 4-Door Coupé.
Inside, the only addition is the hybrid-specific displays for the MBUX infotainment system that include an EV range indicator, real-time power consumption data and an electric motor power gauge.
Coming Mid 2022
Engines 4.0 P (Mild hybrid)
Expected Price Rs 3 crore
Mercedes-AMG GLA 45
In India, we currently already get the sporty Mercedes-AMG GLA 35, which sits at the top of the GLA range. However, Mercedes plans to bring the hotter GLA 45 to our market in 2022.
The main change on the GLA 45 is the M139 2.0-litre turbocharged engine, offered in two specs – a standard version with 387hp and an S version with 421hp. This is the most powerful four-cylinder in series production. Mercedes claims the GLA 45 can sprint from 0-100kph in 4.4sec, while the S can do it in 4.3sec. Top speed for the variants is limited, at 250kph to 270kph, respectively.
Besides the performance bump, the GLA 45 also gets more aggressive bumpers, diffuser, air intakes and flared wheel arches.
Coming Mid 2022
Engine 2.0 P
Expected Price Rs 75 lakh
Mercedes-AMG GT Black-Series
The AMG GT Black Series is Mercedes-AMG's long-awaited rival to the Porsche 911 GT2 RS. It was unveiled last year and featured a host of track-specific enhancements like beefier splitter and diffuser, canards on the front bumper, wider side skirts, a massive two-piece rear wing, re-tuned suspension and some other mechanical changes. Additionally, it also has the most powerful, non-electrified version of the twin-turbocharged 4.0-litre V8 in a series-production model that puts out 730hp and 800Nm. The result is a claimed 0-100kph time of 3.2sec, 0-200kph in 9.0sec and a top speed of 325kph. Coming to the interior, there is plenty of matte carbon-fibre trim around the cabin, along with loop pulls instead of door handles for additional weight saving. AMG carbon-fibre bucket seats and a titanium roll cage are also available as options.
Coming Mid 2022
Engine 4.0 P
Expected Price Rs 3.5 crore
Porsche 911 GT3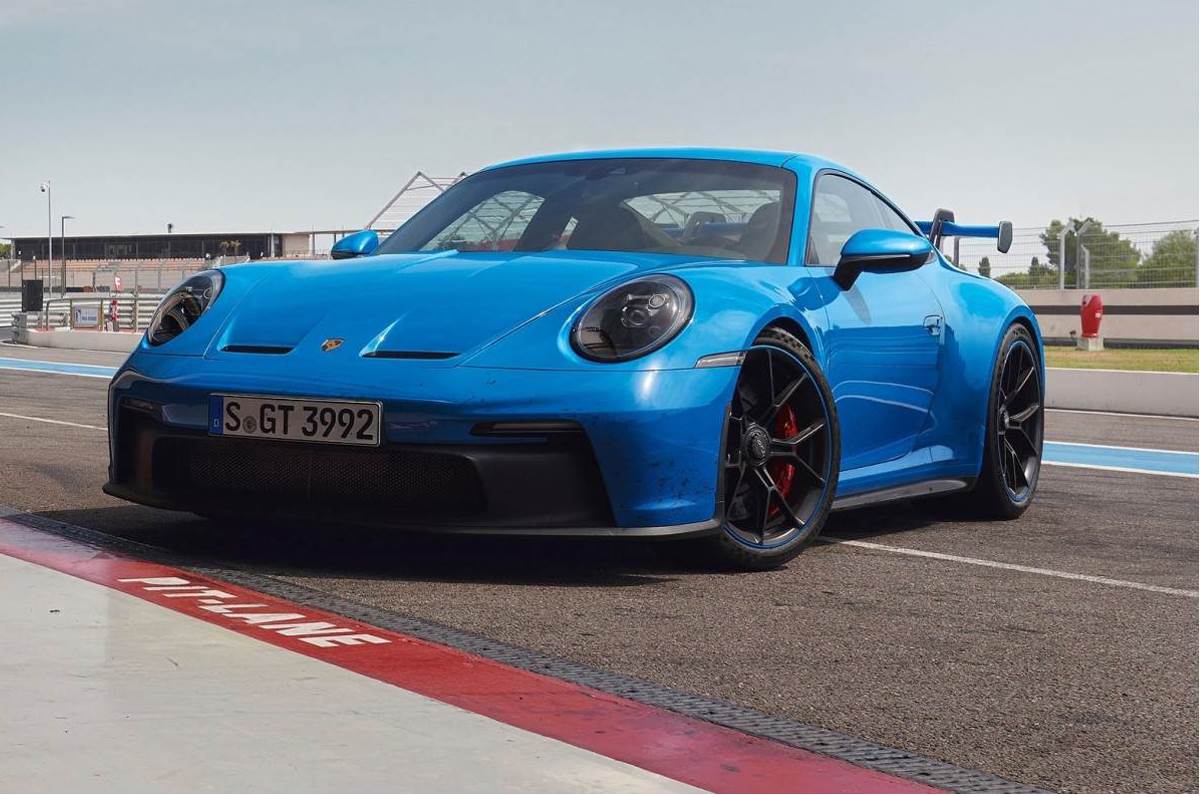 Porsche's new 992-generation Porsche 911 GT3, like with other track-oriented GT models, has been developed with inputs from Porsche Motorsport. It still uses the 4.0-litre, naturally aspirated flat six, though it now puts out 510hp (10hp more than the 991.2-gen GT3) and revs to a remarkable 9,000rpm. Porsche offers the new 911 GT3 with either a 6-speed manual or a quick-shifting 7-speed PDK automatic gearbox. The power figures and lightweight package allow the new GT3 to complete the 0-100kph sprint in 3.4sec, with a top-speed limited to 320kph (318kph with the PDK gearbox). Visually, the easiest way to discern it from its predecessor is to look for the airflow-enhancing 'nostril' vents on the front bonnet and the new 'swan neck' rear wing.
Coming Early 2022
Engine 4.0 P
Expected Price Rs 2.5 crore