Electric vehicles (EV) are currently the most viable way forward for the automotive industry. They are not only a greener alternative to fossil fuel powered cars, but also have the potential of being more spacious (due to their layout). Electric cars are becoming more mainstream in India, with a large selection of cars and SUVs, like the Audi Q4 e-tron, BMW iX, Kia EV6 and Mercedes EQS, headed our way. We have compiled a list of all the upcoming models below.
Audi Q4 e-tron
The new Q4 e-tron will most likely be the fourth electric model from Audi to launch in India. Unveiled in April this year, the Q4, just like its larger e-SUV sibling, is available in standard as well as Sportback body styles.
It is underpinned by the Volkswagen Group's MEB platform, and will be built not in an Audi factory but instead alongside the closely related VW ID.4 in Zwickau, Germany. It splits the difference between Audi's Q3 and Q5 SUVs almost perfectly on height and length, making it a strong rival for the likes of the Volvo XC40 Recharge, lower down in the luxury EV charts. In terms of design, both models have an impressive stance, with a bluff front end and pronounced proportions. The interior is similar to other e-tron models, but notably features a floating centre console.
Powertrain options for both the Q4 e-tron SUV and Sportback include a range of rear-wheel-drive and all-wheel-drive options, with power ranging from 170hp to 299hp. Both models deliver a driving range between 341km to 497km, depending on the variant.
Coming Late 2022
Claimed Range 341-497km
Expected Price Rs 75 lakh
BMW iX
While not its first standalone EV (that was the i3) the BMW iX is the brand's answer to the Jaguar I-Pace and Audi e-tron. The vehicle has been developed with a new aluminium spaceframe that supports an inner carbon fibre reinforced plastic (CFRP) structure, and a body made out of a combination of aluminium, composite plastic and CFRP. Radical styling elements like the large blanked off grille, frameless doors, fixed B-pillars, and tapered glasshouse make it stand out but are still unmistakably BMW.
It features a spacious interior with a flat floor and natural materials. It also uses recycled plastics, including a new microfibre fabric for the seats. Up front, the instruments and infotainment are grouped together in a single, curved floating digital display panel and there's a newly designed head-up display.
The centre console has been removed, with many controls, including a new version of BMW's iDrive rotary controller, placed between the seats. The dual motors produce as much as 523hp and with a 105.2kWh battery and a claimed range of 'over 600km', it promises to be an EV that's usable every day.
Coming Late 2022
Claimed Range 600km+
Expected Price Rs 1 crore
Hyundai Kona Electric facelift
The mid-life update for the Kona will come next year. Just like its predecessor, the refreshed Kona will be locally assembled in India. The most dramatic cosmetic upgrade is up front, where the Kona EV facelift loses the grille panel and gains a sleeker look, courtesy of the reprofiled bumper and redesigned LED headlights. The profile remains largely unchanged, though there are new LED tail-lights and a new bumper at the rear.
Not much has changed by way of layout in the cabin, though it does get some new features like a larger touchscreen infotainment system, a new digital instrument cluster and connected car tech. Mechanically, the Kona Electric will continue to feature a 39.2kWh battery with the 136hp motor, giving a 304km range. There is also a 64kWh battery version abroad, with a 204hp motor and a 483km range.
Coming Mid 2022
Claimed Range 483km
Expected Price Rs 25 lakh
Kia EV6
Kia will finally commence its EV innings in India with the EV6, a 5-seat, 4.7m long crossover with sharp styling and unique looks that are mostly different from any other Kia model currently on offer. The EV6 is based on Hyundai Group's E-GMP skateboard platform, which is also shared for EVs like the Hyundai Ioniq 5. The EV6 will be sold in India as a fully-imported unit.
Up front, the EV6 gets a clamshell bonnet with angular headlights that flank a slim front grille. The headlights feature striking LED daytime running lights that are said to form the car's 'Digital Tiger Face', according to Kia. It has a swept-back windshield and a sloping C-pillar with wide rear haunches, which lends it a crossover stance. At the back, it sports unique tail-lights that span the width of the bootlid and taper downwards into the rear quarter panel. There are also two spoilers at the rear, with one mounted on the roof and the other positioned just above the tail-lights.
The EV6 is available in RWD and AWD layouts, with the top-spec GT variant churning out as much as 585hp and having a top speed of around 260kph.
Coming Late 2022
Claimed Range 400-510km
Expected Price Rs 60 lakh
Mercedes-Benz EQS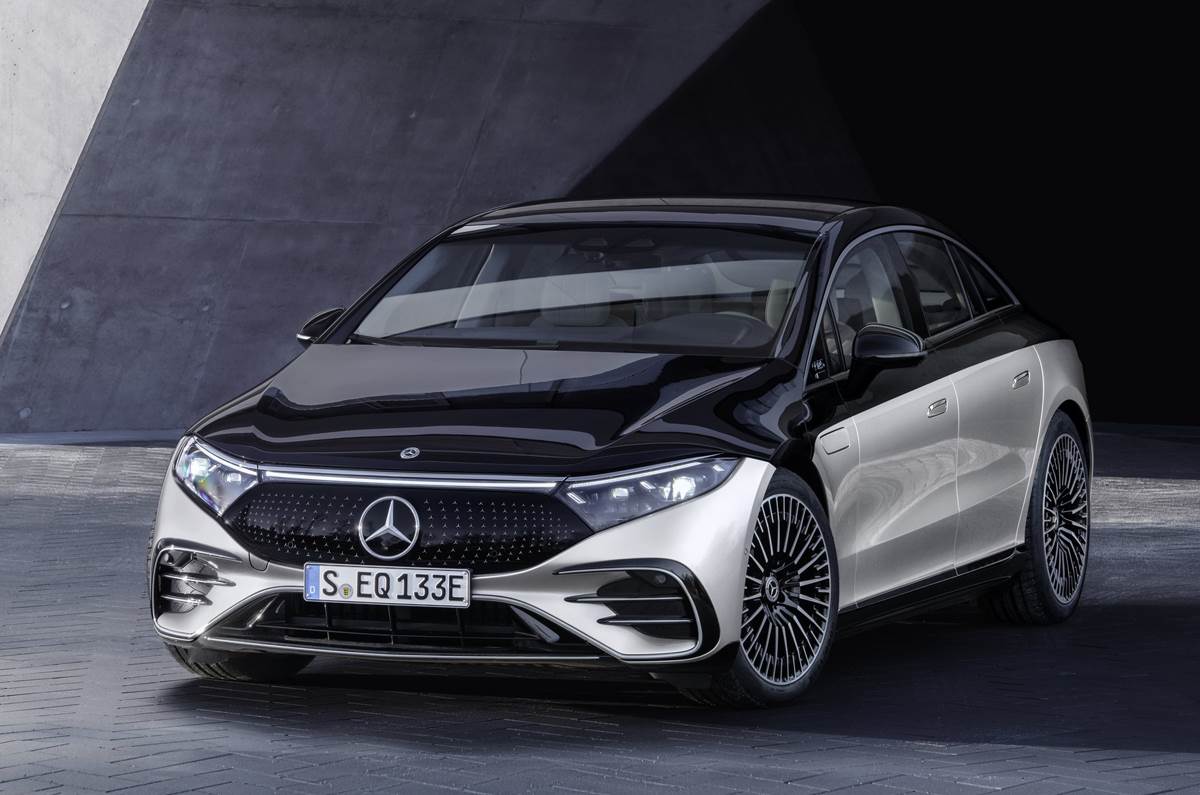 The EQS is the EV equivalent of the S-Class in the brand's line-up. Touted as one of the quietest electric vehicles on sale, the stylish EQS has a drag coefficient of just 0.20. Unlike the EQC, which is based on the GLC platform, the EQS is the first model to use Mercedes-Benz's dedicated EVA (Electric Vehicle Architecture) platform. The EQS has a cab-forward profile, coupled with a heavily angled liftback-type tailgate. Other key styling elements include a black grille panel bookended by a pair of angular headlights, which are themselves joined by a horizontal light bar. Rather than providing a front storage area like other grounds-up-designed EVs, the bonnet can only be opened during servicing. The doors are frameless and feature the same flush handles as those available as an option on the S-Class.
The interior is as luxurious as an S-Class too, and is dominated by Mercedes' new Hyperscreen – a one-piece curved screen that stretches the width of the dashboard and uses the latest MBUX operating system. The EQS, of course, has all the trappings of an S-Class and then some, and thanks to its shape and EV packaging, offers more space too.
The EQS comes with a 107.8kWh battery, with a single 334hp motor in the EQS 450 and dual motors with a combined 523hp in the EQS 580. Range is quoted to be as much as 770km. AMG and Maybach versions are expected to follow.
Coming Mid 2022
Claimed Range 770km
Expected Price Rs 2.5 crore
Porsche Taycan
Porsche's first all-electric car will come to India in three variants, 4S, Turbo and Turbo S. It takes the form of a four-door coupe and shares its underpinnings with the recently launched Audi e-tron GT.
The Taycan gets a tech-laden, four-seat interior with four massive screens (even one for the passenger), the most impressive of which is the 16.8-inch curved display positioned atop the steering column.
Power in the Turbo S version is a supercar-matching 761hp and 1,050Nm, letting the AWD sedan sprint to 100kph in just 2.8sec! But what sets the Taycan apart from other EVs is its engaging driving nature, which is right up there with the best the sportscar manufacturer has to offer.
Coming Nov 12, 2021
Claimed Range 483km
Expected Price Rs 2.5 crore
Volvo XC40 Recharge
The XC40 Recharge will be the first all-electric Volvo to come to India. Based on Volvo's Compact Modular Architecture (CMA), it doesn't look vastly different from the ICE-powered XC40, except for the sealed-off grille and 'Recharge' badges. Inside, it's largely the same too, apart from a new infotainment system powered by Google's Android operating system. It uses a 78kWh battery powering two 204hp electric motors for a combined output of 408hp and 660Nm. Volvo claims the XC40 can deliver a range of more than 400km on the WLTP cycle, which should make it a capable offering at the more affordable end of the luxury EV spectrum.
Coming Early 2022
Claimed Range 400km+
Expected Price Rs 70 lakh
(All prices ex-showroom, estimated)
Also see:
Upcoming hatchbacks in India in 2022
Upcoming sedans in India in 2022