Hyundai Ioniq 5 EV revealed
Published On Feb 24, 2021 08:00:00 AM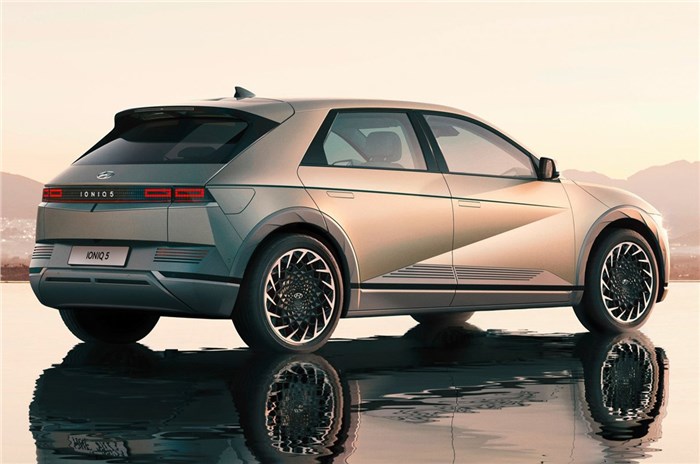 The new all-electric crossover features styling influenced by 45 EV concept car; 800V technology allows for ultra-rapid charging.
The Hyundai Ioniq 5 has been revealed and it is the first model under Hyundai's Ioniq electric sub-brand. The Ioniq 5 is designed to spearhead a renewed push into electrification for the Korean brand.
The Ioniq 5 is offered with 2 battery sizes – 72.6kWh and 58kWh
Its dual-motor setup produces a combined 306hp and 605Nm
It has a minimalist design and the interiors use sustainable materials
Hyundai Ioniq 5: battery and charging
There are two battery sizes that will be available: 72.6kWh and 58kWh, both available with either rear- or all-wheel-drive layouts. The larger battery has a maximum range of 470km.
Featuring 800V battery technology that gives the potential for ultra-rapid charging, the Ioniq 5 supports up to 220kW DC charging, taking the battery from 10 percent to 80 percent in 18 minutes. Previously, 800V cabling has been available on only high-end sportscars like the Porsche Taycan.
Hyundai Ioniq 5: powertrain and platform
The most powerful configuration is a dual-motor, all-wheel-drive layout Ioniq 5 that produces a combined power of 306hp and a total of 605Nm of torque. This will translate to a 0-100kph time of 5.2sec, and it is capable of 185kph. The base 58kWh battery version gets a 169hp, single electric motor that powers the rear-wheel-drive setup and manages 0-100kph in 8.5sec.
Underpinning all this is the new Electric-Global Modular Platform (E-GMP). Built specifically as an electric platform, the flexible underpinnings will also be used for the upcoming sedan-shaped Ioniq 6 and an SUV called 7. As with most battery-specific platforms, it features a skateboard layout, giving a flat interior floor.
Hyundai Ioniq 5: design
Featuring retro-inspired styling that borrows heavily from the 45 EV concept car, the Ioniq 5's looks are a marked departure from those of previous Hyundais, including the clamshell bonnet (a first for the Korean firm) and pixelated front and rear lights. The clean lines are a deliberate tactic.
The Ioniq 5's looks will also be unique within the Hyundai family, as the brand is keen for there to be minimal family resemblance between this car and the subsequent models.
Hyundai Ioniq 5: interiors and features
On the inside, the dashboard is dominated by the twin 12-inch screens, featuring Hyundai's BlueLink connected-car tech, as well as flexible seats that slide and recline (the electric front seats can fold almost flat). As with other EVs like the Nissan Ariya, the interior is adaptable, including a flat floor throughout and a sliding console that moves by up to 140mm front and back. By doing so, rear-seat passengers can benefit from fast wireless phone charging housed in the console.
Other Hyundai firsts are the Advanced Head-Up Display, featuring augmented reality functions, and the next level of driver assistance, which uses front-view cameras, radar sensors and GPS data to control various aspects like lane guidance and distance to the car in front.
Sustainable materials have also been used on the inside. The major touch points, such as seats and door armrests, are made out of sustainable materials such as recycled plastic bottles, wool or leather processed with vegetable oil. Polyurethane paint used on the doors is derived from vegetable oil, while some of the door trim panels are made of 'paperette', a recyclable material that feels a bit like paper.
Hyundai's EV plans for India
As things stand, Hyundai offers one EV in India in the form of the Kona Electric,which is currently priced at Rs 23.76-23.95 lakh (ex-showroom, Delhi). The all-electric crossover features a 136hp motor at the front axle and packs in a 39.2kWh battery pack that is capable of delivering a claimed range of 452km.
Hyundai has made no official announcement about its intentions of bringing the Ioniq sub-brand to India, however, aHyundai mass-market EVfor our market is under development and is expected to be launched in the next two years.
Also see:
HyundaiIoniq 5 EV image gallery
MG ZS EV vs Tata Nexon EV vsHyundaiKona Electric comparison
Hyundaicompletes 25 years in India
HyundaiKonaElectric gains variable warranty option
HyundaiKonaElectric long term review, second report
What do you think about this News